'Hot Water Over Raised Fists' Evokes The Betrayal Of Flint And Standing Rock Through Dance
Five years ago, Flint residents began to be exposed to lead-filled drinking water. Then a couple years later, indigenous and environmental activists protested the proposed Dakota Access Pipeline — worried a potential spill would pollute drinking water. The fight to safeguard such a basic need spurred dancer and choreographer Jenny Oliver into action.
The culminating work, "Hot Water Over Raised Fists," premieres June 14 at Boston Center for the Arts (BCA). The piece is the pinnacle of Oliver's year-long Boston Dancemakers Residency, a BCA and Boston Dance Alliance partnership.
Oliver, a black indigenous woman born to activist parents in New Bedford, wanted to shape the idea of people's misplaced trust in the government to protect a water supply into a dance performance. The show aims to use movement and light to spark compassion. After, it invites audiences to donate money to children at the Cummings Great Expectations Early Childhood Program in Flint. Oliver hopes the performance will "activate people to start thinking critically about what it is they're seeing and how that affects them."
Kicked off with a libation, the show digs into themes of water and protest. Audio tracks provide context from the Standing Rock protests and from news out of Flint. With the help of lighting designer Aja M. Jackson (who has worked on American Repertory Theater's "Hear Word!" and Company One's "The Leftovers"), Oliver constructed an immersive environment. Two large floor-to-ceiling panels are covered with reusable materials (think tarp, cardboard and tissue paper). The set, Oliver told me, aims to "create a very abstract version of a forest … or something that feels like it's enveloping you." Light and poly film will add a projection of water to the scene.
An excerpt of the show from earlier this year shows dancers with locked arms, cascading forward and back like a wave.
The Flint crisis and the Standing Rock protests were essentially a betrayal of the trust people had in government, Oliver said. But that specific narrative wasn't hers to tell. To center the themes of the story, Oliver asked her company, Connections Dance Theater -- made up of black, white and indigenous people of various socioeconomic statuses — to connect with the feeling of betrayal and think about "the humanity between us."
To make Oliver's vision a reality, Andrea Blesso Albuquerque stepped in. The longtime dancer, choreographer and director of dance at the BCA brought in the support to turn a dream into reality. The goal, Albuquerque added, "is to take those layers off of the artist and the choreographer so they can dig deeper in to their practice and also take bigger risks in the work they're making."
Oliver admitted to a "pie-in-the-sky type of approach to things," and initially wanted to include a number of sculptural elements in the space for performers to move around and through. Her choreography, she said, "is large and athletic," a reflection of her Horton pedagogy training, which Dance Magazine describes as athletic, fierce and expressive.
But, spatial challenges pushed Oliver to change her choreographic lens. She needed to be mindful of the ceiling grid, avoid attaching things to the wall and dial back the number of dancers that could perform simultaneously. In the end, she said, the constraints helped her weigh the essentials against what could be considered decoration or a distraction.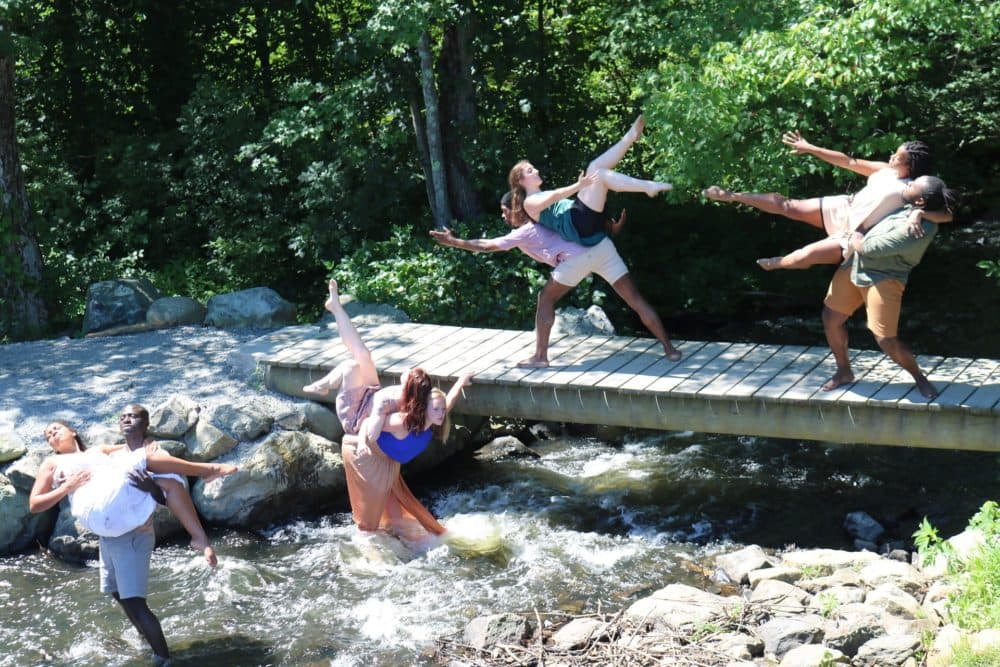 Oliver — who teaches at The Dance Complex, Emerson College and Tufts University — has been at this for a long time. Trained in ballet, modern, jazz and Haitian folkloric dance, Oliver seeks to develop choreography that relates to people of the African diaspora, informed by her Caribbean-based art and culture research.
In the past, she worked as the assistant artistic director and principal soloist for Jean Appolon Expressions and won the Excellence in Achievement Award from the School at Jacob's Pillow. This year, she was the Choreographer in Residence at the MFA and her company participated in New York's Collective Thread Festival.
Her work to amplify issues of marginalized and indigenous peoples through movement places her in the company of socially-conscious dance makers here in Boston like Danza Orgánica, centered on underrepresented voices, and throughout the U.S. with cullen + them in Brooklyn, whose storytelling focuses on issues of gender, race and other aspects of identity.
Oliver's choreography follows the footsteps of those who came before her like the late Pearl Primus, who choreographed "Hard Time Blues," about the poverty of black Southern sharecroppers, and the late Katherine Dunham, credited with bringing Caribbean and African movements to the dance world.
Later this week, as Oliver and the dancers surround audience members sitting in the round, she doesn't want people to separate themselves from the performance. "You're going to feel the sweat, you're going to feel the breathing," she said. "You're going to be here with us." Hopefully, with hearts open and fists raised.
---
"Hot Water Over Raised Fists" runs June 14-15 and June 22-23 in the Calderwood Pavilion at Boston Center for the Arts.