'Toy Story 4' Doesn't Live Up To Its Groundbreaking Franchise
I'll never forget the shock of that first trailer for 1995's "Toy Story." Some friends and I were catching a late show of lord knows what on a dull summer evening when all of a sudden a plastic doll turned to the camera and started talking like Tom Hanks. You must understand, there had never been a computer-animated movie before so we had no idea what we were looking at. (We were also wicked stoned and the dude sitting next to me screamed.) It was an entirely new visual world, promising untold wonders.
I thought about that moment a lot during "Toy Story 4," and about how quickly the remarkable can come to feel commonplace. Beyond the obvious groundbreaking technological merits, that first "Toy Story" turned out to be terrific and its 1999 sequel was even better — balancing deadly serious fears of abandonment and obsolescence with anarchic humor and giddy, clockwork-contraption chase sequences. In fact, "Toy Story 2" felt so emotionally complete there was little left for 2010's belated "Toy Story 3" to do besides rehash the previous picture's themes and situations with less finesse and even heavier tugs on the heartstrings.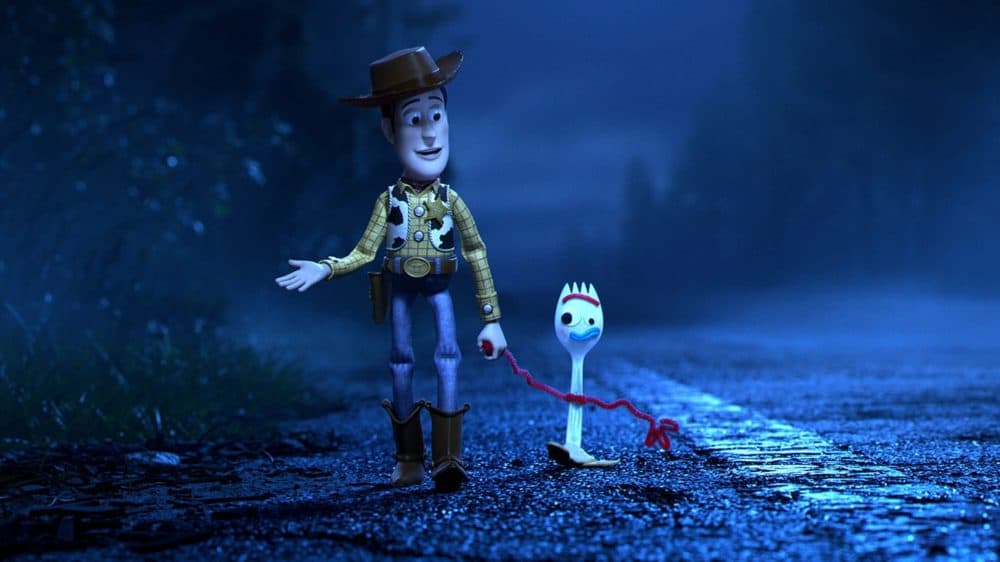 "Toy Story 4" mixes and matches your favorite scenes and scenarios from those last three movies in the crowd-pleasing fashion of a greatest hits medley. Like an aging rock band on a summer shed tour a decade or two after being relevant, it hits all the expected notes with a practiced professionalism and provides a fun night out for anyone who isn't foolish enough to expect any inspiration. It's got everything you're looking for except for anything new.
The film rather haphazardly follows Woody, Buzz and the gang as they adjust to life with their new owner, Bonnie. One day the kid comes home from kindergarten with a toy of her own creation: Forky is a plastic spork adorned with pipe-cleaner arms, mismatched googly eyes and broken popsicle sticks for feet. He's a gangly, ghastly-looking creature and of course Bonnie loves him more than anything in the world.
Voiced by Tony Hale, the deeply confused Forky doesn't understand that he is now a toy (he thinks he belongs in the trash and keeps semi-suicidally leaping into the nearest refuse containers), so it's up to our favorite cowboy doll to convince this suddenly sentient utensil that it's his destiny to be a child's plaything. This is a convenient (or lazy) way for the movie to duplicate the Woody/Buzz dynamic from the first film, especially when they get separated from the rest of the gang as Bonnie's family heads out in the RV on a summer vacation.
It wouldn't be a Pixar movie if two mismatched characters didn't end up stuck together on an adventure where they can both learn valuable lessons from each other. Yawn. Ten years ago, the animation studio was breaking boundaries of the medium with daring, audacious and original films like "WALL-E" and "Up." Now seven of the last 11 Pixar movies have been subpar sequels, and even acclaimed offerings like "Inside Out" suffer from an almost slavish adherence to a familiar formula. ("What if toys had feelings? What if cars had feelings? What if feelings had feelings?") They've also gotten pretty sadistic in the tear-jerking department. Can't these folks just make a fun cartoon that doesn't try to traumatize everybody?
I counted eight credited writers on "Toy Story 4," which presumably explains the erratic motivational shifts and plotting that feel like at least two screenplays were Frankensteined together. There's an antique store standing in for the collector's dens we've seen in the past and some creepy ventriloquist dolls serving the same purpose as those cymbal-playing monkeys in the third movie. One of the storylines features an eerie, defective old baby doll (voiced by Christina Hendricks) trying to steal Woody's voice box while a somewhat unrelated adventure brings back Annie Potts' missing Bo Peep. In a potentially provocative development, she and a bunch of other lost toys cruise the playgrounds and carnival lots serving as temporary playthings for kids who don't own them full-time. It's an intriguing parody of the gig economy that I wish had been fleshed out further, but the movie's too cluttered and crowded to stick with any one idea for long.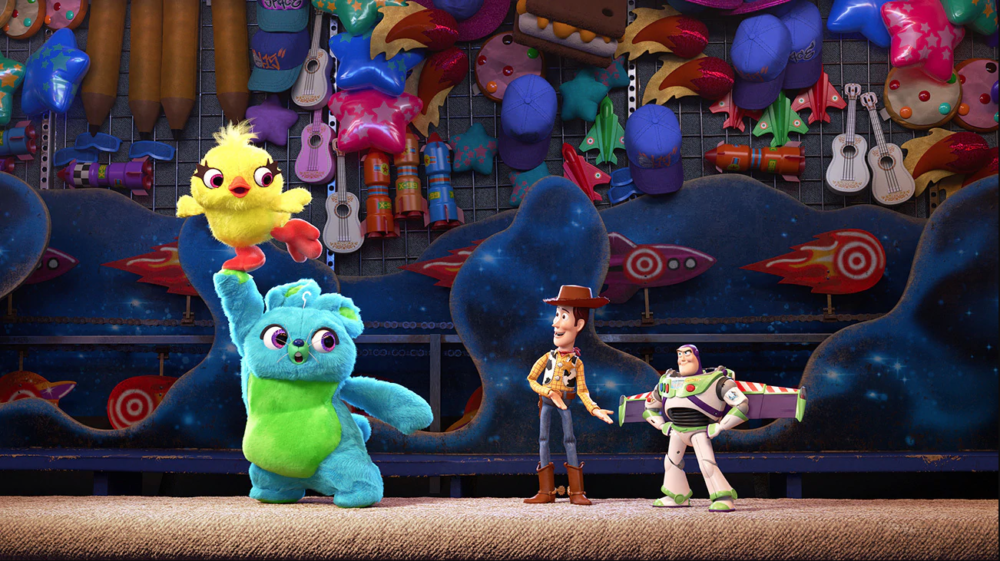 We don't even get much Buzz Lightyear, the space ranger is relegated to the sidelines for most of the action. Keegan-Michael Key and Jordan Peele show up as a couple of plush carnival prizes who aren't nearly as funny as the movie seems to think they are, while Keanu Reeves manages to steal a few scenes as a Canadian Evel Knievel knockoff toy that doesn't work nearly as well as advertised. Don Rickles didn't get a chance to record his Mr. Potato Head dialogue before he passed away in 2017, so reportedly outtakes of his vocal tracks from previous pictures were repurposed here — but honestly they probably could have done that with half the cast.
Look, there's nothing wrong with microwaved leftovers. (In fact, I ate some when I got home from the movie last night.) But in a summer when studios have released almost nothing but underwhelming and underperforming sequels, sandwiched between Disney's mega-budget remakes of "Aladdin" and "The Lion King," the mildly amusing, profoundly unnecessary "Toy Story 4" leaves one starving for something more than just reheated comfort food.