'We Will No Longer Be The Back Door To The City Of Boston': Encore Casino Opens In Everett
Resume
After years of anticipation — and some turmoil — Encore Boston Harbor Casino opened in Everett Sunday.
That anticipation was reflected by people waiting outside the $2.6 billion casino for hours ahead of its opening. The company behind the project, Wynn Resorts, faced several hurdles before the casino was allowed to open, including hearings about whether it was suitable to hold a license following allegations that company executives covered up allegations of misconduct against founder Steve Wynn.
But for visitors like Terrese Gray, of Cambridge, that anticipation was about something else. She said she was there to "win it all."
"I woke up crying this morning," Gray said. "I said, this is my day. This is my day to be here at the casino."
Wynn Resorts CEO Matt Maddox echoed the sentiment that it was "an amazing day."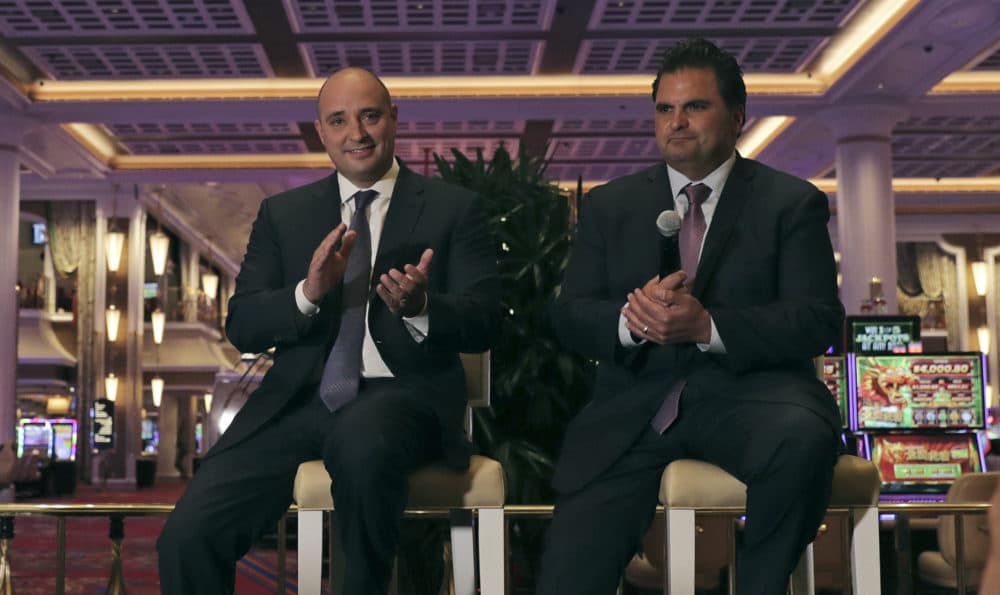 "Eight years ago, the people of Massachusetts and the lawmakers had the foresight to understand that with the passage of the gaming regulation, that there could be the opportunity for urban renewal, for economic development and for the finest integrated resort in the world," he said.
A vision, Maddox said, that he believes the Wynn Resorts casino has achieved.
"Seven years ago, I was standing on this site, with the mayor, just us two, and there wasn't a blade of grass on the site," he said. Now, there's 1,000 mature trees, 50,000 flowering plants, tens of thousands of shrubs and a living shoreline for the first time in 100 years."
Maddox also thanked Everett Mayor Carlo DeMaria, Jr. for his "vision" and the Massachusetts Gaming Commission for its oversight of the project.
"No longer when you drive through Everett, you'll no longer smell gas and sulfur and oils, but you'll smell flowers and trees."

Everett Mayor Carlo DeMaria, Jr.
"Their partnership with us when we received the license until today and their commitment to excellence and ensuring a great operating environment and being operating partners with us is really second to none," he said.
The gaming commission fined Maddox $500,000 and Wynn Resorts $35 million last month, following suitability hearings. The fine amount is estimated to equate to less than two days' share of the company's revenue last year.
Mayor DeMaria was visibly emotional as he addressed the crowd, getting choked up as he thanked his family, friends and the citizens of Everett.
"For those of you who suffered through Monsanto and other big industries that polluted our properties and got us all very sick, I want to thank you for all that you've done for all city," he said. "No longer when you drive through Everett, you'll no longer smell gas and sulfur and oils, but you'll smell flowers and trees. We will no longer be the back door to the city of Boston. We will now be the front door to the city of Everett."
Elaine Wynn, the embattled Wynn resorts' founder's ex-wife, and the chair of the gaming commission Catherine Judd-Stein as well as other members were also at the ceremony. After the speeches, the ribbon to the casino was cut at 10 a.m., and guests began filtering in to try their luck at the slot machines and admire the property's elaborate architecture and features.
Wynn Resorts says it expects about 8 million visitors to the casino annually.
Linda Maloney, of the pro-casino group Everett Rising, says the benefits of the private development go beyond the more than 5,000 jobs supported by the resort. She says it's transforming a gritty part of town that featured a much maligned chemical plant.
"My father grew up down the line which was right across the street," Maloney said. "So, you know, when Monsanto was here and all of that. It was not nice. So this has made — we're just so happy."
Other visitors, like Michael Attardo, of East Boston, have mixed feelings about casinos. But if you are going to gamble, Attardo says, be smart about it.
"Quit while you're ahead," he said. "No one does, I mean, but chasing's the worst thing you can do. Don't do that, and take your winnings home, if you can take them home with you."
He explained that by "chasing," he meant continuing to go after a win when you're down money: "You lose, you lose, you lose. Take more money at the bank, take more money for you to remortgage your house to come back. You lose all that. Chasing, chasing, chasing your losses. It never works out."
Then Attardo cited a common refrain that applies as much in Everett as it does anywhere else — the house always wins.
With reporting from WBUR's Simón Rios
This article was originally published on June 23, 2019.
This segment aired on June 24, 2019.