Brown University Is Archiving Gay Pulp Fiction To Preserve A Moment Of LGBTQ History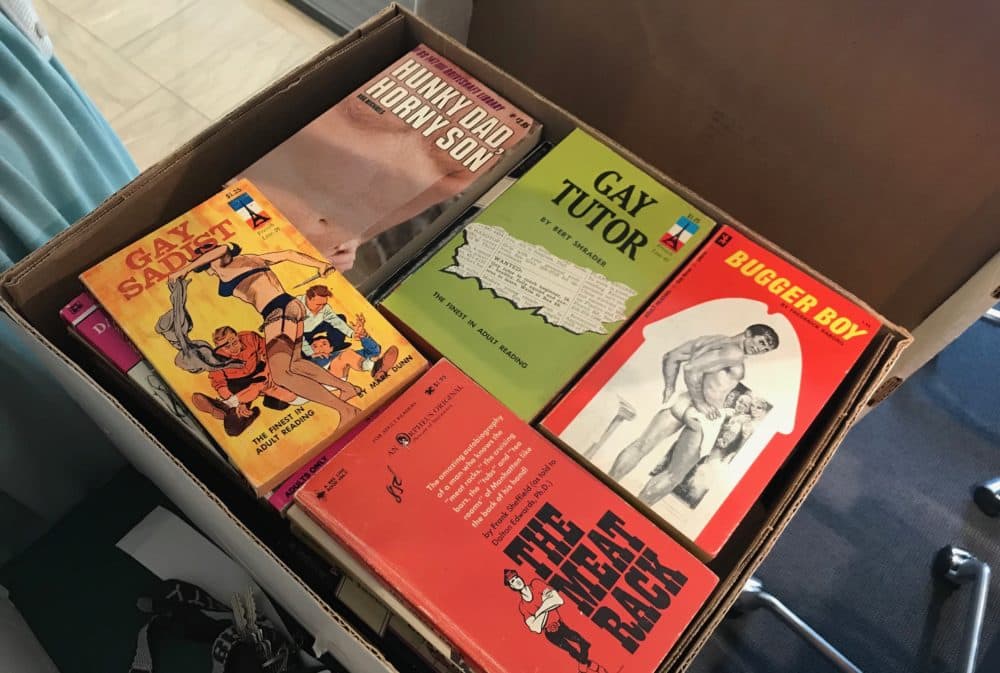 This article is more than 3 years old.
"Biker Lust." "The Book of Studs." "Astrogay." The John Hay Library at Brown University seems more suited to stately, leather-bound tomes than books with titles like those. But the university keeps almost 5,000 paperbacks in its gay pulp fiction archive.
Brown's collection, which includes books from the 1950s to the 1990s, isn't just a few thousand dirty books. The archive preserves one way LGBTQ people made art, explored their identities and shared in community before it was accepted in the mainstream.
"If you think about gay communities before the internet was around, before it was legal in many places to engage in gay relationships, in gay sexual activity, this was a way that they could kind of explore their interests, which is a pretty tame way of saying it," says Heather Cole, the library's curator of literary and popular culture collections.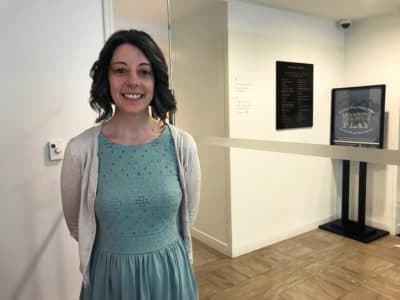 Pulps were cheap paperbacks full of lurid and taboo stories, sold for just a few cents depending on the decade, says Cole. Published in the 20th century, they ran the gamut of genres and audiences. Many of the pulps directed at gay men were published long before Stonewall or the victories of the modern gay rights movement, so authors wrote under pseudonyms to avoid anti-gay laws, according to New York University's gay and lesbian pulps archive.
Brown's archive was born with a purchase in 1997 and grew with bequests from Scott O'Hara, a pornographic film actor and writer, and James Jackson, a collector.
The latter half of the 20th century saw a cultural shift toward the acceptance of LGBTQ+ people that laid the groundwork for Brown's collection, says Cole. In the past 30 years, she adds, universities have reevaluated what works deserve attention.
"Now we're all interested in what else is happening, whose voices aren't represented in these kind of collections, who may not have been thought worthy of being collected," says Cole.
Today, Brown's gay pulps collection is one of the biggest collections — if not the biggest — anywhere.
The pulps are usually stored offsite, but Cole wheels three cardboard boxes full of them into a conference room at the Hay. Their covers are often explicit, letting readers know exactly what they're getting into.
"If you can think of a particular kink or interest, it is covered in these novels," says Cole.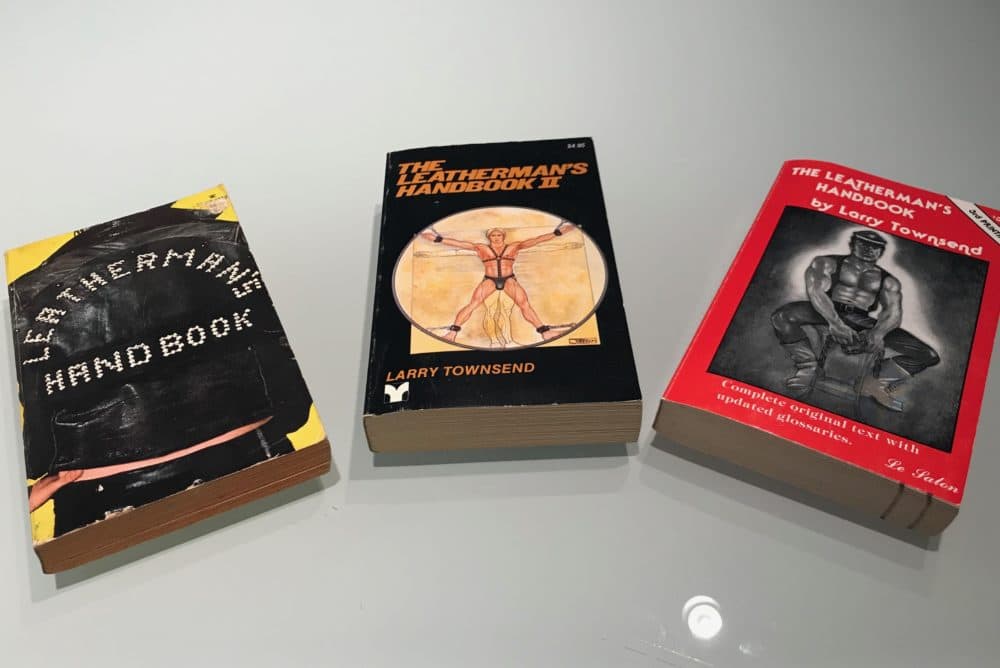 Most of them are straight-up pornography, but others are sexual lifestyle guides, like "The Leatherman's Handbook." Some have order forms in the back with more titles for sale.
Others seek out artistic collaboration. A response form in "Forest Cowboy" by Larry Woodward asks readers to rank the sexual scenarios they'd like to see in future books: guys as jocks, guys at blue collar work, guys on campus. They even put out a call for new authors.
"There's not a lot of money involved, but you can get off knowing how you've reached other gay men," the form says.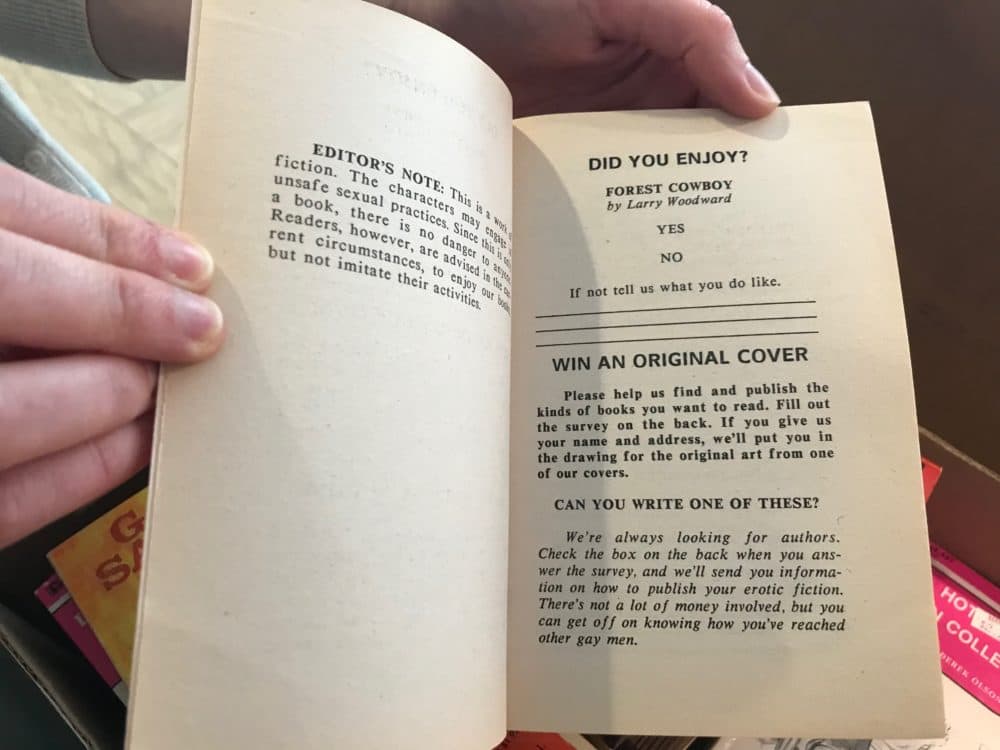 Finch Collins, a rising junior at Brown, is interested in that kind of interaction between the fan and author. As part of an undergraduate fellowship program, he'll spend his summer at the Hay working on a project partly about fan culture, using the pulps as a resource.
He sees the pulps as vehicles for people to discover different communities and identities.
"Gay pulp novels provided people a way to see what life could be like, no matter how unrealistic or how fantastical they are," says Collins. "I think that fantasy is really important, especially when you're looking at the fantasy of people who could not express it publicly."
Brown's collection ends with pulps from the '90s, when the rise of the internet made porn access easier and buying pulps unnecessary, Cole says.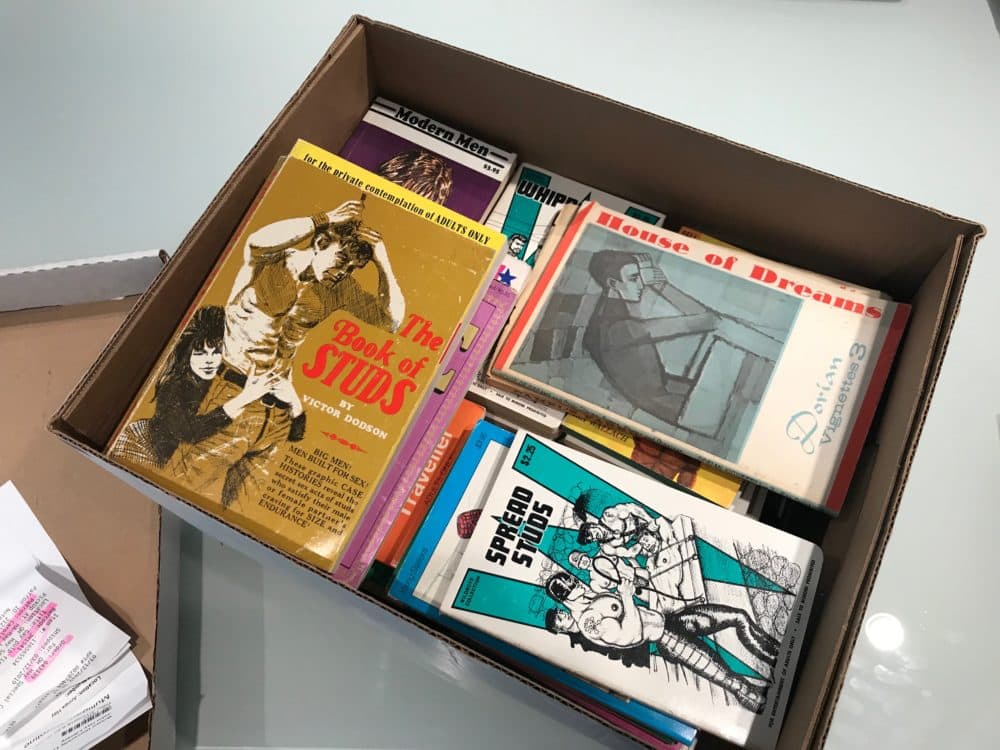 But both Cole and Collins agree the pulp legacy lives on in fanfiction — stories that fans write about their favorite books or TV shows and publish online, often responding to prompts from readers.
Fanfiction helps people do the sort of identity-seeking that gay pulps once encouraged, Collins says. And he speaks from experience. He grew up hearing stories about people who knew they were trans from childhood, but Collins himself "put two and two together" when he was older. Reading fanfiction that re-imagined one of his favorite characters as a trans man showed him other narratives about gender.
"I know that fanfiction was one of my introductions to trans identity," Collins says.
Right now, Brown's pulps collection is focused on gay men, with only a few lesbian titles. The collection is still being cataloged, but once that's done, Cole says she is interested in adding more books that cover the entire LGBTQ+ spectrum.
Collins says we can't forget the years of discrimination that kept queer voices out of establishment academic institutions. But both Collins and Cole agree the pulps are more than cheap, trashy paperbacks.
"Even just looking at the physical gay pulps, sure, it's a small porn novel. There's no escaping that that's what the text is about," Collins says. "But there are so many more things you can read from it."