Forecast: Sunny And Not Too Humid, It's A Great Week To Be On Vacation
Wow, do we have a great vacation week ahead.
That's quite fortunate news considering the week of July Fourth is often one of the bigger vacation weeks of the year. It rivals the week of Christmas, as well as that week before school begins in August for the week most taken off from work. The weather is a critical factor, of course, and this year conditions will cooperate in a big way.
While this past weekend was quite unsettled with scattered showers and thunderstorms, the week ahead looks very tranquil with a lot of warmth, moderate humidity and plenty of sunshine.
Today, temperatures will be the least warm of the entire week. Humidity will also be in check.
As the week progresses, high pressure will push offshore and that will allow a return flow of more humid air into southern New England. This means we'll be seeing typical July weather, and, of course, July is our warmest month.
There are lots of outdoor activities this week, and the only chance for showers I see is late tonight and early Tuesday. Although, the opportunity for rain Tuesday is a small one. Any showers overnight will end early Tuesday, and temperatures will stay warm as the air becomes more humid.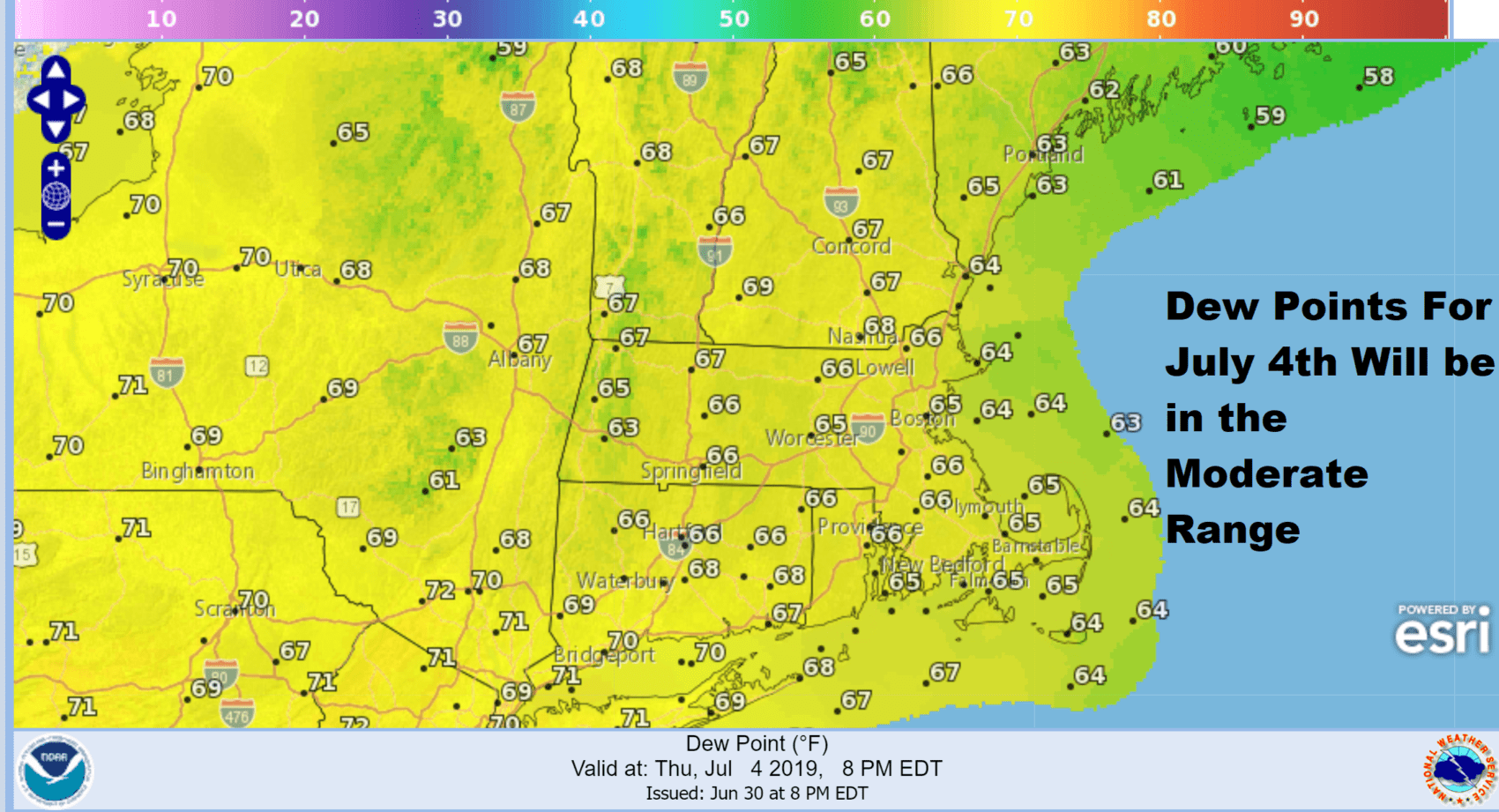 The Holiday
July Fourth looks ideal. The weather will be fantastic for the beach, and also wonderful for just hanging out and enjoying a lazy summer day.
Fireworks across the region will go off without a hitch, and there will be a clear to partly cloudy backdrop for all the festivities.
It's a pleasure to forecast such great weather as we celebrate our nation's birthday.
You can follow my updates here and on Twitter @growingwisdom.
---
Monday: Generally sunny and warm. Highs 75-82. Coolest at the coast and Cape Cod.
Monday Night: Mild. Temperature 61-65. Some clouds and potentially a quick late-night sprinkle.
Tuesday: Early clouds, then sunshine. Highs 80-86. Cooler on the Cape and the Islands. More humid.
Wednesday: Sunshine and warm. Highs 85-90. 75-85 on Cape Cod.
Independence Day: Mainly sunny. More humidity. Warm. Highs 83-91; 76-82 on Cape Cod.
Friday: Partly sunny and warm. Highs 83-91; 76-82 on Cape Cod.
Saturday: Partly to mostly sunny. An afternoon shower or storm. Highs 83-91; 76-82 on Cape Cod.