Mass. Retailers Celebrate Independence From Time-And-A-Half Pay On Holidays
If you're shopping for a Fourth of July cookout or stocking up on red, white and blue apparel Thursday, know this: Massachusetts law no longer requires retail employees to be paid time and a half for working the holiday.
Most hourly retail workers will receive 1.4 times their usual rate on this Independence Day. Mandatory holiday premiums will drop further in future years, until they disappear completely in 2023.
Jon Hurst, president of the Retailers Association of Massachusetts, said businesses need this phase-out because it coincides with annual increases in the state's minimum wage and new requirements for employers to offer paid family and medical leave.
"All these things collectively are adding up to a situation where payroll is going up far faster than inflation and far faster than sales are going up," Hurst said.
For the state's lowest-paid retail workers, this year's $1 increase in the minimum wage means they will come out ahead, even with a lower holiday premium. They will earn $16.80 per hour this Fourth of July, compared with $16.50 last summer.
Next year, however, holiday pay for minimum wage earners will start to decline: $16.58 in 2020, $16.20 in 2021, $15.68 in 2022 and $15 in 2023.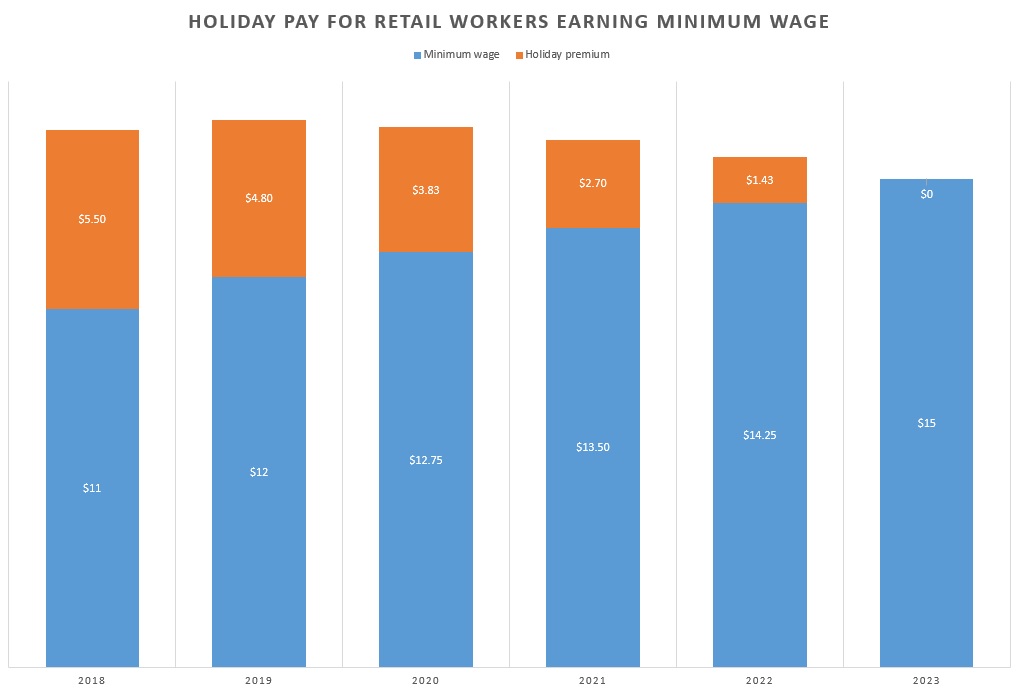 Minimum wage earners will generally have higher annual incomes in 2023 than they do now, despite collecting less on holidays. But other workers who are slightly higher on the pay scale may lose holiday premiums without benefiting from minimum wage increases, said Peter Derouen, director of political and legislative affairs for Local 791 of the United Food and Commercial Workers union in Easton.
Local 791 represents about 3,000 Shaw's grocery workers in Massachusetts, who enjoy some near-term protection: Their union contract ensures full time-and-a-half pay will continue until 2023.
"But it's going to be increasingly difficult to keep that language in, over time," Derouen said, "because it's one more thing that [the company is] going to come after that we don't have the state law to back us up."