Sequel To Cult Classic 'House Of God' Skewers Money And Screens In Medicine
I'd like to apologize to all my newsroom neighbors for the loud "Yes!" that escaped me earlier this week when I opened a big yellow envelope and pulled out "Man's 4th Best Hospital."
But I couldn't help it. The Fat Man is back!
Not the film noir character but the unforgettable, infinitely and cynically wise and crude senior resident from the cult classic, "The House of God," which has sold more than 2 million copies.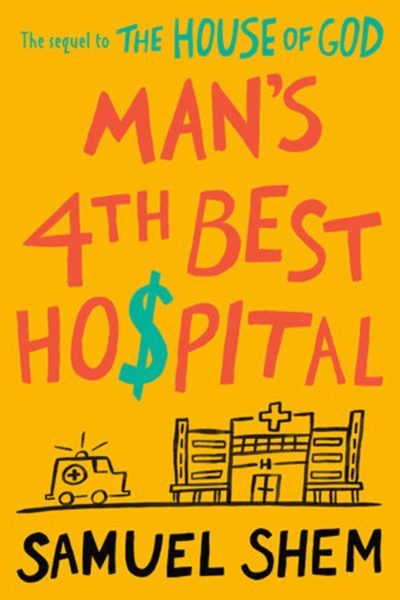 That hilarious and horrifying 1978 novel about medical training in a Boston hospital did for doctoring what "Catch 22" did for soldiering. There's nothing like satire to capture absurdity, and there was plenty of absurdity in medicine back then.
There still is. But more than 40 years on, author Samuel Shem trains the satirical sights of his sequel on two particular targets: screens and money. And he connects them, pointing out that the electronic medical record systems that drive many doctors (and patients) crazy are really fundamentally billing systems pretending to be care systems.
With one of his ultra-simple syllogisms, the Fat Man sums it up:
MONEY KILLS CARE
SCREENS MAKE MONEY
SCREENS KILL CARE
Shem — the pen name of Boston-area psychiatrist Steve Bergman — is not doing interviews about the book this far in advance of its November release, his publisher says. But in the publicity materials that came with my review copy, he says about electronic medical records, or EMRs: "Say the name of the most dominant brand — Epic — and doctors start screaming — literally screaming."
I've caught glimpses of this reaction myself. My first hint came in 2016 from the sputtering fury of a spoof-video Hitler expressing his epic hatred for Epic. Then came a post decrying EMRs and their "death by a thousand clicks" that went instantly viral. And this year, a parody Twitter account comically purporting to be the diabolical voice of Epic took off.
But nothing illuminates an issue like a full-fledged novelistic treatment — like, for example, multiple vivid pages devoted to doctors struggling with the hell of HEAL, a fictional EMR system.
The central plot-line in "Man's 4th Best Hospital" is one of attempted liberation from money and screens. Fats reunites familiar characters in a special unit called the Future of Medicine Clinic — aka The Fat Man Clinic — and arranges a hack that will free them from HEAL and billing-based medicine.
Make no mistake: This is a "novel of resistance," as Bergman puts it, and it aims to catalyze change, just as "The House of God" is credited with fueling reform of medical training.
Bergman spoke briefly at an event last year and read from his manuscript, including a word of wisdom to patients.
"What you don't know is that your doctor is sitting there in front of that screen seething, because he or she is forced to sit in front of a screen, seething, instead of what he wants to do: to talk, and listen, and be your doctor," he said.
"We doctors are caught in this mess — not treating the patient, treating the screen — for money," he continued. "And it's not that your doctor wants to turn his back on you; it's the health care industry that has turned its back on both you and your doctor."
He explained that he had been "absolutely appalled" when he got back into medicine a few years ago after a long hiatus and saw how money and screens had changed it.
"We doctors have got to take back our profession," he said. And that means, "we've got to go for single payer."
Cue the Democratic debate theme music. "Man's 4th Best Hospital" will come out in the thick of the campaign season, during the first campaign in memory where multiple candidates support some sort of single-payer or "Medicare for All" system.
Toward the end of the book, the Fat Man preaches that it could be supremely easy to bring in Medicare for All. Bergman told the audience how: "You get some techie guy in Washington who deals with the Medicare computer," Bergman said. He opens the box that says "age of coverage, and he changes it from 65 to zero. It's one click!"
Hmmm. It may be a little more complicated than that. And of course, many of the issues of EMRs are also far more complex and multi-sided than the novel portrays them.
But many of the pleasures that await readers of  "Mans' 4th Best Hospital" are simple: vivid characters, sharp dialogue, scathing send-ups of hospital leaders and a sort of a deeply vulnerable, imperfect-but-trying humanity that underlies it all.
Readers who travel in Boston medical circles are in for a particular sort of roman-à-clef fun. Can it be a coincidence in a town where Partners HealthCare is the biggest hospital chain that the novel includes a chain called "BUDDIES"? Or, when it comes to the title, that Massachusetts General Hospital — known, tongue-in-cheek, as "Man's Greatest Hospital"-- is actually only the fourth-greatest according to the U.S. News and World Report rankings?
Ultimately, as with "The House of God," the read may be rollicking but the issues are dead serious — literally. People die. Some who shouldn't have.
Dr. John Levinson, co-author of the "Death by a Thousand Clicks" op-ed, still recalls the power of "The House of God" for his medical-school class.
"I am pretty sure that every single student read the book before starting internship," he wrote in an email. "'The House of God' gave us a language for our emotional distress and helped us remember that patients are the subjects and not the objects of medical care."
In 2019, Levinson says, the old challenges remain, but he sees a big new one: "The business of medicine has overtaken professionalism. Health care is now not just business, but big business."
"As much as we doctors are depressed and burned out and leaving clinical practice for other jobs, the patients are the real losers in this system," he continues. He hopes, he says, that the sequel will bolster efforts to "wrest health care back from big business to patients, doctors, and common sense."
Dr. Ken Mandl, a Harvard professor who directs the Computational Health Informatics Program at Boston Children's Hospital, offers this closing thought: "EMRs have been purchased by physicians and hospitals on the basis of many fictions, and thanks to Samuel Shem, now we have fiction about EMRs. Perhaps, next, the movie?"