Photos: Archaeologists Hope To Dig Up History In Boston's Chinatown
Play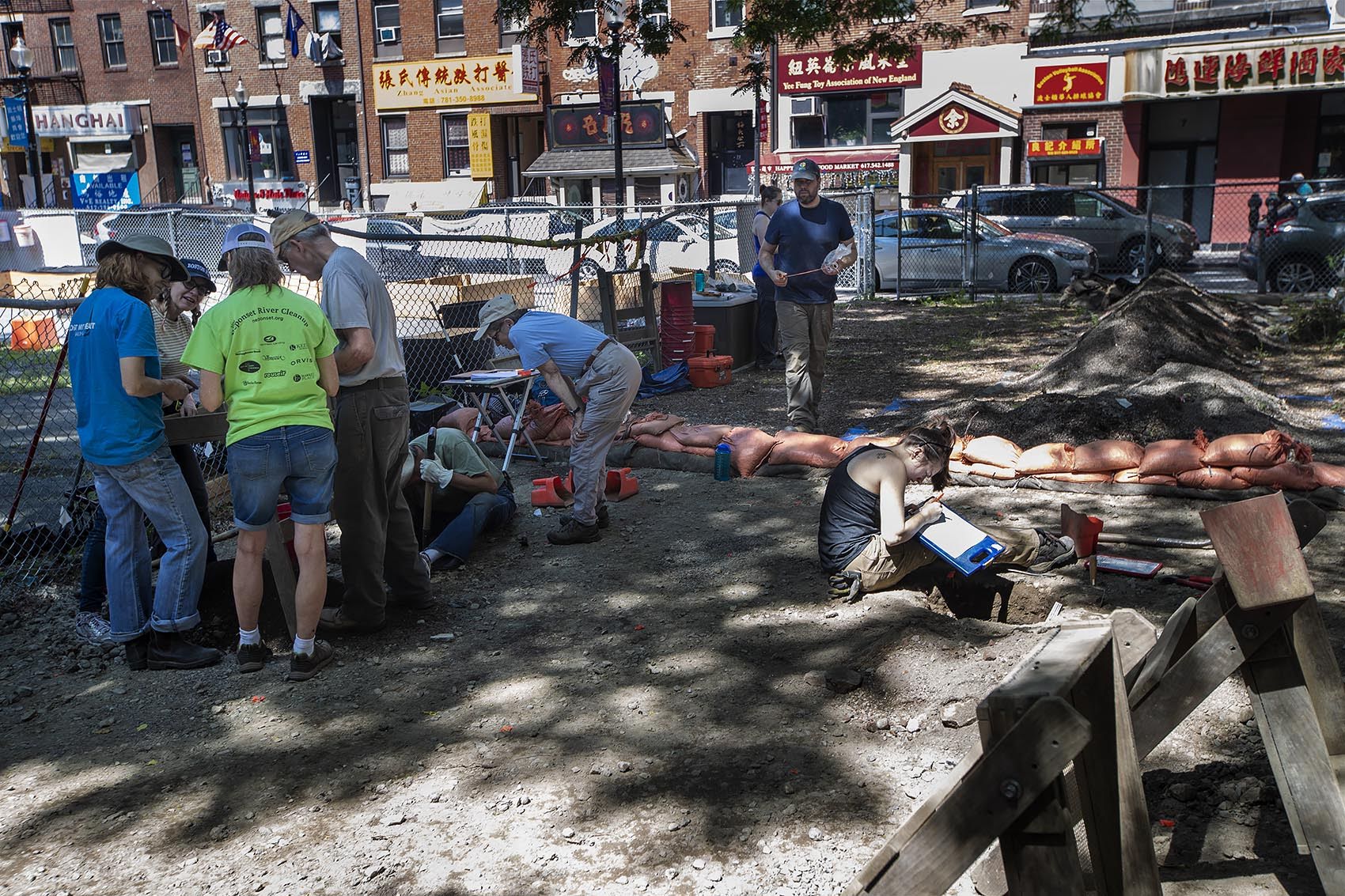 This article is more than 3 years old.
Excavation began Monday on a site in Boston's Chinatown neighborhood, which has been home to English, Irish, Syrian and Chinese immigrants.
Joseph Bagley, Boston's city archaeologist, is in charge of the dig. Bagley joined WBUR's Morning Edition host Bob Oakes on Monday to talk about it. The conversation below has been lightly edited for clarity.
This post has been updated with photos from the site of the dig.
Interview Highlights
So tell us about this particular site. It has quite a history in terms of immigrants.
Yes, [this is] one of the parts of Boston that was actually created in the 1840s. So on this site over the 19th century, we have wave after wave of immigrants coming in and for the city. [There were] some rather unique communities that lived in and called that area home.
What do you hope to find at this site? What would really excite you?
Our goal in archaeology is to always find stuff that tells us something about the story that we don't have written down. So my goal is to find artifacts that tell us about the daily lives of the people that lived in these homes, or in this home. For us, one of the challenges in Boston is that we have a lot of written history, but, for example, our tax records only record adult men. So my goal is to find the other people that were in the house — because, you know, there are other people besides adult men: the women and children.
As far as specific artifacts, I'd love to find artifacts related to the food that people were eating in the 19th and early 20th centuries, especially [the] Syrian and Chinese communities because that's two communities in the history of Boston that have been really underrepresented by history.
You talked about filling in the history of the lives of women and children in Boston. What specifically are you looking for to help along those lines for children?
[We're] always looking for toys. We're going to be digging in the backyard and that was the place children played, but also toys often used as teaching tools to train young girls into how to be wives, to train young boys how to play and to build. So those are the kinds of insights we're gonna get from the toys themselves.
Because this is a house, we're going be seeing a lot of the domestic artifacts that were used in the kitchen, in the living room, in the bedroom. Those are the artifacts that are gonna really tell us the story of some of the women in the family especially, since many of them would be homemakers at this time in the 19th and early 20th centuries.
How long are you gonna be at this? Explain the scope of the dig and how you make sure it'll run smoothly.
We scheduled out the dig for eight weeks. However, it's going to really depend on how deep the site goes and just how much there is there. One of our worries going into a dig that's never been dug before is, "Is it intact?"
If we find a site that's really intact. It'll take us the full eight weeks to dig, because we'll have so much to go through. But if it's not as intact, then those take less time.
What will happen to the artifacts you discover?
We have an archaeology laboratory out in West Roxbury where we will be cataloging, photographing, and digitizing everything that we find. So ultimately, we will have a searchable database where you can see every artifact that we found [and] an archeological report which will summarize all of the new information that we have and interpret all the artifacts that we found. And then we're already in discussions with the Chinese Historical Society of New England and Friends of Boston Archaeology about looking to funding sources for exhibits. We want to bring the artifacts back to the community, to highlight artifacts that really tell the story of the site and exhibit them in public in Chinatown.
Photos from the archaeological dig site: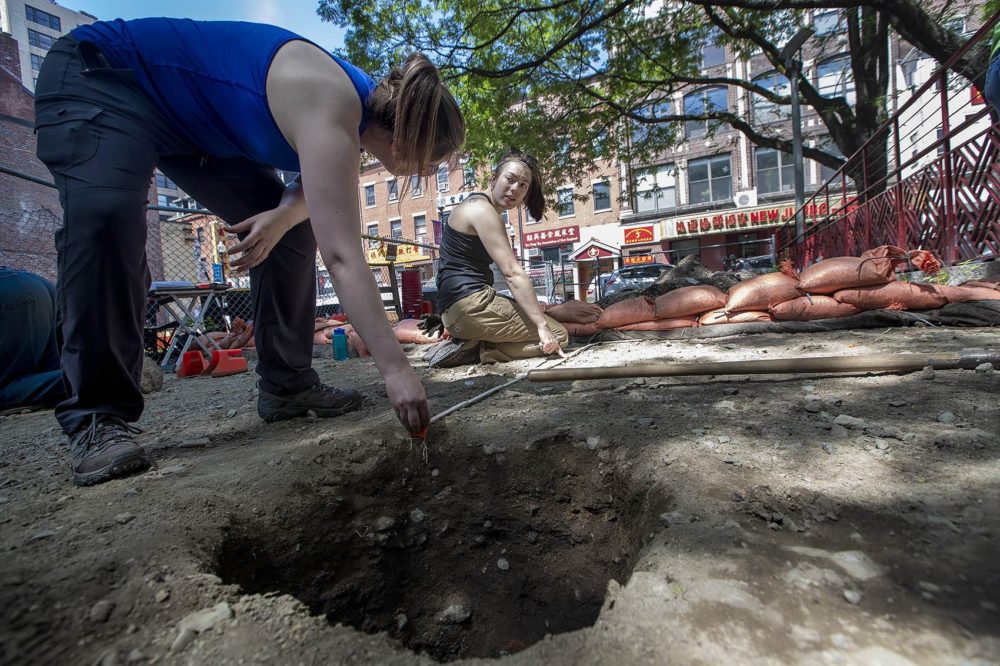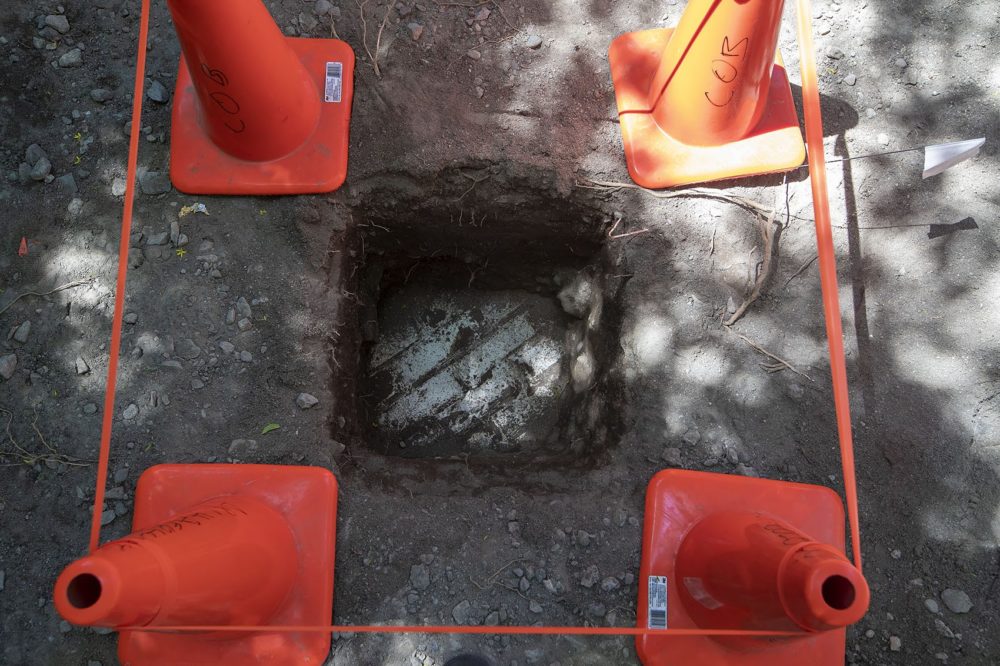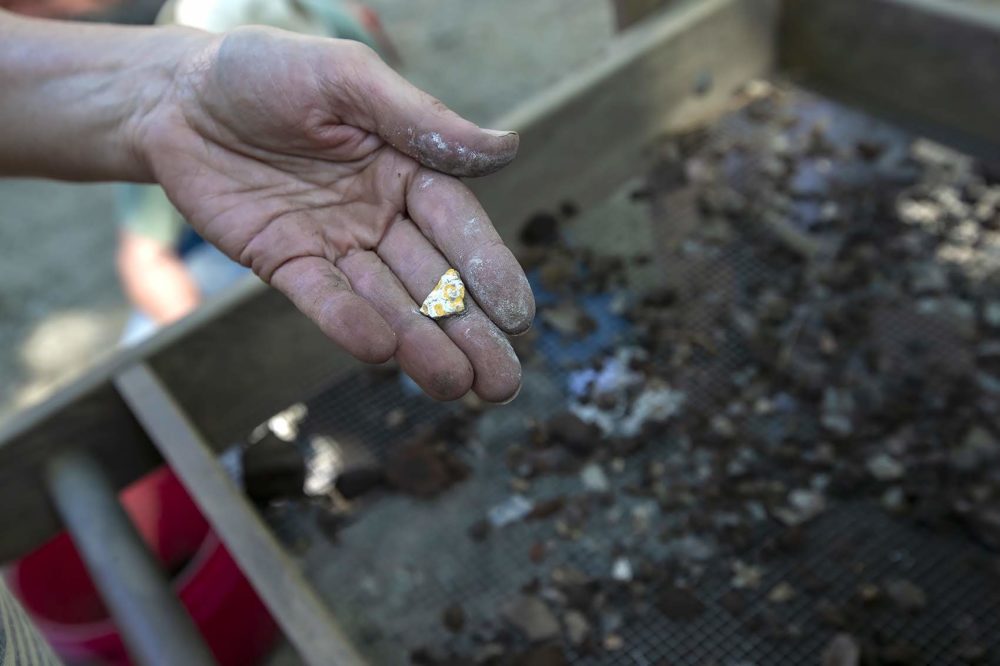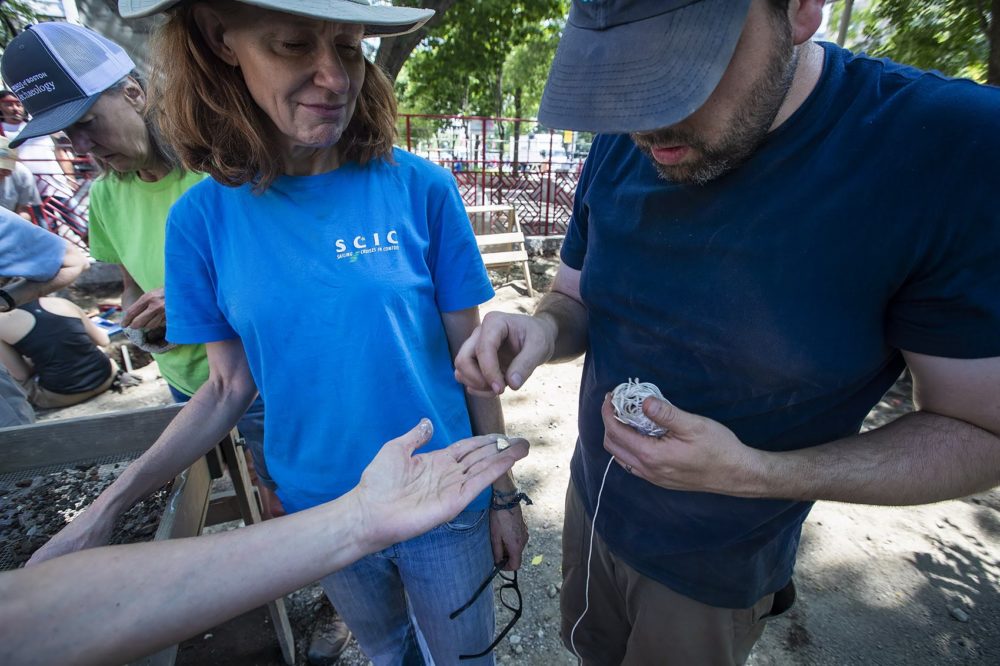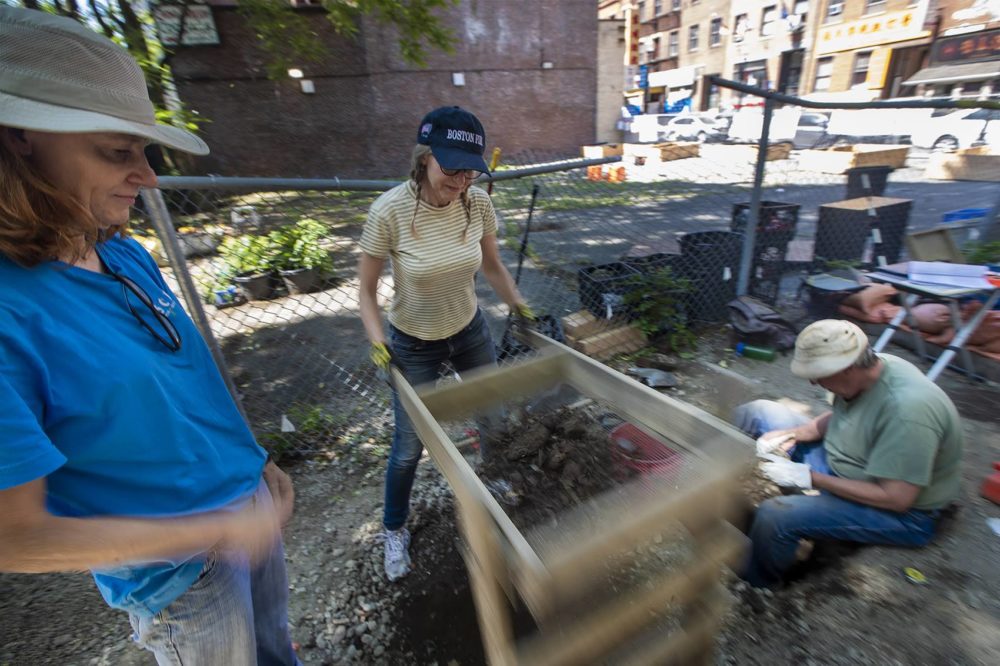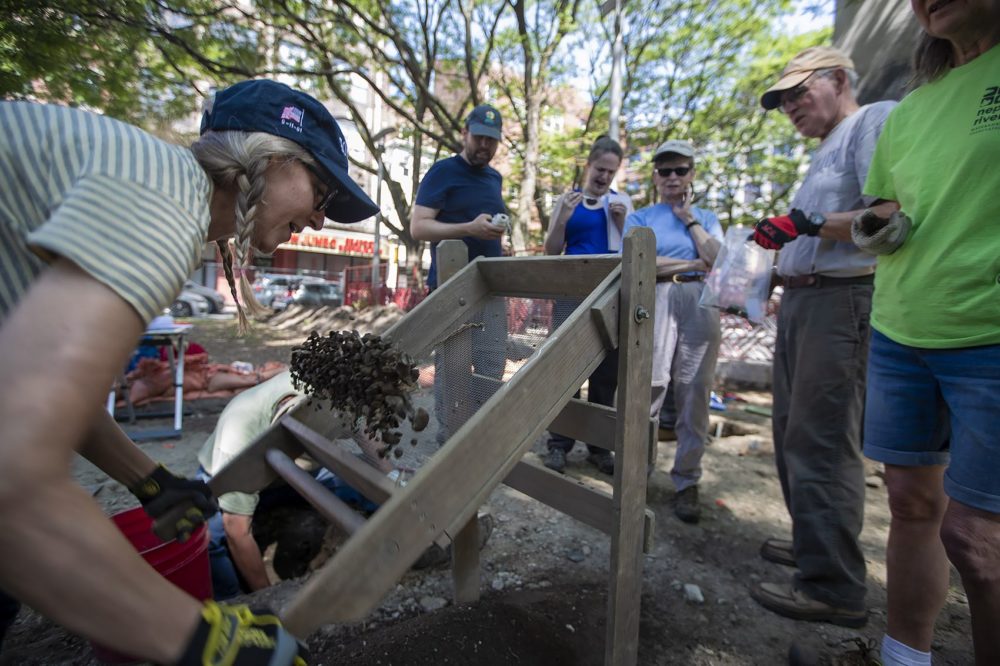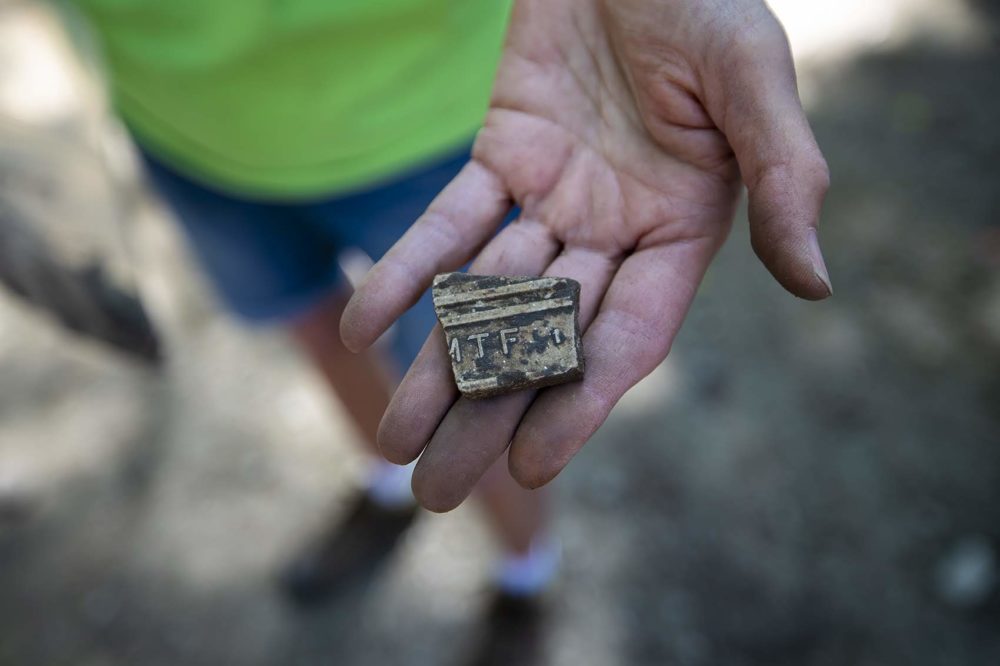 This article was originally published on July 08, 2019.
This segment aired on July 8, 2019.