Accused Sex Trafficker Epstein Supported Many Boston-Area Causes — Several At Harvard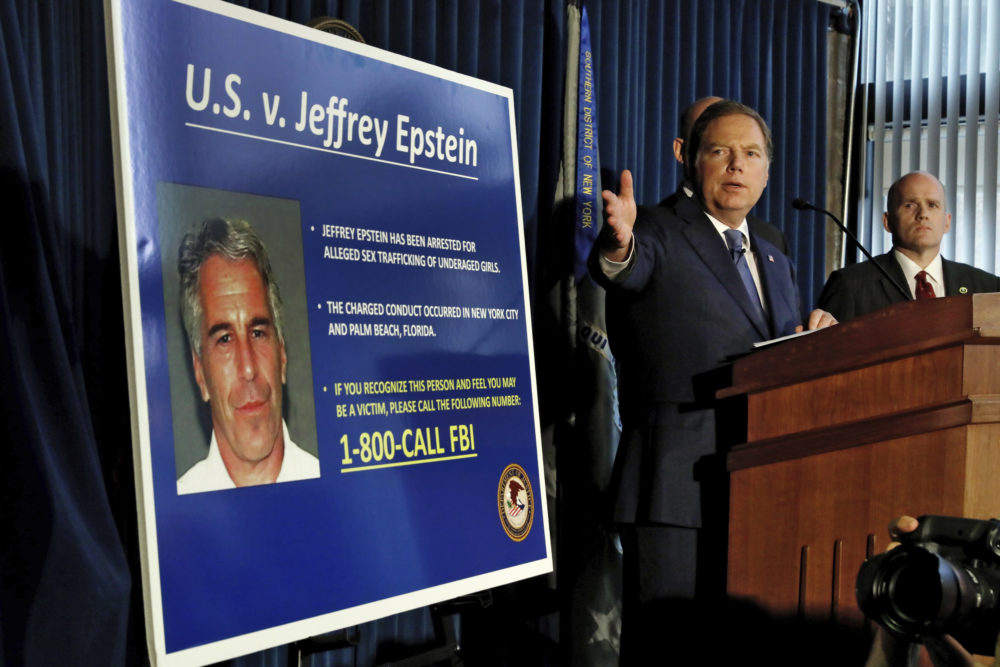 This article is more than 3 years old.
Jeffrey Epstein, the wealthy money manager now under federal indictment for sex trafficking of minors, was a benefactor to many Boston-area causes — many in and around Harvard University.
Epstein — who has pleaded not guilty — didn't attend Harvard, or graduate from college. But even as he allegedly cultivated a network of underage girls for sex, he amassed a group of friends at the university and supported research there.
Jonathan Swain, a Harvard spokesman, said the university "does not comment on individual gifts or their status."
But after Epstein was first arrested, in 2006, Harvard's then-President Derek Bok was more candid, saying in the Harvard Crimson that the university should only refuse gifts in "extreme cases," arguing that the "tangible benefits" afforded by the money overcame the "more abstract, symbolic" question of their source.
Three Harvard connections stand out from the paper trail left by Epstein's philanthropy:
1. Epstein funded Harvard's Program on Evolutionary Dynamics
Harvard officials confirm that in 2003, Epstein gave $6.5 million to support the university's new Program for Evolutionary Dynamics (PED), to be overseen by Austrian-born biologist and mathematician Martin Nowak. The program's website says its goal is to investigate "the fundamental mathematical principles that guide evolution."
Nowak could not be reached for comment.
Epstein pledged further gifts to support PED up to $30 million, and later said he'd given that much, but a Harvard source familiar with the donation said the university only ever received that initial $6.5 million gift — and that it was quickly spent.
The first case to implicate Epstein in sex trafficking of girls took shape in 2005, two years after his founding gift to PED. But two years later, federal prosecutors and Epstein's attorneys — among them Harvard law professor Alan Dershowitz — arrived at a controversial deal that saw Epstein plead guilty to solicitation and serve 13 months in county jail, with work release almost every day.
Still, Epstein's support of Nowak is memorialized in dozens of articles on Google Scholar through 2012. And in his 2011 book "SuperCooperators: Altruism, Evolution, and Why We Need Each Other to Succeed," Nowak shows Epstein asking probing questions about his research and making a "generous donation to fund [his] research" the day after their first meeting.
The book also describes a visit to Epstein's private Caribbean island, Little Saint James, around 2001 or 2002:
Jeffrey was the perfect host. I asked a casual question about what it was like to dive in the warm, clear waters around the island. The very next day a scuba diving instructor turned up. When the British cosmologist Stephen Hawking came to visit, and remarked that he had never been underwater, Jeffrey rented a submarine for him.
The visit ended, Nowak writes, with Epstein promising to set up PED.
2. Epstein knew and supported individual scholars.
Apparently, Nowak was not alone in finding Epstein to be an enthusiastic and generous patron.
In 2002, Stephen Kosslyn, a Harvard psychologist, told New York magazine that Epstein was "like a honeybee — he talks to all these different people and cross-pollinates." "Just two months ago," Kosslyn added, "I was talking to [Epstein] about a new alternative to evolutionary psychology. He got excited and sent me a check."
Epstein seemed to enjoy the company of scientists. He turned up, for example, at a 2004 dinner and discussed "whether weird quantum effects had played a significant role in the origins of life" with Seth Lloyd, who teaches quantum mechanics at MIT.
And through multiple nonprofit organizations, he made gifts to individual researchers, including a 1999 grant to Anne Harrington, a historian of science at Harvard who also runs an undergraduate house.
Last year in the Harvard Crimson, Harrington described Epstein's alleged actions as "terrible." She added, "Had I known then even a hint of what we all have subsequently learned about him, I never would have accepted" the grant.
Neither Harrington nor Kosslyn -- now president and CEO of a two-year online college — could be reached for comment.
3. Long after his 2006 arrest, Epstein continued to give money to groups in Cambridge — including to MIT.
In 2013 and '14, Epstein's foundation shared dozens of press releases that touted his philanthropy and described him variously as a "renowned Harvard investor," "Harvard mogul" and "Harvard financier."
Shortly thereafter, Epstein's giving seems to have shifted to a Virgin Islands-based nonprofit, Gratitude America. (Epstein was listed as director at the time of its founding, then his name disappears from the group's subsequent tax filings.)
But Gratitude America continued to be run by Epstein associates and to contribute to causes in Cambridge a decade after he pleaded guilty to solicitation.
A filing shows that in 2016, Gratitude America made a $110,000 gift to Verse Video Education, a nonprofit run by Elisa New, a Harvard English professor who was then developing a TV series for WGBH called "Poetry In America." 
New is married to Larry Summers, the former president of Harvard, who served with Epstein at the Council on Foreign Relations and in other roles.
In a statement Tuesday, New said she was "profoundly troubled" by the latest allegations against Epstein, and added that the funds he contributed "have already been used in service of our mission" of popularizing poetry.
New added that her group has no ongoing ties to Epstein or to Gratitude America.
Also in 2016, Gratitude America gave $50,000 to the Hasty Pudding Institute of 1770.
The institute's legal base is in New York City, but it comprises and supports three student organizations around Harvard's campus: the Hasty Pudding social club, the Hasty Pudding Theatricals (that puts on comic drag shows and host celebrities) and the Harvard Krokodiloes, an all-male a cappella group on campus.
Hasty Pudding literature showed Epstein labeled as a "Guardian of the Sphinx" from at least 2014. (The epithet is reserved for donors of $50,000 or more.) The institute's alumni leadership did not return requests for comment.
And the generosity wasn't limited to Harvard.
Tax filings show that Gratitude America made a $150,000 gift to MIT in 2017.
Institute spokesperson Kimberly Allen said in a statement that "MIT does not typically comment on the details of gifts or gift agreements."