Forecast: Hot Today With Thunderstorms Tonight; Weekend Heat Warnings
A cold front along with the tropical remnants of Barry will affect our weather this afternoon into early Thursday. Although many towns will get close to 90 today, rain and thunderstorm activity moving in will significantly cool us down tonight and Thursday.
Some of the rain could be heavy, especially south of Boston, including the islands, Connecticut and Rhode Island, as this is the area in which Barry's moisture will be more prevalent.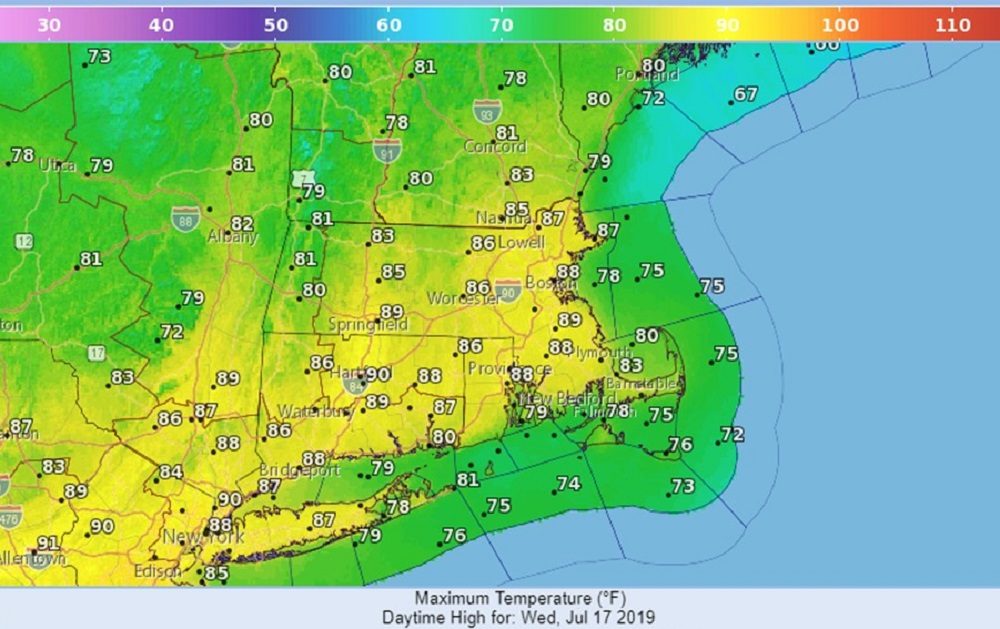 The combination of a northeast flow and lots of clouds will suppress our temperatures Thursday. In fact, the highs of 70 to 75 early in the day will be replaced with readings in the 60s by late Thursday afternoon. For some, it might even fill a bit chilly.
Friday will be a transition to warmer weather and increasing humidity. A return to partial sunshine will drive temperatures back into the 80s. This trend will continue in full force this weekend with sunny, hot weather over southern New England, as temperatures soar into the 90s. It will feel about 105 degrees with the humidity, so take it easy and drink plenty of water if you're outdoors.
The hot, humid weather will finish out the weekend Sunday with the next front giving us a chance for showers and thunderstorms Monday.
---
Wednesday: Partly sunny. Showers and thunderstorms developing, mainly this afternoon. High 88.
Wednesday night: Showers, chance for a thunderstorm. Low 73.
Thursday: Morning showers, then mostly cloudy. High 73, cooling to the 60s by evening.
Friday: Morning clouds then partly sunny in the afternoon. High 88.
Saturday: Sunny, hot and humid. High 98.
Sunday: Mostly sunny hot. High 93.
Monday: Partly cloudy. Chance for a shower or thunderstorm. Highs upper 80s.
Meteorologist: Dave Goldbaum for Dave Epstein
This article was originally published on July 17, 2019.