In Netflix's 'Blown Away,' Artist K. Momoko Schafer Holds Up Glass In A New Light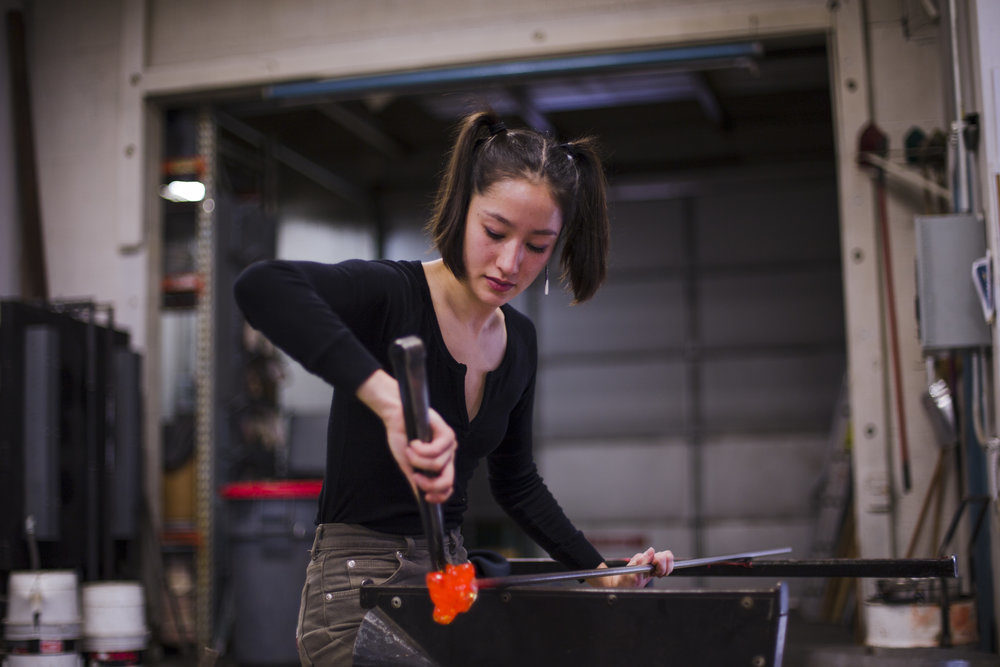 This article is more than 3 years old.
One of the first things you learn watching glassblowers work? Glass breaks. Hours of meticulous shaping can splinter into dust at an imperceptible change in temperature. A single crack, manifested by the touch of a cold tool, can undo a masterpiece.
K. Momoko Schafer, better known as Momo, wouldn't have it any other way. Born in Boston, Schafer began exploring glassblowing during her undergraduate years at MassArt, motivated by the lifelong challenge glass presents and the opportunity to push her own boundaries.
"What keeps me in glass is that it feeds every part of me," explains the 25-year-old artist. "It feeds my body. It feeds my soul. It brought me to places; right now I'm at Penland [School of Crafts] feeding some of these young talented people that are on the same wave with me."
Schafer says she never could have anticipated the places glass would bring her. Her position at Penland, an internationally-renowned center for creative education, comes on the heels of her appearance on a new Netflix series called "Blown Away." The first competition reality series of its kind, the show pits 10 glassblowers of various ages and experience levels against each other in timed challenges for the title of "Best in Blow." Each episode features a themed creative prompt, and glassblowers are judged by their technical capability and artistic bravery — there's no gift shop glass welcome here, folks.
Glassblowing is physically demanding work that Schafer describes as a powerful blend of magic and science. Each creation takes focused effort to create, and requires the studio space for large tools as well as an oven reaching more than 2,000 degrees Fahrenheit. Therefore, the community is small, and glassblowers share a mutual respect and camaraderie that comes from shared experience with such a volatile medium. So when casting calls and applications from "Blown Away" started reaching the glass community, Schafer describes a mix of excitement and apprehension that was felt by her peers.
"This is really the first time that so many people are going to see and gain some understanding about glass, and that's a huge amount of pressure," Schafer says.

However, once Netflix announced that "Blown Away" would be partnering with the celebrated Corning Museum of Glass (the grand prize winner will enjoy a newly-formed residency at Corning), she and many others in the community began to realize that the show wasn't out to simply make a spectacle of the art of glassblowing. Instead, it felt like a real opportunity to bring a little-understood art practice to the world.
Once in the hot shop on set, Schafer and her fellow competitors found themselves trying to find a balance between true studio practice and what was expected from them as part of a competitive reality television show. For example, at the beginning of the competition, the 10 contestants were provided with only five high-heat torches, which are fundamental to the initial shaping and sculpting of the molten glass. It was in these contrived situations that the glass community found itself in most cultural contrast with the nature of the show.
"So right off the bat there easily could have been moments that, you know, could have been like sabotaging somebody! But we all wouldn't dare to think that because that would be so terrible to watch, and we do care and respect for each other. But I could see how the producer and the cameraman were kind of wanting that. The conflicting energy in the room was weird to kind of navigate," Schafer says with a laugh.
For Schafer, the experience on "Blown Away" was transformative in more ways than one. The opportunity to push herself as an artist and see all that she was capable of making in such a short amount of time was powerful. So was the chance for Schafer to hold space for people like her; as a young woman woman of color, she's used to navigating studios that are often male-dominated.
When it comes to her own work, Schafer strives to create art that's accessible and inclusive. Much of her inspiration as of late comes from the exploration of dreams, of facilitating a sense of wonder; a parallel she draws alongside the art of glassmaking itself, which she describes as "otherworldly."
"When making art about dreams, you know, that's a very hard thing to convey to somebody because they're not in your head no matter how thoroughly you try to describe it. They're not there to experience [your dream] with you. Some people don't even believe that they dream. So depending on anybody's starting point the conversation's gonna be really different," Schafer explains. "That's why I try to go based on feeling. It's not important to me that they get every detail of what I have to say. It's really just that they feel like they get something out of that experience in itself."
---
"Blown Away" is streaming now on Netflix. Schafer's work can also be found on momokoschafer.com.