Forecast: Excessive Heat Warning Posted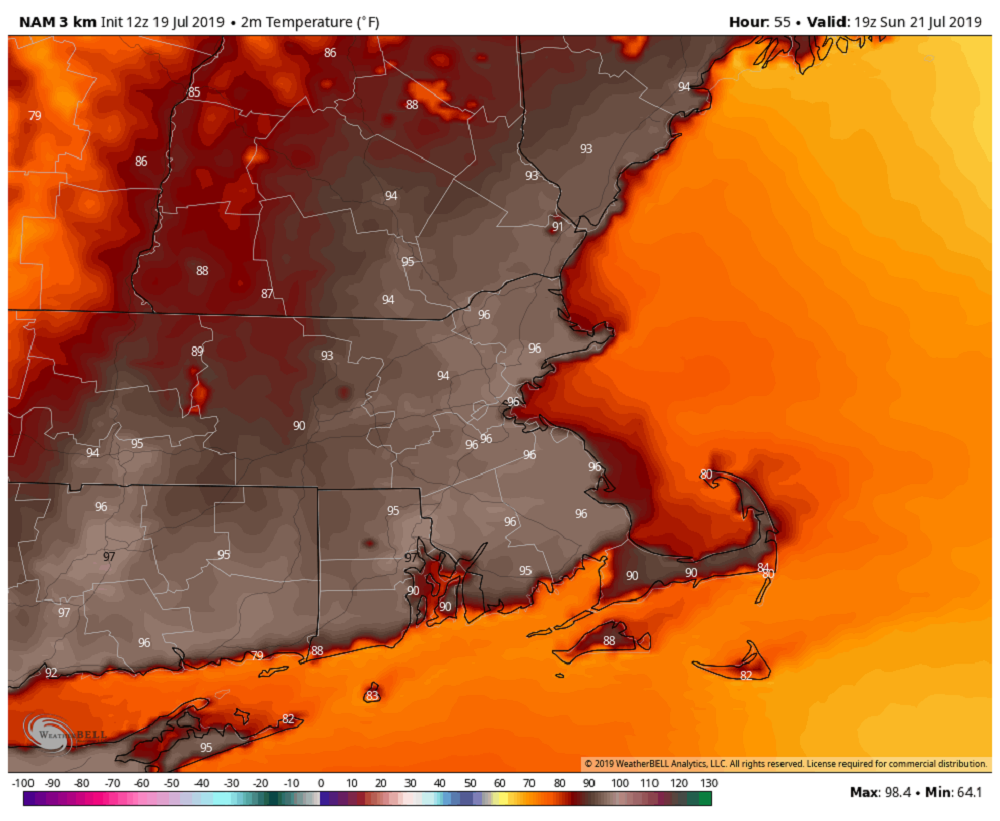 Yesterday was just the appetizer of the heat we will experience over the next couple of days. Today and tomorrow bring about the main course.
This will likely end up being one of the hottest weekends ever on record in Boston. When you average the overnight low temperature and the daily high it will be in the upper 80s. Even if an actual record isn't broken, it will still be quite a miserable weekend. Breaking a temperature record is academic at these levels.
The bigger story this weekend is the dew point, which will reach the mid to upper 70s. The dew point measures the amount of moisture in the air and when you combine this with the heat, it will feel over 100 degrees for many hours both today and tomorrow.
Tonight will be one of the warmest nights on record ever in Boston. The temperature will stay above 80 degrees for all but a couple of hours, and it may even remain above the 80 degree mark in downtown Boston the entire night.
All of this has prompted the National Weather Service to issue and extreme heat warning. This remains in place through Sunday evening.
If you need to work outside the best time to do this will be from about 30 minutes before sunrise until about 90 minutes after. By the time we get towards 8 a.m. it's already going to feel very hot and difficult to exert yourself. This type of heat is dangerous because your body loses its ability to cool itself. Heat exhaustion and heat stroke are serious medical issues and both can he brought on by the extreme temperatures.
All this heat is being caused by high pressure acting as a big heat pump and pulling in tropical air. Late Sunday and into early Monday the high will begin to break down. There will also be the chance for a few thunder showers. Cooler and less humid weather will take over early next week.
You can follow my updates here and on Twitter @growingwisdom.
---
An Extreme Heat Warning Through Sunday. Limit Strenuous Activities
Saturday: Hazy, hot and humid.  Highs 92-100.  It will feel over 100 during the late morning through afternoon.  Cooler Nantucket.
Saturday Night: Very warm and humid.  Lows 75-80.  It will remain the 80s through midnight.
Sunday: Continued heat.  Highs 95-100.  Extreme humidity continues.  May have a storm at night. Cooler Nantucket.
Monday: More warm weather with sunshine. Highs 81-86.
Tuesday: Mainly sunny and more comfortable.  Highs approaching 80.
Wednesday: Sunny and pleasant.  Highs in the lower 80s.
Thursday: Continued sunny and warm. Highs 82-88.