The Bandage Of The Future May Look Like Jell-O
This article is more than 3 years old.
Harvard bioengineer David Mooney's lab is developing a bandage that, he hopes, will one day help heal wounds for people whose bodies have lost that ability. Or, he says, it could help close gashes that might otherwise have needed stitches. He describes it as a technologically advanced Band-Aid that resembles flat strips of gelatin.
The key to this possible bandage of the future is a material called hydrogel — a substance made from water and chains of repeating molecules called polymers. "It looks like Jell-O, but it doesn't feel wet," Mooney explains.
Most importantly, he says, the hydrogel needs to be strong, sticky and able to actively aid healing.
"This has been a longstanding challenge in the medical field," Mooney says. "It's hard to have adhesives that can stick when things are wet or bloody and can stick to things that move around a lot."
Mooney and his team combined several polymers with different properties to get a hydrogel that would work as a bandage, including two polymers that come from the ocean.
"We used a polymer called alginate which is a material that gives seaweed a lot of structure and form," he says. "And we used one called chitosan. It's naturally derived from shellfish. That helps [the hydrogel] stick well to tissues."
The team also team used a synthetic polymer called PNIPAM that reacts when it heats up to body temperature. "When it's warmed from room temperature to 98 degrees Fahrenheit, it starts to shrink," Mooney says.
The idea is to create a hydrogel that can cover a wound, help stop the bleeding and, as it heats up and begins to shrink, grab the torn edges of broken skin and pull them together to help close the wound.
The team tested the bandages on mice with wounds approximately 1 centimeter wide. Mice that got the hydrogel strips saw their wounds close far more rapidly than mice that simply got gauze or hydrogels that didn't shrink.
"It was at least twice as fast. You're looking at timescales of a day to a week or so," Mooney says. "It was really exciting. You're getting a regeneration of the skin tissue more rapidly and completely."
The team reported the findings in Science Advances on Wednesday.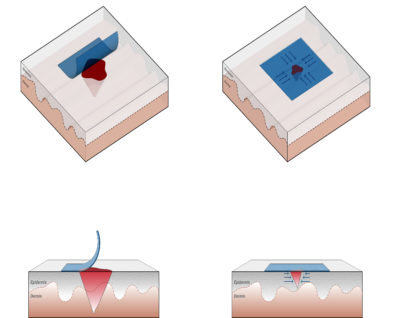 The hydrogel bandage works to heal wounds in a way that's similar to how embryos heal themselves inside the womb, according to Robert Gourdie, a biomedical engineer at Virginia Tech who did not work on the study.
Embryos, including unborn human embryos, form a protein ring around wounds that lassos the wound shut. Mooney's gel tries to pull the wound closed in a similar way. "It's an interesting idea, and it's quite clever in its conception," Gourdie says.
Still, Gourdie emphasizes that there's a long way between Mooney's experiments in mice and proving that the hydrogel bandage will be useful in the clinic or the field.
"The wounds in the study are relatively small: less than half an inch in width," he says. Some chronic, slow-healing wounds like diabetic ulcers – injuries that heal slowly or do not heal at all in certain patients with diabetes – can be several inches wide. "That has the potential to change how this gel works, and it's going to be a really important thing to follow up and figure out," Gourdie says.
But Gourdie adds that the bandage may be useful in certain surgical instances. "Sometimes the skin and muscle of the abdomen can't be closed during surgery or remains weak," he says. "If this can assist surgeons during that, it will be a big help."
And simpler external injuries – like the kind that might just need a few stitches – could also be treatable with a hydrogel bandage.
"We definitely could see where this would be a routine way of treating wounds, both with medical professionals and just lay people at home," says Mooney.