This Organization Is Trying To Diversify Boston's Figure Modeling World
In a classroom in the basement of Lesley University, seven models are holding dramatic poses. Some stand with outstretched arms while others recline on the floor with twisted torsos. After 30 seconds, a facilitator calls out, "Time!" The room fills with movement as everyone finds a new stance.
Though they could have been dancers in rehearsal, this group has a different purpose. They are participating in a free, full day workshop hosted by Figure on Diversity, a nonprofit organization funded by Lesley University that teaches people from underrepresented groups how to become nude models for figurative arts.
Figure on Diversity's co-founder Angela DeCarlis (they/them) said that they first realized the importance of diversifying figure modeling scenes after moving to Boston five years ago. Before then, they were an art student in Philadelphia where the figure drawing scene featured many models of color as well as models who identified as fat, queer, and disabled.
In Boston, however, DeCarlis, noticed that city's academic institutions, which have the most resources to pay models, mainly hired white, thin, able-bodied models. The impact of this, DeCarlis says, should not be underestimated. The human figure is the foundation to nearly all art students' educations. Therefore, featuring a variety of bodies in classrooms is crucial to increasing the breadth of identities represented in fine art and media.
"Let's say you're learning to draw these bodies and then you go into comic book illustration, but when you go to try to draw a person of color, you don't know how to do it," DeCarlis explains. "So from an educational perspective, I believe students should have access to a wider variety of bodies so that they can portray them in a way that isn't harmful."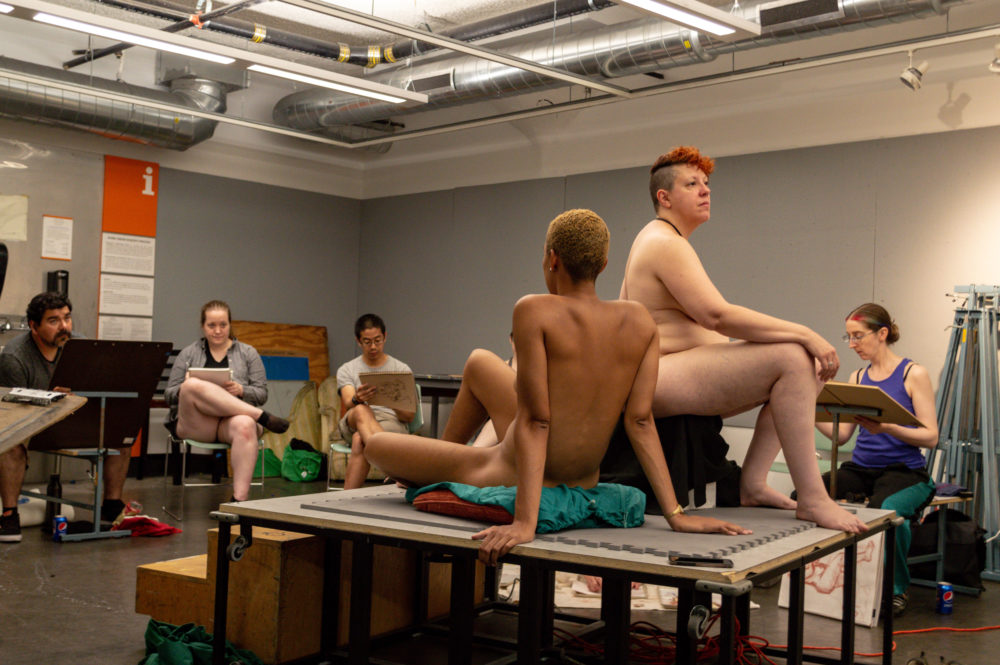 Soon after moving to Boston, DeCarlis, then a figurative model, sought freelance work through Facebook groups, like Figure Models of New England and Networking for New England Figure Models. They helped models find gigs and set boundaries with artists.
But DeCarlis saw a need for something more. They joined forces with Izebel Vivant (also a figurative model in Boston), and together they co-founded Figure on Diversity — a series of workshops where underrepresented models could learn the craft and troubleshoot issues they face on and off the modeling stand.
In each workshop, DeCarlis and their co-facilitators offer three major sections. In the first section, models learn tips for safety, setting boundaries, negotiating compensation, and responding professionally to offensive comments. For example, trans and nonbinary models can use workshops to brainstorm responses to artists and professors who mis-gender them. Then, the group begins experimenting with poses that suit their bodies' unique needs and emphasize their strengths. The workshop concludes by giving models a chance to pose in short intervals for artists in an open figure drawing session. Before each new model approaches the stand, they are introduced by name and pronouns.
Throughout the workshop, facilitators prepare the participants for the profession's pitfalls. Models can incur injuries from long hours and difficult poses. They also can be sexually harassed, racially discriminated against, and exploited via nonconsensual photography. Payment can be a problem, too.
Still, the work is empowering. Facilitator Gina Terzino first started modeling after becoming unemployed. On the stand, she remembered feeling "glorious."
One participant, Thia Griffin-Elliott (she/they), who is actively transitioning, says that modeling marks a new chapter in which they feel more emboldened to be seen by others.
"For most of my life, I have not been comfortable with turning my own gaze on myself" Griffin-Elliott says. "So for the first time, I have concerns, fears, but also curiosity about how others see when they see me."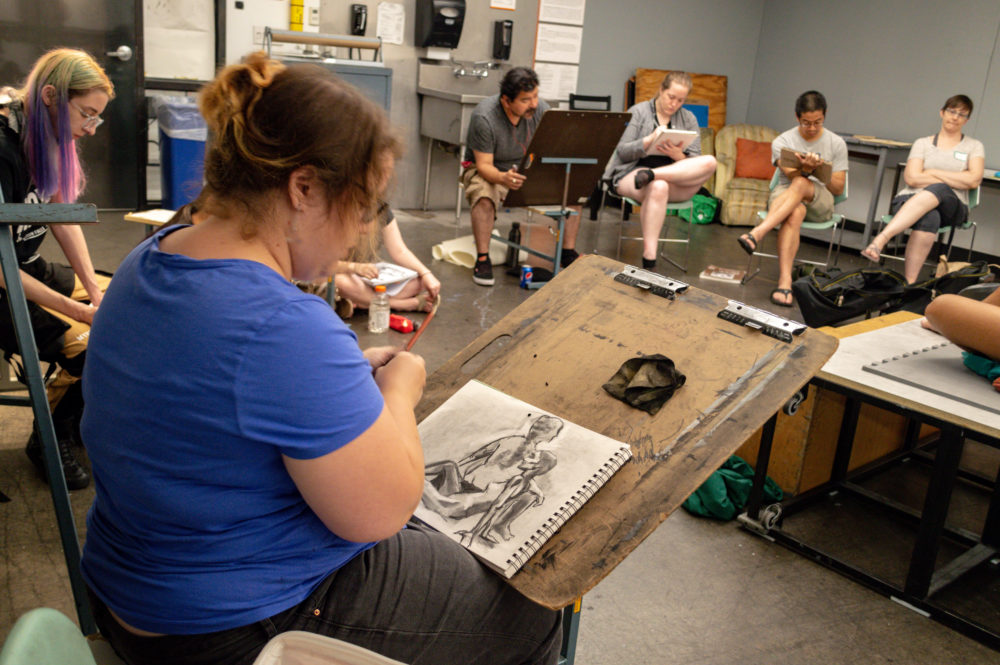 And sometimes, modeling is powerful because it is a form of healing. Col Williams (they/them), who identifies as a black, indigenous, queer artist, says that they began modeling after undergoing top surgery. For them, the positive effects of modeling are individual and communal.
"Being a model with a body that looks like mine, I think is very healing in the long run to not only myself but other people who look like me because they get to see a body that looks like mine and that looks like theirs," says Williams. "And that body gets to be considered as beautiful, as art, or something to be admired and appreciated as it is."
For DeCarlis, they hope that the fledgling organization becomes a vibrant community where people that the workshop lovingly calls "models of diversity" can empower each other online and at workshops.
"I don't think the modeling community had been communicating that it was accessible," says DeCarlis. "And I would like more people to have access to modeling whether that's for paying the bills or the personal emotional benefit of feeling powerful."
Correction: Several names were misspelled throughout this piece. We regret the error. 
This article was originally published on July 26, 2019.