Boston Sweats Through Its Hottest July On Record
Tuesday brought more 90-degree weather to Boston, for the second official heat wave this summer — with warm temps on the way again Wednesday.
Many cities and towns in New England have had more 90-degree days than Boston. For instance: Windsor Locks, in Connecticut, has had 18 such days this month, the most there in any month on record. Most climate sites are experiencing one of — if not the — warmest Julys on record. It doesn't matter which climate site you review, this is a top 10 warm month pretty much everywhere in the Northeast: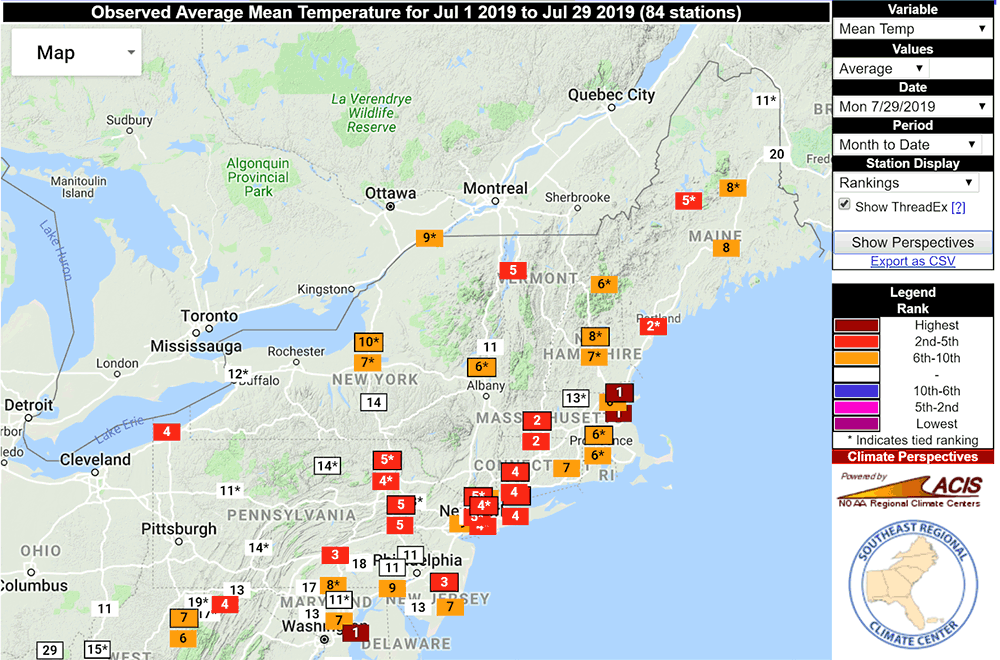 When you hear "warmest July," what meteorologists mean is that the average between the day and the night ends up higher than any other month. Records for Boston go back to 1872, so when you have the warmest July on record it's significant.
Statistics can be funny because you can look at a variable all sorts of ways. For example, while this month will end up as Boston's warmest average July on record, it will be slightly off from warmest daily high temperatures — likely the third-warmest. And the number of 90-degree days will not exceed the record, which was 15 back in 1994: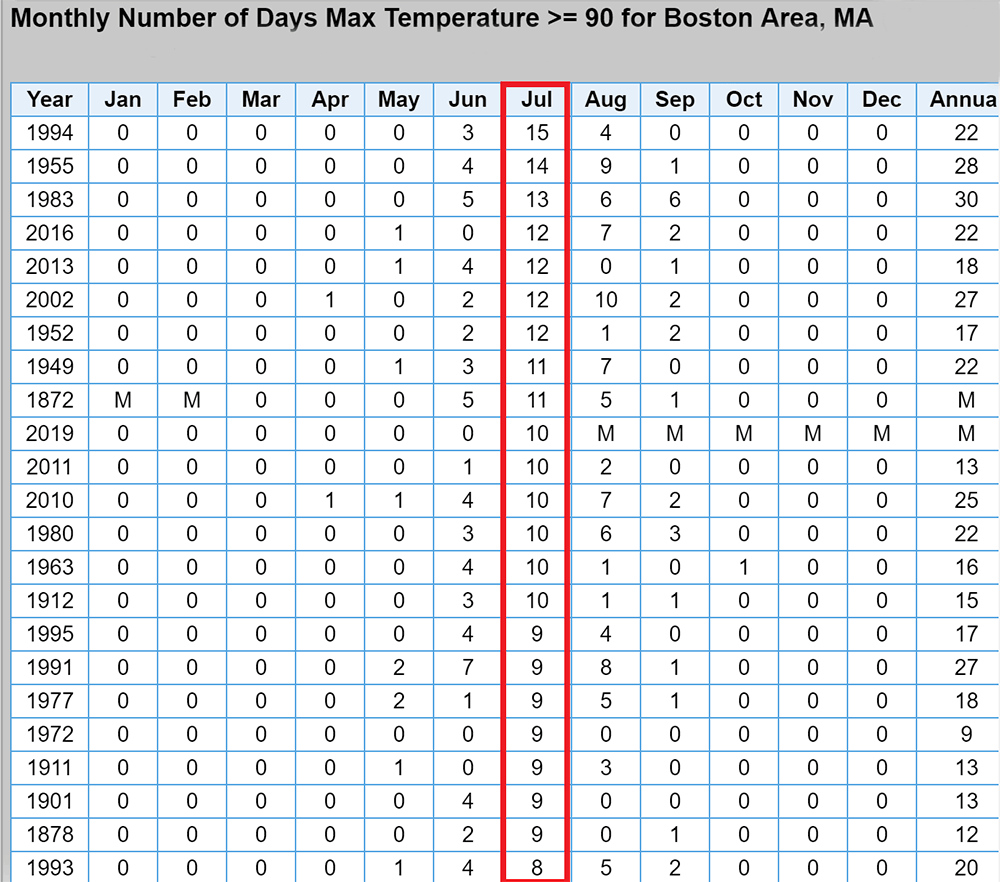 The nights have been incredibly warm. Part of the reason the nights have been so tropical is due to something called the urban heat island effect. This keeps cities like Boston warmer than the surrounding countryside. All the concrete and other building materials radiate the heat absorbed during the day and keep cities warmer at night. Both daytime and nighttime temperatures have been on the rise over the past several decades, but the nights have been outpacing the rate of change, partially because of all the building that's going on in Boston.
This is true for any urban environment. Scientists agree the changing climate is due mostly to human influence from things like CO2, but the urban heat island effect has a part, as does natural variability, just not as much.
July has had humidity, but not excessively higher-than-average. I put together a chart that shows the number of hours we've spent at different dew point levels. The green box indicates the most humid hours. Notice there's been more hours than average with the highest (70 and over) dew points.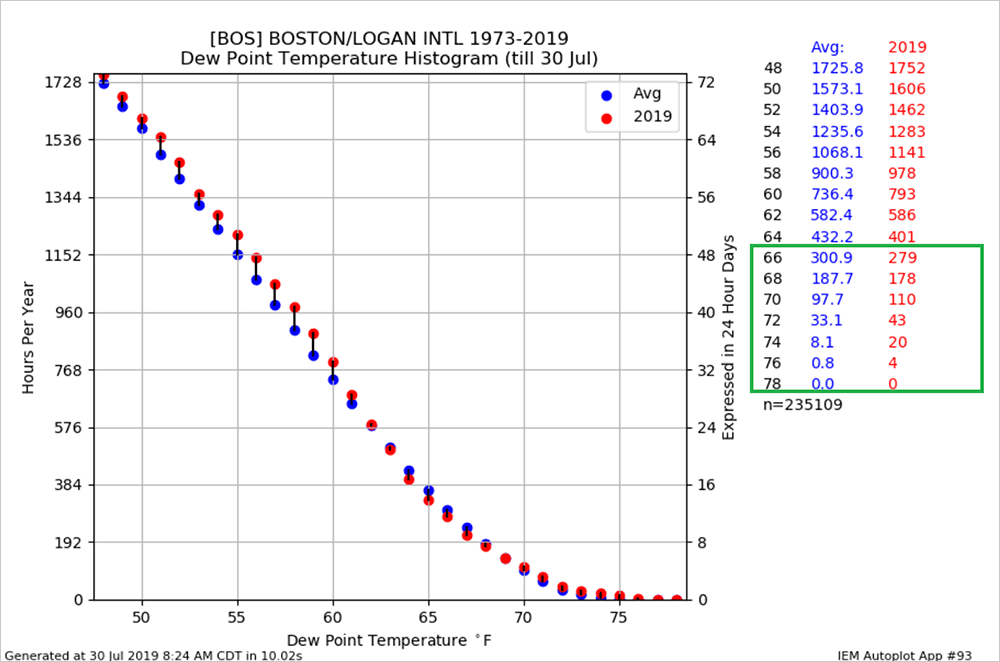 Earlier this month a few places actually had dew points nearing 80 degrees, which is about as high as you will ever see in the Northeast. Although this was extreme, it didn't last.
Not only is this July the warmest July on record, it's also the warmest month ever recorded here in Boston. Of course with temperatures around the globe rising, it shouldn't be any surprise we're seeing more and more monthly and yearly records for high temperatures. June was the warmest June for the entire globe and we've seen heat records broken from the United Kingdom down into Central Europe.
You perhaps heard about all the heat in Europe earlier this month. This included a record high of 38.7 degrees Celsius in England. That's over 101.6 degrees Fahrenheit. Incredible.
The Arctic continues to experience high rates of melting as well. If we look at the rate of summer melt since 2015, you will see that this year is lower than any of those years and on pace to perhaps break the record set back in 2012. All of this should be of no surprise to anyone. Global climate models have been predicting this warming for decades.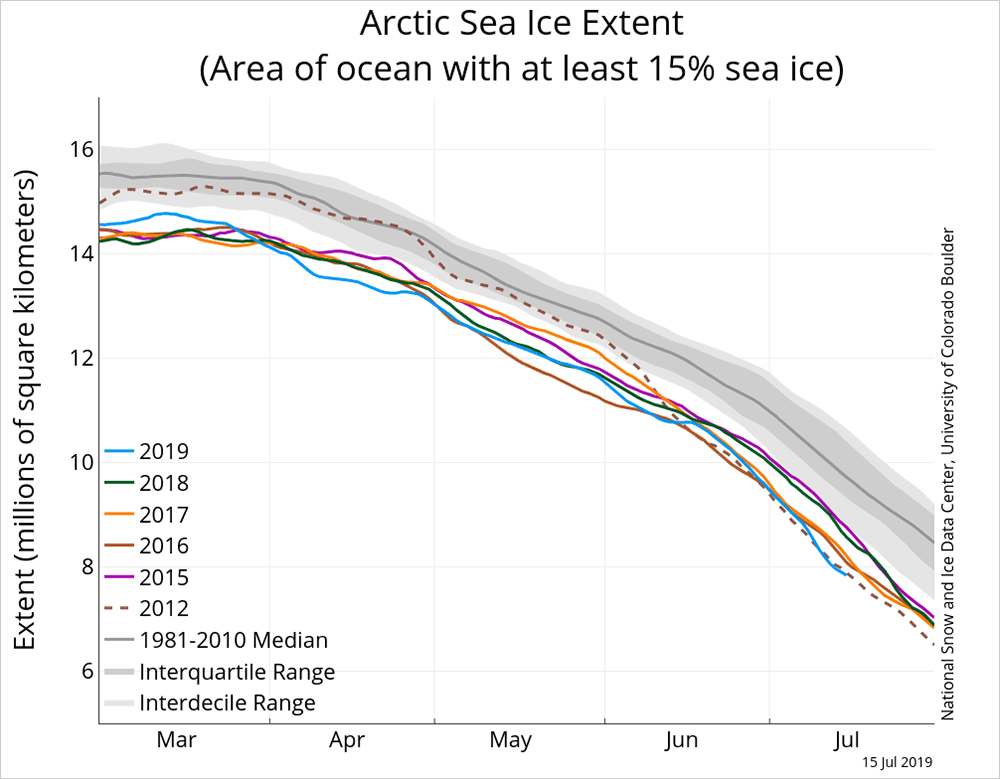 Since climatologists have been looking at the rate of warming for so long, we are now able to compare what's happening with what the models predict. A decade ago there was 10 years' less data; now with more data available, we can see the global climate models are doing a good job of predicting what we are observing.
Take a look at the chart below, which shows how actual temperatures have been, compared with computer models' predictions. The lines aren't going to be perfect, nor would we expect them to be. In the same way that the computer models I used to forecast today weather's aren't going to exactly predict what's going to happen, it's the same for climate models, but they are both pretty good at their respective jobs. Short-term models are good for forecasting weather within 10 days, the climate models are good at forecasting the climate years in advance.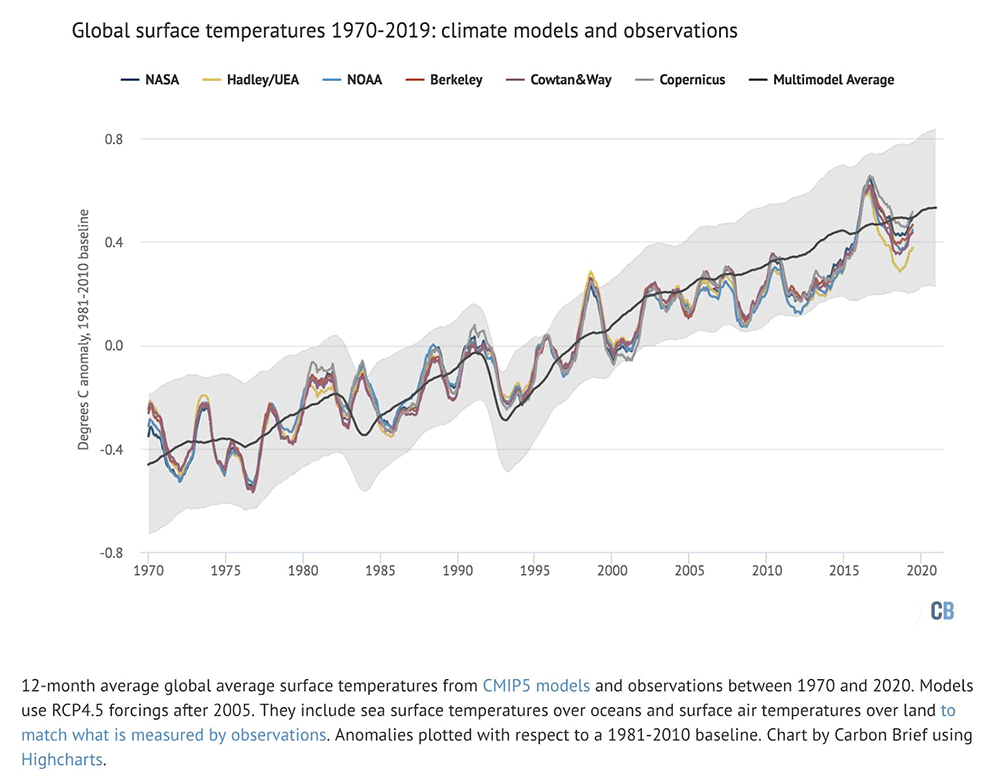 Future months may or may not break records, but that doesn't mean that the climate isn't warming. There is no doubt that warmer records are going to outpace cooler ones in the coming years and we should expect more summer heat that lasts long and is more intense. We may start even getting used to an additional 90-degree day, or two or three, but in the coming decades the numbers of heat waves and tropical nights are likely to be on the rise and in an increasingly big way.