With The 'Downton Abbey' Experience, A Chance To Live It — Or At Least Consume More Content
It's a beautiful summer day in Boston — hot and sunny. The queue in front of The Castle at Park Plaza is buzzing. One woman has dressed the part, decked out in a full-length chiffon and sequined gown. Once we step inside, there's a jarring shift: All is calm, muted, tranquil.
We've entered Northern England, early 20th century, and we're mixing, in a manner of speaking, with Lord and Lady Grantham and their extended family of upper class swells and dignified servants. Soft, familiar orchestral music gently sweeps you up and transports you back in time — back to those Sunday evenings in front of your TV tuned to PBS. The traveling multimedia roadshow, "Downton Abbey: The Exhibition," has landed in our burg through Sept. 29.
We're greeted with a short video presentation by the butler, Mr. Carson. Then we advance to another chamber to begin reacquainting ourselves with characters we last glimpsed three years ago in the series written by Julian Fellowes. Those characters faces are on large, illuminated portrait boards, with written descriptions of their personas underneath.
Keep strolling and you'll find a recreation of the Downton kitchen — it smells of cinnamon, "steam" comes from the kettle — and elegant dining room. You'll spot the row of "servants bells," so often rung by the various Granthams to summon help. (These are ones used on the actual set, I'm told.) Move throughout the exhibit and you'll find more than 50 of the ornate, elaborate costumes worn in the series.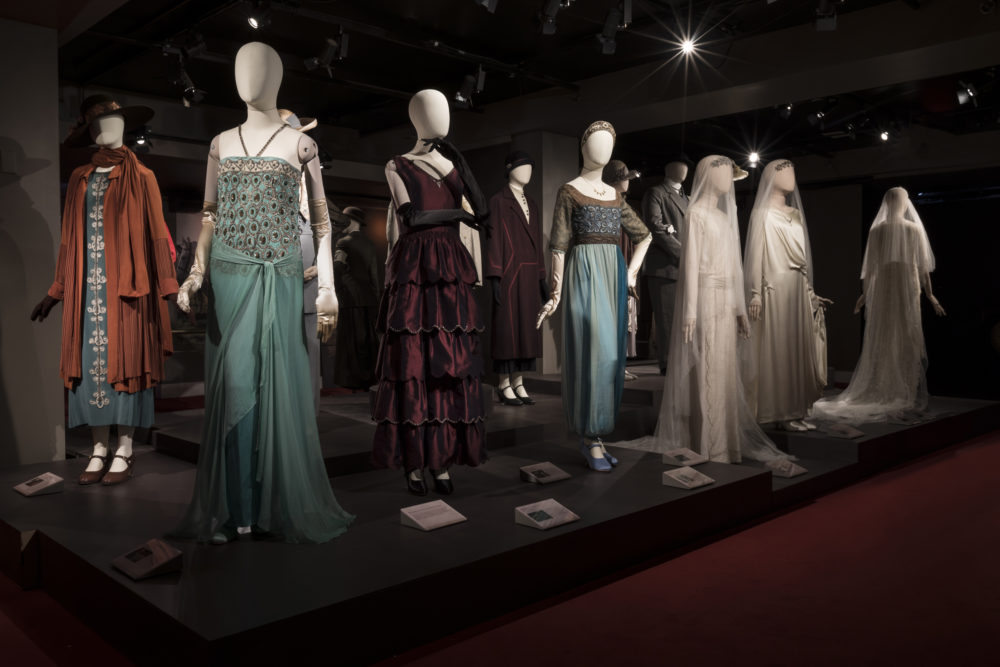 It's the logical extension of the "Downton Abbey" brand, and a perfect table-setter for the full-length "Downton" movie, due to hit theaters in September.
If much of our 21st-century escape comes through what we see on screen, what does it mean if we take that one step beyond? If we can walk into the set we saw on screen? (Not the actual set mind you, but a recreation thereof.) As viewers, we willingly suspend disbelief and then, touring these type of exhibits, we raise that to another level.
And, we get something we can't quite get from a passive viewing experience, however engaging that show is. Here, we're able to explore and experience this world in three dimensions. (Though, the sets at the exhibit are roped off, so you can't exactly sit at the luxurious dining room table and pretend to nosh.) Psychically, you leap over the barrier in front of you and imagine that combative conversation you might have with Maggie Smith's Dowager Countess.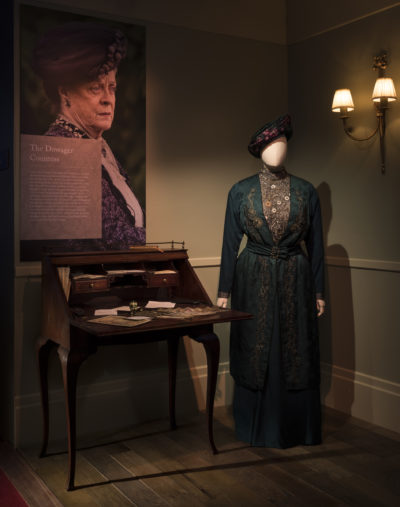 "That is a very different thing from what you generally see in a museum when you're looking at historical objects," says Miranda Banks, associate professor of visual and media arts at Emerson College. "It's the celebration of authenticity of a television series."
The extension of movies and TV shows into the realm of museums or exhibitions is all about the two i-words: immersion and interactivity.
Imagine Exhibitions co-created the "Downton Abbey" exhibition with the show's producers Fellowes and Gareth Neame. "When you're watching a TV program or movie," says Tom Zaller, Imagine's president and CEO, "it's a fixed vision they're wanting to immerse you in; the screen is between you and the location. We have the ability to translate that into an experience."
A 25-year-veteran of the industry, Zaller started Imagine with a "Titanic" exhibition in 1998 and his company has collaborated with studios to create "The Hunger Games" and "Jurassic World" exhibitions ("You could smell the moss!" Zaller says) among many others. He says the company tries to bring an educational layer to the experience. "What we bring to it is that extra layer of depth and perhaps you might learn something."
Banks says these kinds of exhibits raise multiple questions: "What is real? What is authentic? How much is this about celebrity and fandom? How much is it a way into history that [the producers] believe other people should know?"
Over the years, different strata of fandom have developed — from liking a show to buying a T-shirt to joining social media groups to attending Comic Con events to getting as "hands-on" an experience as you can.
"These exhibitions take it to the next level," Banks says, "and are a model for immersive fandom. Not just about saying you like something, but being in it or pretending to. And you go, 'Oh god! I want to live in this.' "
Did I want to live in Downton Abbey? Not exactly. Not my favorite era and the class system was, shall we say, a little much. But having gone through the journey on TV — and, yes, anticipating the September movie — I rather enjoyed an afternoon's worth of fantasy, an extra dollop of vicarious living.
These exhibits, of course, are conceived as extensions of the brand. (Now that "Game of Thrones" is over, prepare for the studio tour opening next year outside of Belfast where scenes in Winterfell and Castle Black were shot.) We're all savvy to the strategy, cognizant of the huge financial rewards they can reap. They tap into our hunger for more, more, and more content in whatever form it may take. And we make the call: Do we keep following that show or that movie into another dimension?