How Money In A Columbia Gas Settlement Fund Might Be Distributed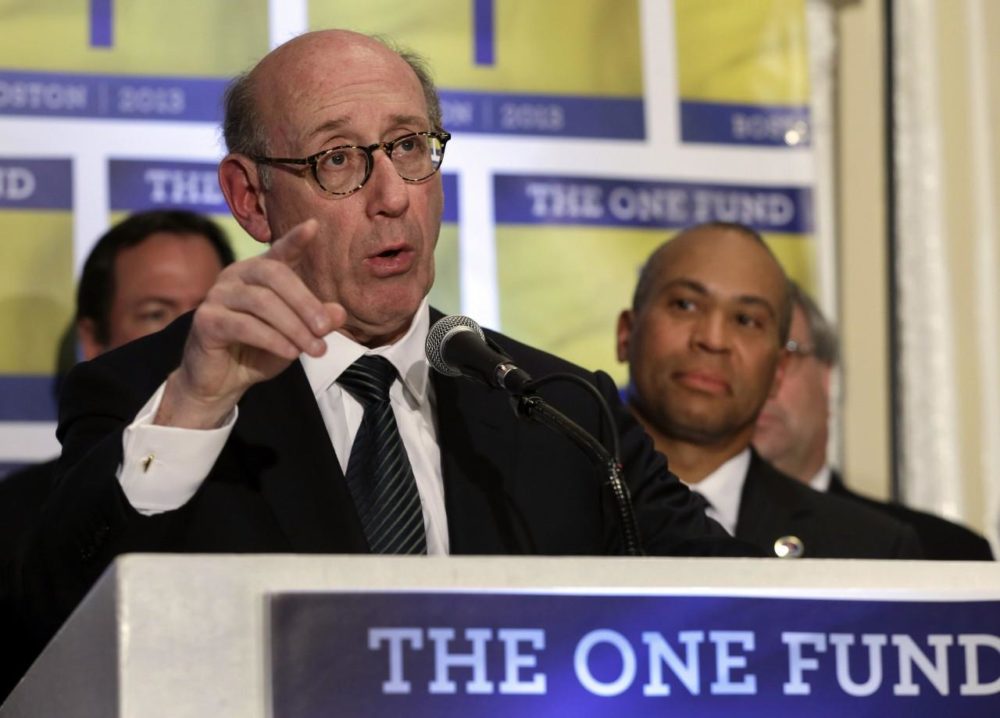 This article is more than 3 years old.
Columbia Gas has agreed to pay $143 million to settle class-action lawsuits brought by victims of last year's pipeline disaster in the Merrimack Valley, but it is unclear, for now, how that money might be paid out.
A key figure in the distribution will be a settlement fund administrator. This person, along with the settlement itself, is subject to court approval. 
Attorney Kenneth Feinberg understands the administrator's role as well as anyone. He has managed the One Fund for Boston Marathon bombing victims, the September 11th Victim Compensation Fund and the Agent Orange Settlement Fund, among other high-profile funds. So WBUR asked Feinberg to explain how a Columbia Gas settlement fund might work.
The following conversation has been lightly edited for clarity and length:
Let me start by asking whether you can make an educated guess at what the fund size will ultimately be. The total settlement, if approved by a judge, will be $143 million. But some portion of that will go toward legal and administrative fees. Based on your experience, how much might be left?
I don't know. I don't know the facts of the particular case. The fellow who will have that information is Eric Green, who was the mediator from Boston who was responsible for the comprehensive settlement. And I'm sure he has allocated a certain portion of that aggregate for legal fees and costs of administration.
(Note: Green, responding to Feinberg, said in an email that the fund amount "depends on what court awards for Atty fees" and did not offer an estimate. He referred WBUR to plaintiffs' attorneys. Two of the attorneys, Frank Petosa and Brad Henry, said in separate interviews that they could not estimate the ultimate size of a settlement fund.)
Plaintiffs' lawyers are hoping for court approval by the end of the year. Then an administrator — someone like you — will manage the fund. Can you describe the administrator's role?
It's going to be very, very important. The administrator's role is going to be to evaluate each claim to determine, first, whether it's eligible under the terms and conditions of the settlement. You may receive some claims that are ineligible.
Secondly, how much compensation? What is the methodology for determining compensation?
Three, even if the claim is eligible, and you've got a methodology for determining the amount, what proof is there that the claim is corroborated and satisfies the terms and conditions of the settlement?
Four, does the claimant request a hearing? Will there be due process for permitting individual hearings?
These are the types of questions that the administrator will have to answer.
What are some possible ways that money in the fund might be awarded? Could the administrator evaluate each claim individually and set a dollar amount? Could there be some kind of formula?
I think it's likely going to be a formula that makes it more automatic. The less discretion that you delegate to an administrator, the better.
And, I think, knowing the credibility and the competence of these plaintiffs' lawyers, along with one of the nation's foremost mediators, Eric Green, there's likely going to be an efficient, rough-justice approach, designed to get money out the door without a lot of bureaucracy or detail.
I'd be surprised if there's going to be the type of claim-by-claim determination that was required in the 9/11 fund or the BP oil fund, where you had hundreds of thousands of claimants.
I said that the administrator will be someone "like" you. Could it actually be you?
I don't think so. I think something like this is local. It's Massachusetts. I'm in Washington. I think it's unlikely that they would need me. I'm glad to help them, if they have any questions.
Plaintiffs' lawyers say they want the claims process to be as accessible as possible, likely involving online and in-person filing options and services for people who are not fluent in English. What are some best practices to ensure that everyone who is entitled to compensation gets a share?
I think best practice is to reach out to these individuals; don't wait for them to reach out to you. I think the program will be very proactive.
Now, one problem is there may be undocumented victims not in the country legally. There may be claimants who don't understand English. I think it's very important that you reach out to these people, that you translate the necessary documents in their vernacular language, so they can understand it. And I think you have to assure them that filing a claim will, in no way, jeopardize their status in the United States. This is very touchy.
Can those folks actually be protected?
Well, in the 9/11 fund, we had 13 victims who died in the World Trade Center who were undocumented workers. We went out and proactively received a formal letter from the Department of Justice saying that the families of those undocumented workers could file a claim without any risk that the filing of the claim would jeopardize their physical presence in the United States. That was a very important letter.
I wonder, though, whether you would get such a letter from the Justice Department today.
I doubt very much that you would. Frankly, I'm not sure that the Justice Department would have any interest in this. I mean, this is a parochial issue in Massachusetts. I'm not sure that the Justice Department would take the time and the effort to become involved in it, and I'm not suggesting they would.