It's Electri-Flying: Cape Air Pioneers Flights Without Fossil Fuels
Resume
Thirty years ago, Cape Air made its maiden voyage from Boston to Provincetown. Since then, the Hyannis-based regional carrier has grown from three planes and one route to more than 100 aircraft serving 35 destinations. The airline's wings stretch from the Northeast to as far west as Montana and south to the Caribbean.
Now, the little airline that could — and did — is set to make aviation history. It's the first airline in the world to order commercial airplanes that run on electric batteries. The electric planes could be flying above New England and beyond by 2023.
"It opens up a lot of doors for us," says Cape Air founder and CEO Dan Wolf, who says the nine-passenger, all-electric plane — with a range of 650 miles — could mean more frequent flights, to more places, and potentially cheaper tickets.
"The preliminary numbers look like the direct operating costs are going to be about 40% of what we're currently spending," Wolf says. "The maintenance will be lower because you're dealing with a very simple electric motor versus a very complex carbon fuel-burning engine. And you're dealing with electricity which ultimately should be cheaper than fuel."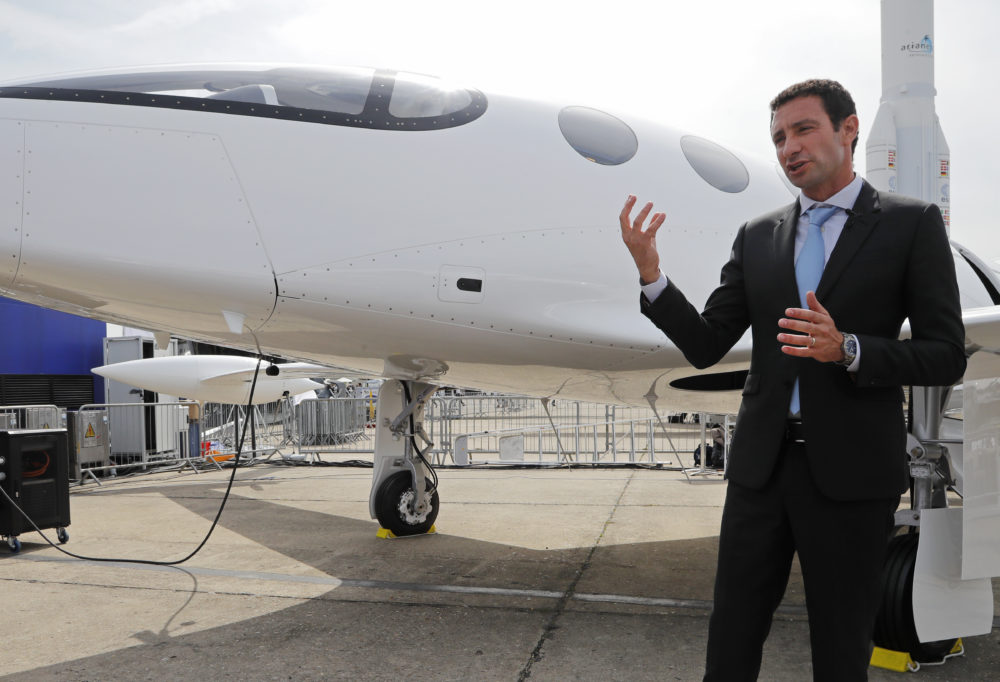 A full-scale prototype of the electric plane, called the Alice, was unveiled in June at the Paris Air Show. The airplane has a sleek, lightweight composite body, elongated cockpit, V-shaped tail and three battery-powered engines, one on each wing tip and one on the tail.
"It's a really innovative design," Wolf says. "It sort of looks 'Jetson'-ish, if that's a word."
The plane's lithium ion batteries will provide instant power to the rear-facing propellers so Alice can take off on shorter runways. It will be able to fly 50% faster and farther then Cape Air's current fleet of Cessnas, and it will be quieter, like an electric car.
"This is a very, very different way to fly a plane," says Omer Bar-Yohay, co-founder and CEO of Eviation, the Israeli company that's designing the Alice and plans to test and produce it in the United States. "It's really a paradigm shift."
Alice will also be a lot friendlier to the environment than traditional planes, which emit 2% of global greenhouse gases. Wolf says Cape Air is hoping to procure energy from the largest offshore wind project being proposed in the U.S., Vineyard Wind. And if that falls through, Cape Air could source renewable electricity for Alice' s batteries even closer to home, from Cape Air's own solar array.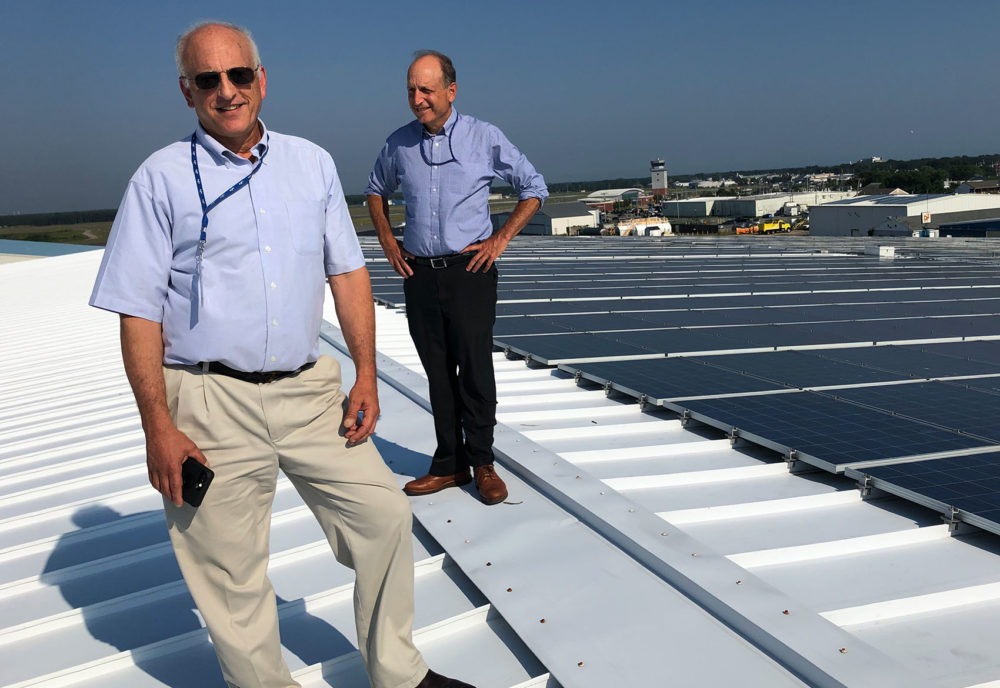 Ten years ago, when it was installed, Cape Air's array was the largest solar collector in the state. Today, it's relatively small but still puts out enough electricity to run the company's offices, according to Jim Wolf, Cape Air's director of sustainability (and Dan's brother). With added panels, it might be used to extend the life of Alice's batteries after they've served their two-year flight span in the air.
Instead of recycling Alice's old lithium batteries, says Jim Wolf, they could be recharged with the company's rooftop solar, and reused on the ground.
"You can have the [old] batteries from the planes being backup for the plane to plug into," he says. "That's the way we're thinking of doing it."
Alice, the electric, battery-powered airplane, will be something new under the sun — and in the air.
This program aired on August 8, 2019.