In This Theatrical Production, David Byrne Imagines An Alternative To Our World
David Byrne doesn't think today's America is anywhere near utopia.
But his musical production called "American Utopia," isn't ironic.
"It's obviously a contrast, but that's intentional," he says, sitting in a downstairs lounge at Emerson's Colonial Theatre in Boston last week. His current show, a theatrical expansion of the "American Utopia" music tour he did last year (itself keyed to the album of the same name), is coming to the Colonial starting Sept. 11 as a Broadway preview.
"A friend of mine from London saw the show somewhere and his comment was, 'This title's not ironic; it refers to what we're seeing on stage,' " Byrne says, which is mostly, though not entirely, celebratory. Twelve musicians — all barefoot and sporting bespoke gray suits, many carrying percussive instruments — march about the stage untethered. This world he's creating, Byrne says, was forged "out of desperation, in a way, but in a good way. It's meant to be visceral living proof that alternatives are possible. A constructive way to respond to what's going on in the world, rather than just yelling and screaming."
He does that, too, but off-stage. "I feel more now that this [show] is the only way I can stay sane," he says, "the only way I can stop from being cynical, angry and depressed. So, it's kind of survival."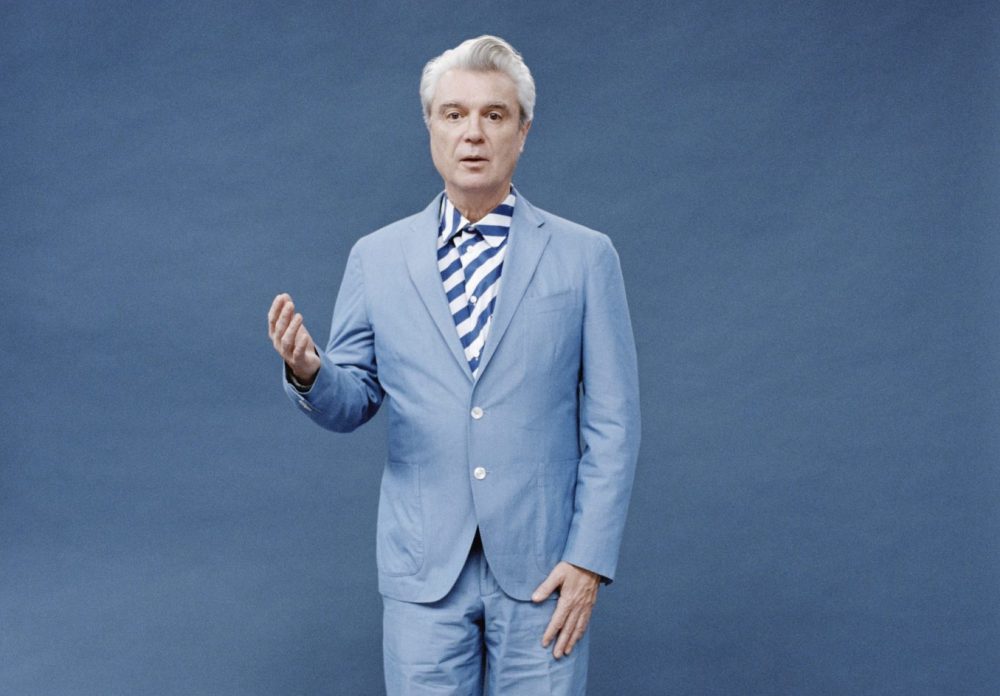 Byrne, of course, came to fame fronting the new wave group Talking Heads — inducted into the Rock and Roll Hall of Fame in 2002 — creating a sharp, sometimes surreal, art-funk-world music sound. But the Talking Heads went on what turned out to be permanent hiatus in 1988.
"I'm super proud of what we did, the songs, the recordings and performances," Byrne says. "I remember when 'Remain in Light' came out and we tried to do one song, 'Once in a Lifetime' as a single, but we were told radio was not going to play it — it was too funky for rock radio and it was too weird and white for R&B radio. And we thought, 'America, oh geez, get over yourself.' "
It did turn out to be a hit, in part because of the emergence of MTV and the Talking Heads' visual power.
As to the demise of the band — and it was Byrne's decision to bail, creating acrimony with former band-mates — he says, "Well, yeah, the end's not so happy."
Regardless, there are at least nine Talking Heads songs in the upcoming show, including "Burning Down the House," "Once in a Lifetime" and "I Zimbra." "Those are pretty much ones that fit the kind of narrative or arc we're working with," he says, "but they also happen to be songs that the audience would probably look forward to hearing."
Working outside of the traditional "rock band" parameter — doing solo or collaborative albums, working in other mixed media — is nothing new for Byrne. "Already, in the early '80s, I was doing dance scores or a movie soundtrack or something for theater in between Talking Heads stuff," he recalls.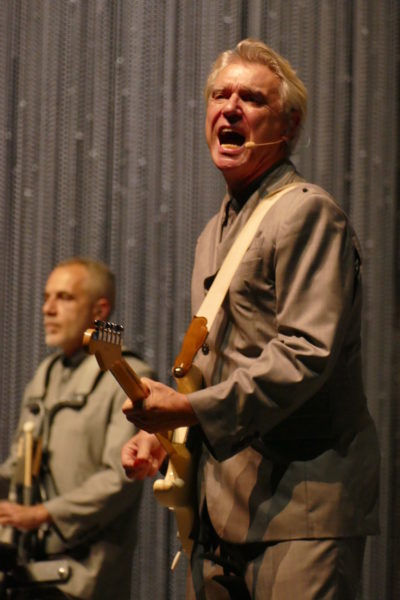 Byrne developed the stage version of "American Utopia" along with production consultant Alex Timbers and choreographer Annie-B Parson, both having previously worked with him. "I said to Annie-B, 'You're gonna like this. The whole band can move and we have the whole stage. There are no obstacles — no cables no mic stands, no pedals, no drum riser, nothing. It's all yours.' "
There are also hanging chain links that surround the stage on three sides, "which means that people can enter and leave the stage anywhere. So, it's kind of a dream come true for a choreographer."
The show, Byrne says, has what he calls a "three-step arc." It is not a precise narrative nor autobiographical but concerns "in a larger sense the journey we all kind of take: from being within ourselves, trying to figure out how we fit into the world, finding the community where we fit in and then with that little community engaging with the larger world."
In rock shows, audiences sometimes value spontaneity — or at least the illusion thereof. In theater, much less so.
"There are moments in the show that are more spontaneous than others," Byrne says, "but mostly it's worked out. The point, I think, is not whether it's rehearsed; the point is whether it actually amplifies the meaning of the song or the emotion of what's happening at that moment."
Byrne is curious about who will comprise his audience. He assumes his die-hard fans have already bought tickets, but there will be two other layers. "There's going to be the people who heard the show was worth seeing, but they just don't go to rock shows," he says. "Then, the big dream is to get theater-goers who don't know me, don't know Talking Heads, but just hear, 'This is a good show.' "
In between songs, Byrne is working on monologues and some questions to ask the audience. "I talk about different issues and in some ways the songs are a response to my questions. It's not exactly scripted, not like memorizing every word. It's more like I've got some points to hit on a particular subject and I'll see if it engages people and see how it fits in with the larger story. If it doesn't, then I'll quickly transfer to something else."
There are singer-songwriters who become deeply involved in a song's emotion during its creation, but less so when performing. "For me," Byrne says, "it's kind of the opposite. 'Bullet' was written with an idea — let's take a bullet's point of view."
"Bullet" is a detached, disturbing song, with Byrne describing a bullet's journey through a man's body. In the song, Byrne sings, "The bullet went into him/ His stomach filled with food/ Many fine meals he tasted there/ But the bullet passed on through."
It's a song, he says, that may be particularly resonant after the El Paso and Dayton shootings, but "sadly, never goes out of [fashion]. Maybe there will be a point where that song has less meaning."
As he was writing it, Byrne says, "You have to be careful and make the rhymes work as best you can. It was not an outpouring of emotion. But then you start singing it, it becomes very emotional and comes alive."
"American Utopia" will again include Janelle Monáe's "Hell You Talmbout." "I've often done a cover song, usually as an encore," Byrne says, "and it's celebratory and fun, something everybody knows and can sing along to, a bit of a release."
Monáe's song protests African-Americans killed by police and it closed last year's shows.
"I thought in these times I have to kind of make a statement," Byrne says. "Do a cover, yes, but it has to acknowledge what's going on in the world. I'd heard that song a year earlier and thought it was one of the best songs or most appropriate song that I'd ever heard. I asked her, 'Is it OK if you have an older white guy do this song?' And she was thrilled."
When Byrne and company start calling out the names of the dead — Trayvon Martin, Michael Brown, Emmett Till, Amadou Diallo and others — it is a chilling, powerful, unifying moment.
It won't likely close the theatrical production, though, as it did last year. It's looking like it will be Byrne's 2008 collaboration with Brian Eno, the hopeful, uplifting "One Fine Day."