An Ill Wind Blows For Vineyard Wind
Play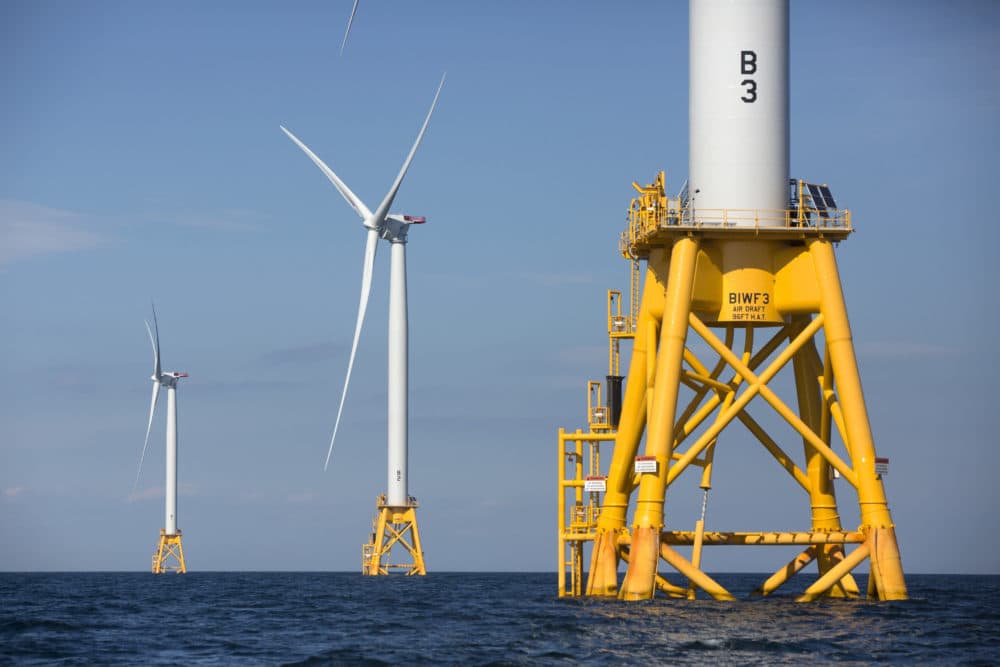 This article is more than 3 years old.
With the fate of Vineyard Wind project delayed last week by federal regulators, a coalition of Cape Cod business, religious, environmental and labor groups announced their support Thursday for the nation's first commercial-size offshore wind energy project.
The $2.8 billion project would be the largest privately funded project in Massachusetts' history. The offshore wind generators would produce 800-megawatt hours of electricity — enough to power about a million homes with carbon-free, climate-friendly energy.
Vineyard Wind developers were banking on getting a final environmental report last month. But federal officials announced on Aug. 9 that they wanted new studies that account for the "cumulative impacts" of future wind projects in the area. The U.S. Bureau of Ocean Energy Management has auctioned off 15 parcels of the sea along the Atlantic coast for wind development.
On Thursday, representatives from the Cape Cod Chamber of Commerce, Massachusetts Audubon, and Barnstable Town Council gathered at Cape Cod Community College to oppose the delay.
Andrew Gottlieb, head of the Association to Preserve Cape Cod, called the delay by federal regulators "a cynical application of environmental regulations."
"As a collective group, we're all here to say, 'it needs to stop ... and 'stop the perverse use of something that's good for the climate, Cape Cod, for the world,'" he said.
Cape Cod Community College planned to offer courses in wind technology to provide workers to the fledgling industry. Vineyard Wind had negotiated labor contracts with local unions to build the 84 giant offshore turbine structures.
David Borrus, business manager with the Pile Drivers Local Union 56 in Boston  hoped his pile driver workers and construction divers would soon begin working on the project that was set to begin in December. Borrus said by delaying the project, the Trump administration was being hypocritical.
"There certainly encouraging aspects of offshore development — gas and oil development — which we're not opposed to, and we feel this industry should be given an equal footing," he said.
Rev. Brian McGurk, representing the Faith Communities Environmental Network, said climate change and clean energy were moral issues.
"We believe that Vineyard Wind is a change of consciousness, a change in the way we live our lives that will bring us closer to what ought to be," he said,  "and that's the legacy we want to leave the next generation — and not the mess we're in now."
In nearby Centerville, where Vineyard Wind hoped to bring two undersea transmission cables ashore from the turbines, the company also recently conducted one of its regularly scheduled public forums.
Mark Akelson was not happy with the answers he was getting from Nathaniel Mayo, the project's director of policy and development. Akelson, who was born and raised on the Cape and is a summer resident, is skeptical of Vineyard Wind's environmental impacts.
"The federal government's desire to do more research before granting permits is entirely justified," he said. "There's no really good reason why we shouldn't do this right, and there are some examples of where it's gone wrong."
The fate of Vineyard Wind is now dangling in the wind. Regulators indicated construction could be delayed until March 2020, if not longer.
This article was originally published on August 16, 2019.
This segment aired on August 16, 2019.