Today's Weather: Humidity Breaks, But Will Return Tomorrow
This article is more than 3 years old.
Severe weather pushed ahead of a frontal system Monday. This front technically is called a cold front, but it's more like a dew point front. The humidity has dropped today and will be a bit more comfortable.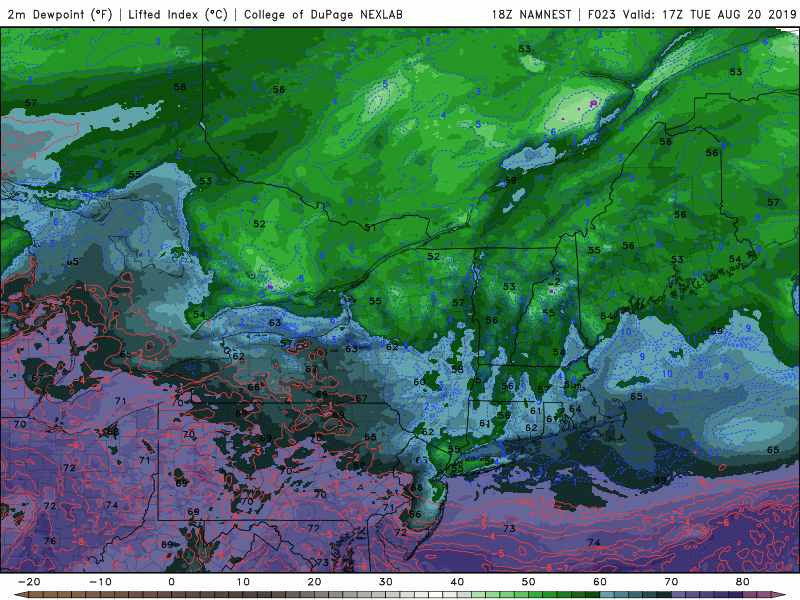 Temperatures won't be quite as hot as we saw on Monday; nevertheless it's still a very warm day. It's not out of the question that a couple of communities reach 90 degrees, but most of us will stay under that mark this afternoon.
The front makes a U-turn and comes back as a warm front this evening, allowing all that humidity to return. It's going to be a very humid day on Wednesday, but temperatures won't be quite as warm because of the cloud cover. I don't think there will be heat advisories like we saw Monday.
A more powerful cold front slips south Thursday, putting an end to the humidity for a longer time. After this front moves east, the humidity will drop and temperatures will not be as high.
As the drier air clashes with the more humid air, showers and thunderstorms will once again develop Wednesday afternoon Wednesday night and end early Thursday. Some of you will completely miss the storms, while others will see a heavy or downpour. Because of this, Wednesday doesn't look like a great day with a lot of clouds and that risk of showers.
The good news is Friday and the weekend look stunning, with plenty of sunshine and low humidity — something I'm sure nearly everyone will be excited about.
You can follow my updates here and on Twitter @growingwisdom.
---
Tuesday: Warm and less humid. Sunshine. Highs 85-88.
Tuesday night: Turning muggy and warm. May shower. Lows 65-70.
Wednesday: Humid, clouds and some breaks of sunshine. A few showers and storms. Highs 83-87.
Thursday: Partly sunny. Possible shower early. Highs in the mid-80s.
Friday: Sunshine blended with clouds. Highs 75-80. Much drier.
Saturday: Sunshine and some clouds. Highs in the upper 70s.
Sunday: Continued sunny and dry. Highs within a few degrees of 80.