This Boston Fashion Designer Is Championing The Environment Through Her Work
Cabbage, avocado peels, tumeric — these are the types of materials that Nathalia JMag uses to create custom clothes. Organic fabric and natural dyes are essential to her eco-friendly approach to fashion design.
This summer she's an artist-in-residence at the Urbano Project in Jamaica Plain. There, the Colombian-American designer teaches youth groups sustainable textile design and techniques like sewing, embroidering and block print design. Urbano is a nonprofit art space that's home to JMag's "Map This: Sustainable Fashion," an exhibition exploring design futures, green urbanisms and climate change culture on view through Aug. 30.
"I almost didn't pursue a career in fashion because of its impact on the environment. But then I had an epiphany that I could be part of the solution, and not part of the problem," says JMag, who, at the age of 7, immigrated to the U.S. with her family.
In conjunction with her "Map This" exhibition at the Urbano Project, the designer has been facilitating a youth artist project with the Isabella Stewart Gardner Museum. Working with Hyde Square Task Force, Sisters Unchained and Urbano, her students were asked to create maps of their favorite places in the city. This project coincides with the Gardner's exhibition "Big Plans: Picturing Social Reform" that looks at social change and plans for urban reform in the 1800s and 1900s in Boston, New York City and Chicago. The young people's work will be on display Thursday, Aug. 22 at the Gardner during its Neighborhood Nights Block Party.
The event will also feature two large map-inspired textile prints that relate to climate change and global warming, one of which JMag co-produced with artist and printmaker Heather McMordie. "It's not just me, but the city is mobilizing to prepare for climate crisis. Right now, we're facing the ramification of it on a small scale," she says.
During her time as a Neighborhood Salon Luminary at the Gardner Museum in 2018, she developed and curated several fashion shows to coincide with exhibitions, such as the Madonna collection inspired by "Fra Angelico: Heaven on Earth." The exhibition explored Italian painter Fra Angelico's talent for storytelling. JMag used Fra Angelico's paintings of Virgin Mary as a backdrop for models who donned custom pieces from the designer's collection. "Nathalia is amazing and talented. She used a variety of color schemes and light inspired by the exhibition. It feels like something that's so unique to her," says Rhea Vedro, director of community engagement at the Gardner Museum.
Vedro created the Salon Luminary three years ago with the goal to bring together nine artists each year, and exchange creative ideas and dialogues about the museum and its neighbors. "Nathalia's really opened doors for other designers. It's very exciting to think about people who are able to bridge communities," she says over the phone.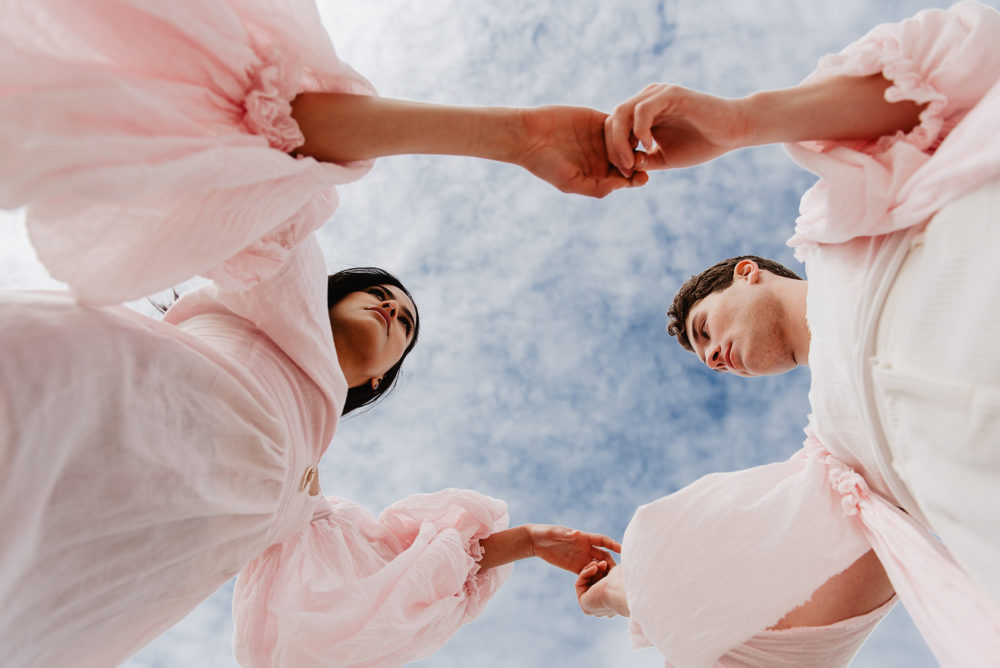 As a teacher, JMag has motivated some of her students to consider a career in fashion, among them Jinely Portillo. The 17-year-old says her fashion ideas come in many styles, but tends to look retro vintage. "I took this class because I'm a fan of art and fashion. From where I'm from, people aren't comfortable with who they are, and I wanted to show that combining cloths helps you embrace your identity," she says.
JMag studied at Framingham State University, before appearing in Lifetime's "Project Runway" Season 15. (The season featured three designers from Massachusetts, including Erin Robertson and Cornelius Ortiz.) The Framingham native made it to the final eight designers.
While her fashion icons include Cristóbal Balenciaga, Vivienne Westwood for her design philosophy, and Stella McCartney for pioneering sustainable practice, it's her grandmother and aunt's influential voices that guided JMag to experiment with clothes. "My aunt would make dresses for me all the time, and so did my grandmother. Maria is a collection inspired by both my Colombian and American cultures," she says, before adding that she also looks to Rihanna for her iconic looks. "Sometimes when I'm buying something I'll think, 'Would Rihanna love this?' I love her style and just how free she is."
Since graduating in 2016, the 26-year-old fashion designer has been focused on choosing the most sustainable fabrics like organic cotton, deadstock and hemp. By upcycling, also known as recycling old clothes, the designer takes unwanted materials to create new and useful outfits from her home studio in Bellingham.
She says she wants to see brands like Zara and H&M to employ more environmentally conscious practices. "There are a lot of brands that are greenwashing. They might talk about ethics and sustainability, but they're pushing out 5,000 designs every week," JMag says. "Their whole business model is to exploit the earth and to exploit people."
In fact, her zero-waste collection will be on display on Sept. 18 at the Museum of Fine Arts. The event will pay tribute to Hispanic Heritage Month and will highlight Latino designers in Boston.
When asked about the future, she says the goal is to continue to have an eco-friendly outlook, and is currently getting her master's degree in nature, culture and sustainability at the Rhode Island School of Design (RISD). "I want to launch a new collection that's the most sustainable I've ever done. And as long as I continue to put myself out there, I know that I will be successful," she says.