Opioid Overdose Deaths In Mass. Are Down 11% So Far This Year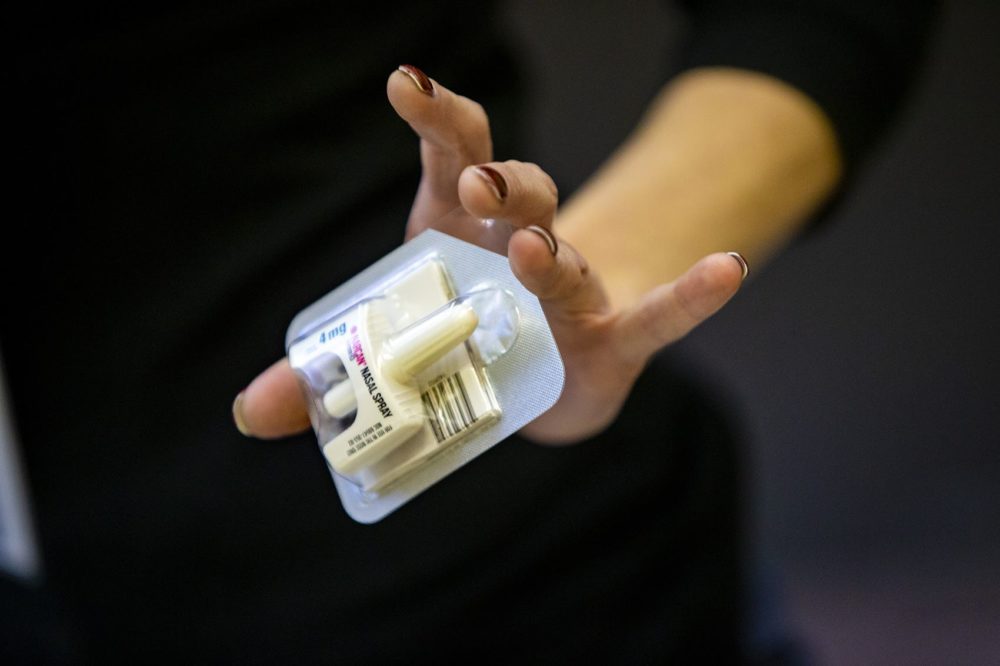 This article is more than 3 years old.
Opioid-related overdose deaths in Massachusetts are down an estimated 11% in the first six months of 2019, compared with the same period last year.
The preliminary data from the state Department of Public Health show a trend that started in 2016, despite a continued increase in the presence of fentanyl in fatalities. It's now in 92% of overdose deaths.
"While we're encouraged by the decrease in opioid-related overdose, fentanyl is certainly making our job more difficult," said Massachusetts Public Health Commissioner Monica Bharel.

Public health experts say increased distribution of naloxone, the drug that can reverse an overdose, is helping more drug users survive an overdose. Data from a state program that distributes naloxone — commonly referred to by the brand name Narcan — show a substantial rise in overdose rescues, especially among drug users.

Naloxone is one reason Worcester leaders say overdose death rates are finally starting to fall there. Death rates rose in Worcester last year, bucking the state trend, but are down over the first six months of 2019, the city says, with 35 reported fatal overdoses, as compared with 41 for the same period in 2018.
Worcester Health and Human Services Commissioner Dr. Mattie Castiel says the city is expanding outreach and treatment, especially in overdose hot spots, but that shame and discrimination keep many people from seeking treatment.
"Our goal is to change that piece," Castiel said. "We need to engage those people."
Young men, aged 25 to 34, continue to be among the highest risk groups, accounting for 24% of 911 overdose calls statewide in the first three months of this year.
While overdose fatalities are down, they are now the leading cause of workplace deaths, especially in the food service and construction industries.
And the overall drop masks some significant demographic differences. Death rates for black men dropped substantially in 2018, but rose among women of all races.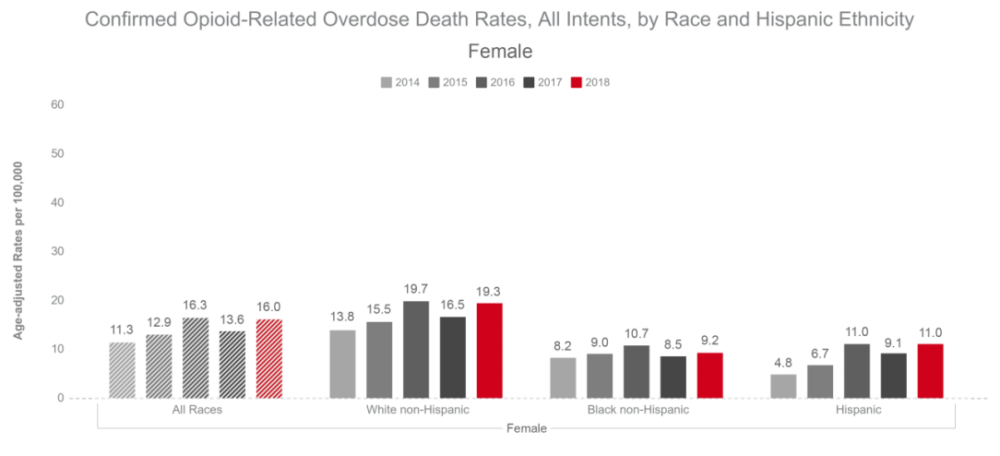 The state reports focus on opioid-related overdose deaths and do not include OD deaths caused by cocaine or amphetamines alone. Most of the opioid-related fatalities in the first quarter of this year included another drug, which increases the risk of an OD. Cocaine was present in 39% of opioid-related overdose deaths, amphetamines in 8% and benzodiazepines were in 41%.
Deaths that included a prescription opioid have been stable at around 15% since 2016. The state says there were nearly 40% fewer legal prescriptions for opioid painkillers in the second quarter this year, as compared with the same period in 2015.
The Baker administration said the current state budget includes $246 million for substance misuse prevention and treatment.
"The data is a promising indicator that our investment in a multi-pronged, multi-year strategy to increase access to treatment for this complex disease and underlying co-occurring illnesses is helping to save lives," Health and Human Services Secretary Marylou Sudders said in a statement.