Henry VIII's Wives Are Back To Tell — Rather, Belt — Their Sides Of The Story In 'SIX'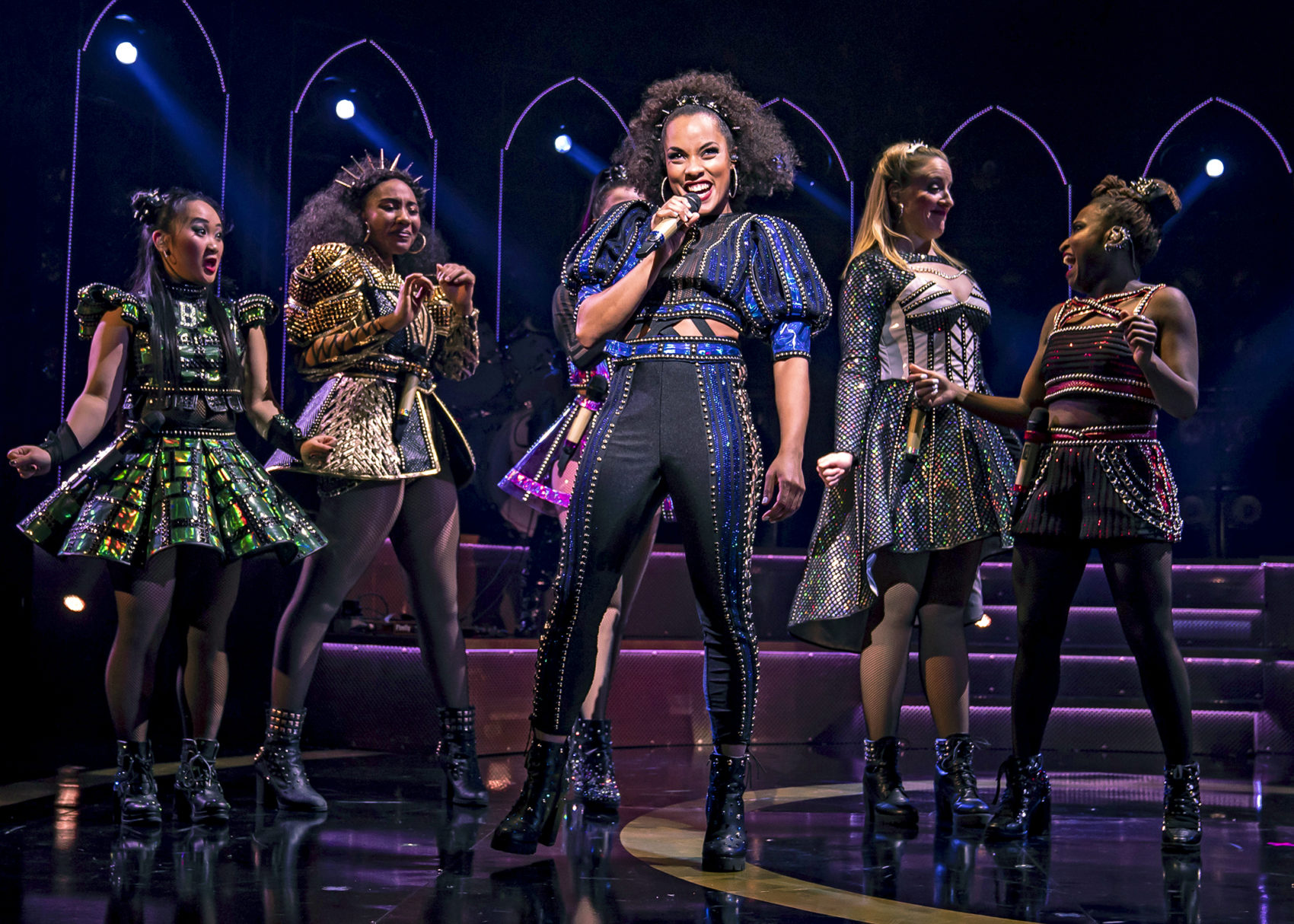 This article is more than 3 years old.
The six wives of King Henry VIII of England have touched down in Cambridge to tell their stories the way they want to tell them — through a setlist of original pop hits that are sure to make their way onto your Spotify playlist. Like many female royals throughout history, these six have been reduced to being remembered for their ties to a man. But "SIX," a new musical by Toby Marlow and Lucy Moss kicking off American Repertory Theater's season, gives a loud and proud feminist voice to Renaissance English royalty, even if the overall message is tied a little too neatly in a bow.
The queens, two of which were beheaded and the others divorced or died (with the exception of Catherine Parr, who outlived the king) want to know the truth: Which queen truly had it the hardest in their marriage with Henry VIII? Each queen's solo performance outlines her complicated and treacherous relationship. Whoever wins gets to be the group's leading lady.
An all-female band cleverly called "The Ladies in Waiting" plays the party anthems and pop ballads live. The music has that catchy modern sound built on repetitive lyrics and electronic baselines. The show is a visual thrill. Tim Deiling's epic lighting design takes you to a rowdy concert venue. Costume designer Gabriella Slade has decked the six queens out in head-to-toe Tudor-inspired sparkles and studs. With their bedazzled boots, fishnets and shiny hairpieces, the wives are the pop icons of my teenage dreams.
Marlow and Moss have fused the historical wives with a contemporary pop diva personality. Each queen's commitment to specificity makes for a dynamic cast. If we learned anything from the Spice Girls, we know that individuality is key to a vibrant and cohesive girl group. The sextet worked effortlessly together — each actor's harmonies were as polished and precise as the synchronized dance moves.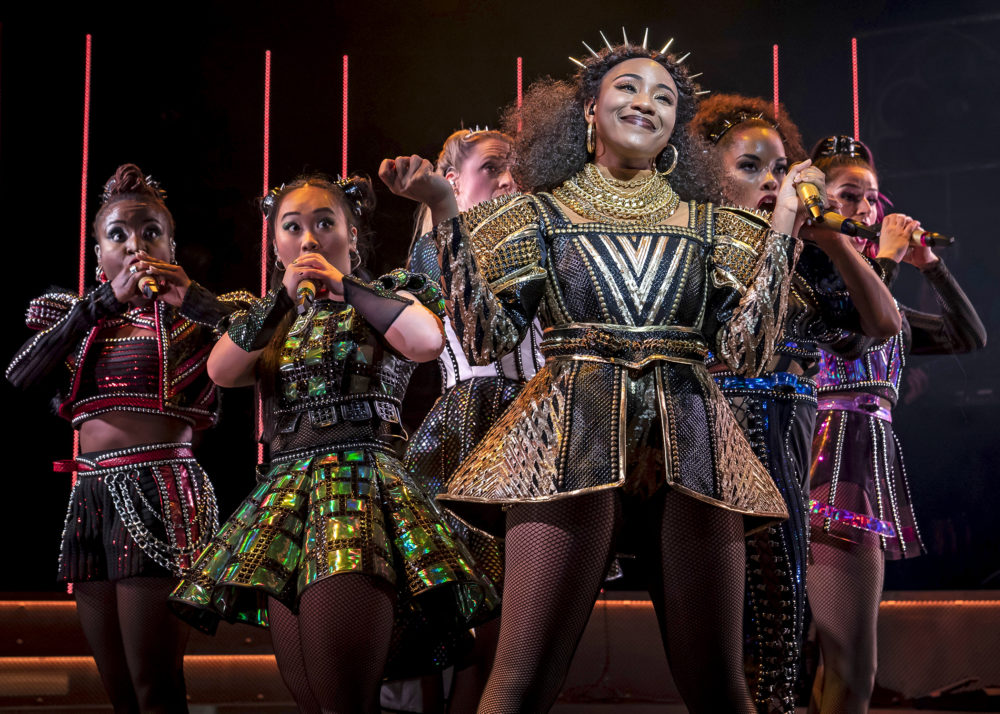 Adrianna Hicks' Catherine of Aragon, Henry's first wife, gives us major Beyoncé vibes, riffing her way through "No Way," which addresses Henry's choice to annul their marriage and replace her with someone younger. Andrea Macasaet kills as Henry's most well-known ex, Anne Boleyn, bringing a sassy twist to Boleyn's scandalous reputation. Her solo, "Don't Lose Ur Head," is full of naughty quips like, "Sorry not sorry 'bout what I said, I'm just tryna' have some fun!" commenting on how Boleyn ended up as Henry's mistress. She believes she's the obvious winner — what could be worse than a severed head for charges of adultery, incest and conspiracy? Abby Mueller channels Kelly Clarkson in her center-stage, spot-lit ballad as Jane Seymour, Henry's third wife, who died just weeks after giving birth to her only son. Brittney Mack's energy as fourth wife Anna of Cleves is electric. Her hip-hop track "Get Down" sounds like it belongs on Lizzo's latest album.
Courtney Mack's Katherine Howard pays homage to early 2000s pop princesses Britney Spears and Christina Aguilera. Her song, "All You Wanna Do," uncovers the truth behind the queen's presumed promiscuity. She sings, "All you wanna do is touch me. When will enough be enough?" which exposes the queen's experiences with unwanted male attention and accounts of molestation. Anna Uzele sparkles as number six, Catherine Parr, the grounding force of the group who rewrites their history, singing "I am not your toy to enjoy until there's something new. As if I'm going to give up my voice, my work, my dream, to care for you? Ha!"
Marlow and Moss' music and lyrics are fresh, quick and have a great balance of wit and information. However, the spoken dialogue and monologues are a bit heavy-handed, bogging the show down and stunting its momentum. A particularly mournful monologue from third wife, Jane Seymour, contextualized her deep love for Henry and their son, yet it pulled me out of the established world of a pop concert.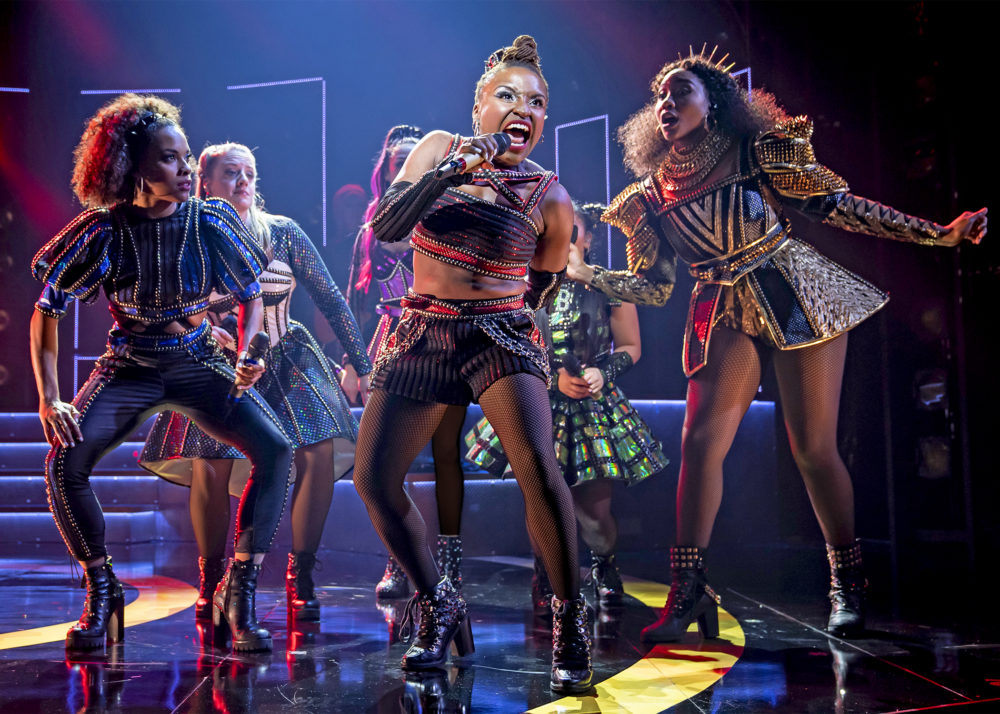 When I see theater, even if it's a flashy musical, I want it to push me to think or challenge my perspective. "SIX" hands the resolution to the audience so neatly that it fails to ask us to take responsibility in what we've seen. I wish the audience had the chance to discover alongside the queens that perhaps the who-is-the-most-traumatized competition was getting unhealthy. Although I love an unapologetic display of sisterhood and girl power, the wives needed to demand more from us as they sent us off into a world still full of silenced queens and Henry VIIIs.
The queens' experiences and choice to shift their narrative away from the man who abused and manipulated them is so resonant today that it didn't need to be spelled out so blatantly. The music carries the message.
---
"SIX" continues at the American Repertory Theater through Sept. 29.