Mass. Secretary Of State Outlines Support For Primary Election System Overhaul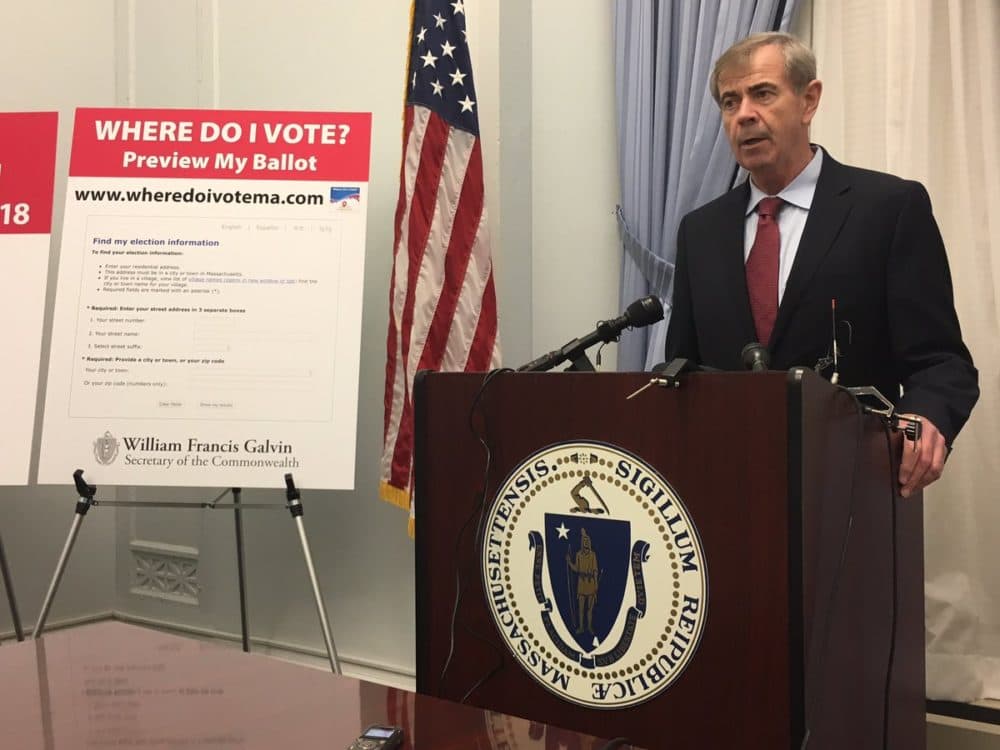 Secretary of State William Galvin, the state's top elections official, is supporting a major reform of the primary election system that would effectively scrap most partisan races by allowing the top two candidates to advance regardless of party, he told State News Service Thursday.
Galvin's brother, Patrick, was the lead sponsor on a proposed 2020 ballot question that would effectively end the state's current Democratic and Republican primaries. Instead, candidates from all parties would compete in the same preliminary races for most state and congressional offices.
The secretary of state told the News Service that he "encouraged" the initiative petition, which fell short of Attorney General Maura Healey's constitutional review, and wants to see the new system implemented.
Similar to how elections are run in California, the proposal would place candidates from every party on a single ballot that all voters use. The top two vote-getters would then advance to the general election, even if both are Democrats, Republicans or unaffiliated or independent.
Galvin said he has observed significant desire for the change.
Last year, he said, voters could not weigh in on both Republican Gov. Charlie Baker's primary race against pastor Scott Lively and in the 10-way Democratic primary for former U.S. Rep. Niki Tsongas's seat because, under existing state law, individuals can only choose one party's ballot to fill out.
"We had many voters who wanted to vote for Baker, for instance, but also wanted to vote in the 3rd Congressional District, where the primary was going to be tantamount to the election, but they can't do both," Galvin, a Democrat, said.
The system would not apply to presidential primaries, but as proposed it would be used for election of both branches of Congress, both branches of the state Legislature, governor and other important positions.
However, despite Galvin's support, the push is currently stalled. Healey last week declined to certify his brother's petition for a 2020 ballot question on the topic.
While Healey wrote that the section of the proposed law dealing only with partisan primaries "would likely not run afoul" of constitutional requirements — her decision was based only on legal review and not on support or opposition for a given proposal — she said the petition improperly commingled topics because it also contained an additional section outlining implementation of early voting in municipal and statewide primaries.
Galvin said he disagreed with Healey's decision, but he does not immediately plan to challenge the ruling himself. Instead, he plans to watch a separate Supreme Judicial Court case dealing with Healey's non-certification of a different question unfold.
That case was filed by supporters of a ballot question calling for a commission to develop legislation to curb the influence of technology on government and public rights. They argue that Healey was incorrect when she said the proposal covered too wide a range of topics to clear constitutional standards.
"I think (Healey) was mistaken, but I want to review what the courts are going to do," Galvin said. "There's some question about the consistency of some of the certifications, but we're waiting."
Galvin is also a supporter of ranked-choice voting, another major systemic change, and that proposal is one step closer to a 2020 ballot question after Healey certified a petition calling for it.