Trippy And Hypnotic, 'Monos' Delves Into The Mob Mentality Of A Group Of Child Soldiers
An unfortunate cow is delivered to a remote mountaintop outpost high above the clouds. The place is full of kids and the oldest of them just turned 15. They've all got machine guns. We don't know what country we're in, or what exactly the deal is with the war that's raging just down the river. The kids are holding an American doctor (Julianne Nicholson) hostage inside the compound, and every once in a while, a surly dwarf drops by to bring supplies and make "proof of life" videos in which "Doctora" reads that morning's newspaper. He's known only as The Messenger, working for something called The Organization. One thing we can be sure of is that director Alejandro Landes' mesmerizing "Monos" will never be accused of getting bogged down in specifics.
As audiences, we've grown so accustomed to movies kicking off with unwieldy exposition dumps that the experience of watching a picture like this one can be exhilarating. Landes drops us in the middle of a bizarre situation with no explanation, letting us suss out the who's and what's of what we're watching. It takes some time to put together that we're seeing some sort of paramilitary operation in which child soldiers are left to their own devices for long stretches of time. Revved up with hormones and restless energy, they dance and drink and screw around, firing off their AK-47s in the air as a sublimated sexual release. It's obvious from the outset that things are going to get very bad, and not just for the cow.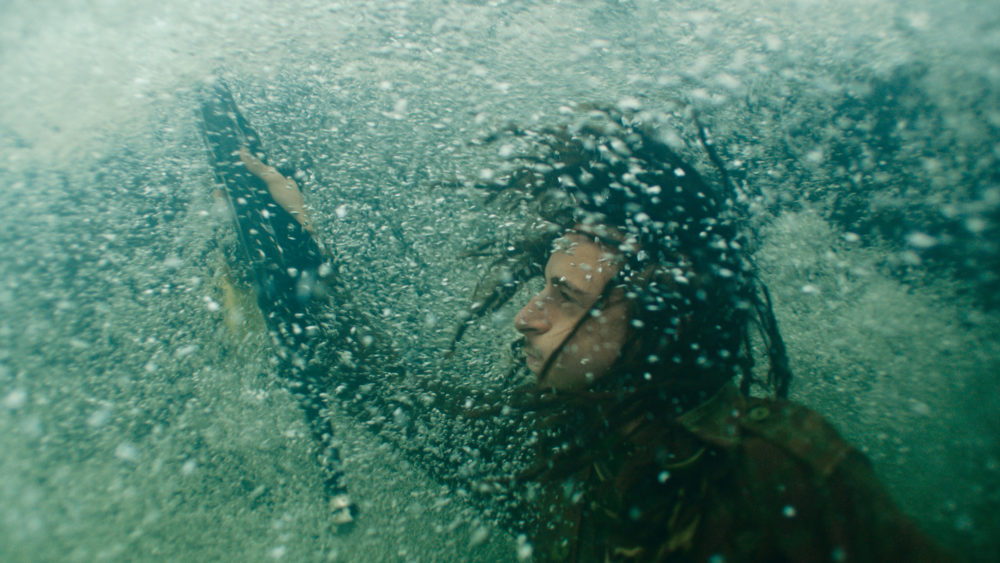 "Monos" has a trippy, hypnotic energy that calls to mind such rumbles in the jungle as "Apocalypse Now" and "Aguirre, the Wrath of God." It begins in a place of madness and only gets further out from there. Landes and his cinematographer Jasper Wolf have a knack for making even the simplest interactions look forbiddingly strange, and the movie pauses to linger on details other directors would run right over. Late in the film, there's a thrilling pursuit through the rapids of a rushing river, and time seems to slow down as the camera submerges and studies the surreal shapes and pulsating patterns of the water. When the kids all take psychedelic mushrooms, you may be forgiven for wondering if the filmmakers indulged as well.
Characters aren't given introductions so much as they gradually emerge from the pack. They all call each other nicknames like Boom Boom or Lady, with the most sensitive among them ironically known as Rambo. "Monos" is constantly shifting perspectives and protagonists throughout, and in its second hour, descends into the jungle below, replacing its wide-open vistas with cramped clumps of vegetation and dirt. The cinematography and sound design make you feel the steam and sweat, not to mention the mosquitos. (Good lord, those mosquitos.) Eventually, Doctora makes a break for it, and our close-knit crew of captors goes all "Lord of the Flies" on each other.
Landes cops to his obvious inspiration by showcasing a pig's head on a pike, but if the skeleton of his story feels familiar, rest assured the approach is anything but. I don't think there's a conventional shot in the picture. One of Nicholson's freak-outs inside her makeshift cell is framed so we can only see her from the neck down, a massive mudslide is filmed only in close-ups, and a violent strangulation takes place almost entirely off-screen. Landes loves withholding visual information from us, at the most dramatic moments we see the characters' reaction shots long before we see what they're reacting to.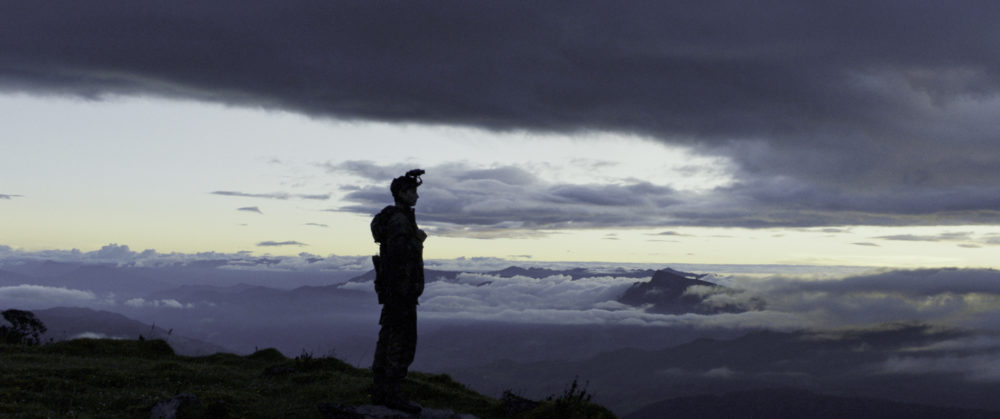 I can see why this might drive some viewers nuts, and I suppose I can understand the objection that Landes is playing around with some powerful imagery here that doesn't do justice to the real-life tragedies currently occurring in Colombia, where the movie was filmed. But I think there's a reason he and co-writer Alexis Dos Santos never specify where the story takes place, as they're after something more primal than political. "Monos" is more interested in human nature and the mob mentality, and how toxic masculinity can be contagious in crowds. It's worth noting that Rambo, the movie's most conscience-stricken character is also the most androgynous. (The character's gender is never specified, but I spent the entire running time assuming star Sofia Buenaventura was a little boy.)
It's a rattling sensory experience, enhanced by another brilliant score from Mica Levi, whose music for "Jackie" and "Under the Skin" added entire dissonant dimensions to the images onscreen. She's got a great effect here that sounds like an engine revving up in reverse, a warped tape loop to match the mania of what we're watching. By far the best Rambo movie in theaters right now, "Monos" might not be for everybody, but if you're into this kind of thing, it demands to be seen on the biggest screen possible with the sound cranked all the way up.
---
"Monos" opens at Kendall Square Cinema on Friday, Sept. 27.