4 Takeaways From Mapping The Boston City Council At-Large Preliminary
Eight candidates — four incumbents and four challengers — will be on November's ballot in Boston, seeking four at-large seats on the City Council.
The eight were determined last week in Boston's preliminary municipal election. Here are four takeaways from mapping Tuesday's results:
1. Michelle Wu leads incumbents into November.
Wu, who's been floated as a possible mayoral challenger, topped the at-large ticket. In fact, the councilor topped the ticket in 189 of the city's 255 precincts.
Wu was strongest in the Back Bay, parts of Allston-Brighton and her home base of Roslindale and Jamaica Plain. In a 15-candidate race, nearly 1 in 5 votes cast were for Wu. Overall, nearly 60% of voters cast one of their four at-large votes for Wu.
See an interactive version of the above map.
2. Essaibi George and Flaherty take different paths to advancing.
Behind Wu, Annissa Essaibi George edged Michael Flaherty for second place.
The two incumbents were separated by only 227 votes, but they took very different paths to their vote totals. Flaherty won or tied for first in more precincts, while Essaibi George placed second or third in more precincts.
Flaherty's wins primarily came around the corners of the map — West Roxbury, Hyde Park, Dorchester, South Boston, Charlestown and parts of East Boston.
Flaherty dominated in his home base of South Boston, topping 30% of the vote in several precincts there. Essaibi George didn't reach those heights in any individual precinct, but she came in ahead of Flaherty in more precincts.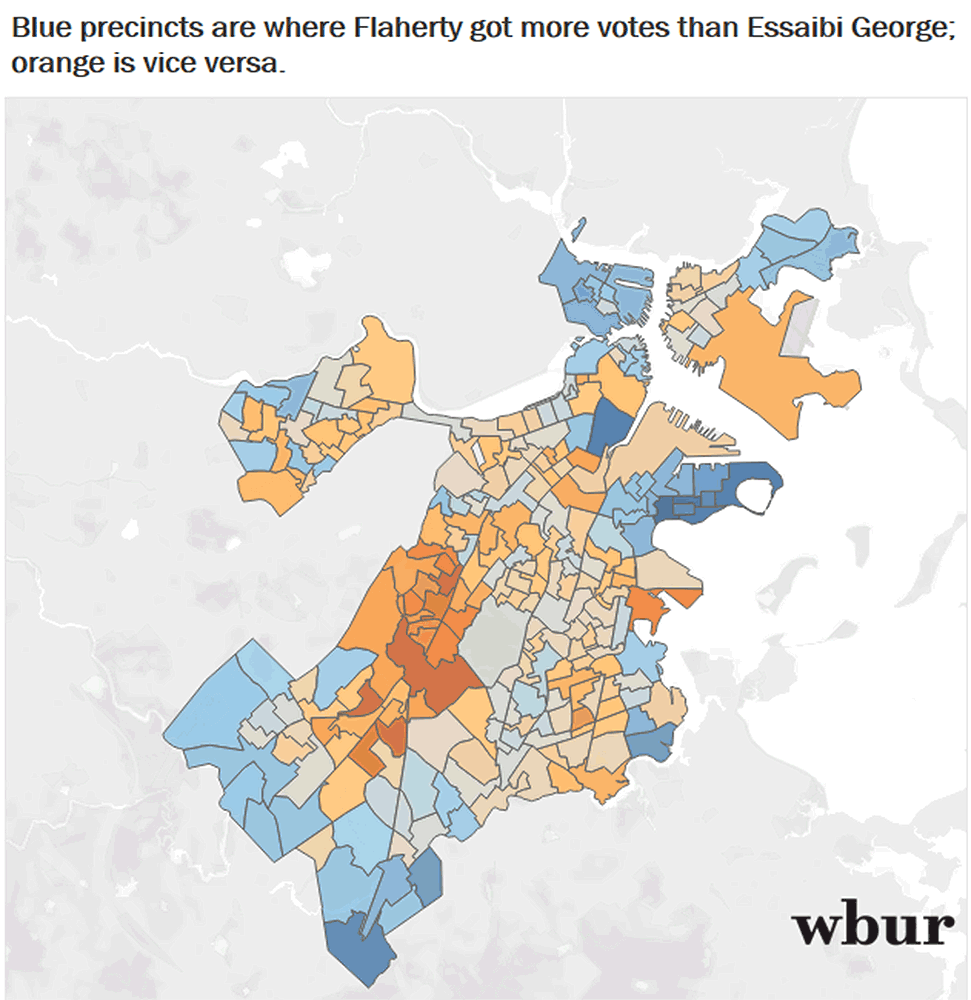 See an interactive version of the above map.
3. Newcomers St. Guillen and Mejia come in fourth and fifth, respectively.
Essaibi George was endorsed by Mayor Marty Walsh. So was newcomer Alejandra St. Guillen, who came in fourth. St. Guillen also had support from Wu; the two shared a campaign office in Dudley Square with incumbent District 7 Councilor Kim Janey.
St. Guillen's map seems to show more influence from Wu than Walsh. Her best precincts were in progressive Jamaica Plain, Mission Hill and the South End, and she showed strength Downtown and in East Boston as well. In Walsh's base of Dorchester and the South End, her vote share was mostly in the single digits.
Fellow newcomer Julia Mejia's map shows a similar pattern, with strength concentrated in Mission Hill, JP and the South End.
Both St. Guillen and Mejia edged incumbent Althea Garrison in the preliminary election. Garrison, who assumed Ayanna Pressley's seat after she won a spot in Congress, won a single precinct Tuesday, in Dorchester.
4. Will the "Wu Train" deliver a challenger to the council in November?
Using Wu's vote share as a baseline (below) reveals a split between the eight finalists for November. The vote shares for St. Guillen, Mejia and eighth-place finisher David Halbert correlated positively with Wu's. That means they did better where she did better. For Flaherty, Garrison and seventh-place finisher Erin Murphy, the opposite was the case: They did better where Wu did relatively less well. (There is less of a clear relationship between Wu's vote share and Essaibi George's.)
Correlation is not causation, of course, but this analysis shows some of the political and geographic differences between the candidates.
This pattern could have implications for November, when only four of the eight finalists will make the council. There's little sign that Wu won't be the top voter getter again. Flaherty's strength in his Southie base and around the corners of the map will likely carry him through. And Essaibi George showed support across a broad swath of the city. The question is whether the fourth seat will go to a candidate who tracks with or against Wu's vote.
Given Wu's strength last week, look for newcomers seeking the make the council to try and board the Wu Train come November.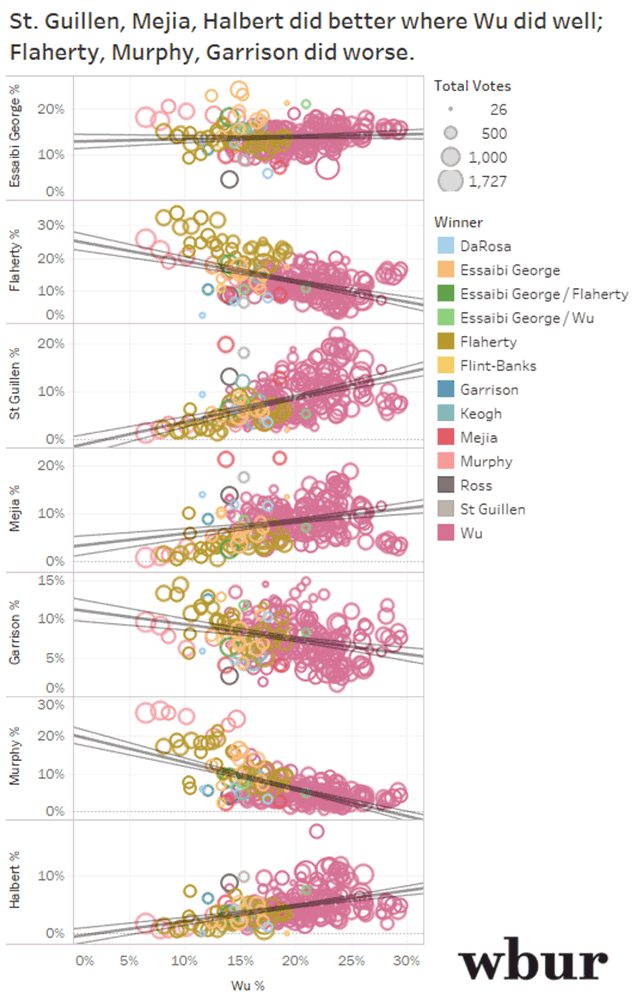 See an interactive version of the above graphic.