Where To Peep Your Favorite Leaf Color For Your New England Foliage Fancies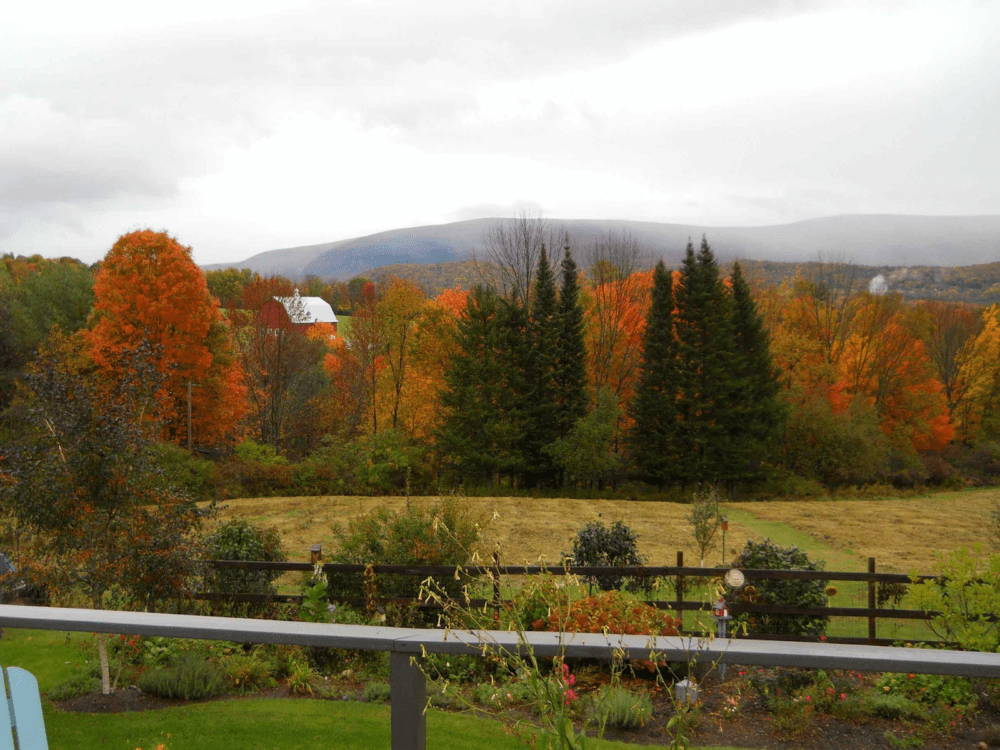 It's Columbus Day weekend, and leaf-peeping is on a lot of folks minds. Luckily, we're having a good foliage season.
A lack of major insect infestation, combined with adequate moisture and no prolonged heat waves this summer, is leading to quite the spectacular fall palette of color.
As long as we keep major cold and any big wind storms away over the next few weeks, color will linger into early November.
There are so many places to see great color across New England. Obviously, the more popular drives will also have a lot more traffic, but there's a reason they're more popular. One of the things you can do is just pull up Google Maps or Waze and plan your trip, checking for traffic. I always like to find a good country store along the way, or perhaps a local farm. This gives you a good stopping point, especially if you have kids in tow who are bound to need a break.
If you're headed to Vermont, the drive from Waitsfield to Warren on East Warren Road offers lots of opportunities for picture taking, though it's a bit off the beaten path. You can also take Route 100 along the Mad River between the same locations for stunning views.
Further south, Brattleboro to Newfane and up to Jamaica includes great little areas.
In New Hampshire, many people will take Route 93 into the state, and then you can head west on Route 89.
Route 114 to Route 103 is a beautiful drive, ending up on the southern part of Lake Sunapee. Be prepared for big crowds on these well known drives.
In Maine, you'll notice lots of color just along the turnpike itself. Northern York County around Lyman, Limerick and Sanford are all neat little areas. If you prefer the coastline, Mackworth Island just north of downtown Portland has a great walk. The back roads around New Gloucester up toward Lewiston and down to Bowdoinham would make a nice little loop. Harpswell, Bath, Woolwich and Georgetown offer many quiet back roads.
If you don't want to drive very far outside of Boston this weekend, you can still see good color. The Worcester Hills, the Berkshires and even the MetroWest region are displaying some vibrant foliage.
Cloudy days tend to show off the color in a more even way; sunshine and blue skies give the best contrast. The magic hour just before sunset is a fantastic time to grab the camera.
Decreasing daylight is the primary trigger for the display of color. Cool nights and mild days also help to bring on the red, yellow, orange and purples.
When chlorophyll stops being manufactured in the leaves, it allows the carotenoids and xanthophyll to come forward, which represent the orange and yellow colors we see.
The red color you observe in the leaves is due to the anthocyanins. This particular pigment is actually manufactured in the fall — unlike the other two, which are just hidden the rest of the year. It's also responsible for those apples you may be picking turning red.
Sugar maples tend to be some of the most vibrant trees in the fall, with orange and red the predominant colors. Many of the poplars or aspens exhibit a more yellow tone.
If you're not traveling this weekend, fear not. There's still plenty of color left over the next couple of weeks. Although the term peak may be used, there's lots of trees which will not turn until after the official peak.
The Head of the Charles Regatta is next weekend and it's the perfect time to see color close to Boston. As we head toward Halloween, you'll want to drive south. Southern Connecticut and Eastern New York also offer plenty of opportunities to see color into early November.