Biden Appears To Have The Most New Max Donors From Mass.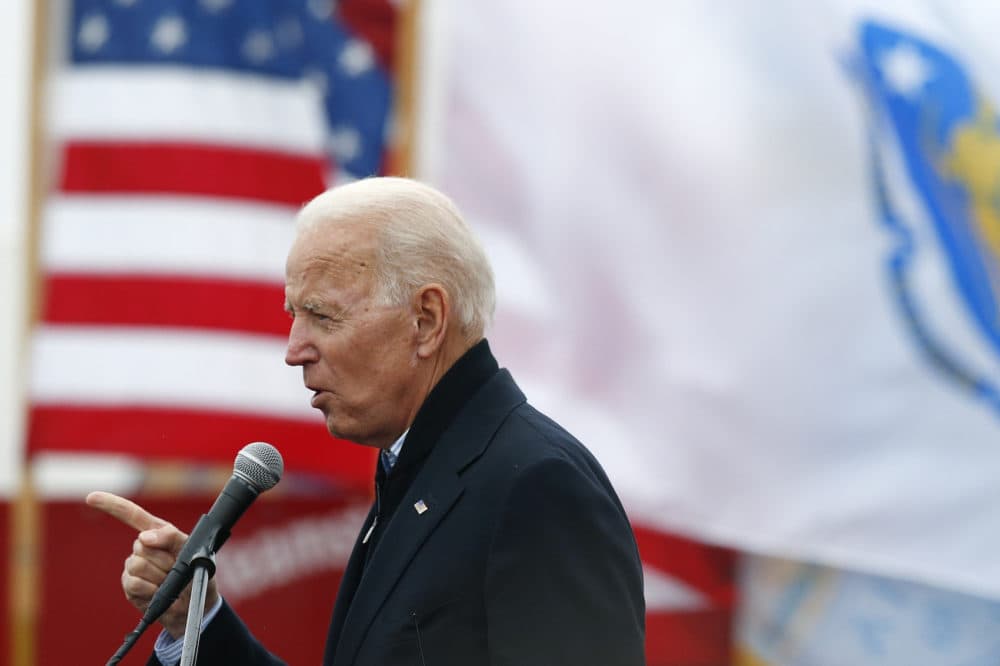 This article is more than 3 years old.
Joe Biden may have been caught by Elizabeth Warren in presidential primary polling, but the former vice president made local gains in another important category during the latest fundraising quarter.
Biden received at least 74 maximum-level contributions from Massachusetts donors who had not already given to his campaign this year, according to a WBUR analysis of federal campaign finance data. His total appears to be far higher than that of any of his top four Democratic rivals or President Trump, who collected at least 20.
Pete Buttigieg, the mayor of South Bend, Indiana, added at least 28 max donors from Massachusetts between July and September. Massachusetts Sen. Warren nabbed at least 22, Sen. Kamala Harris of California gained at least 17, and Sen. Bernie Sanders of Vermont picked up at least one.
The totals may require slight, future adjustments, as the Federal Election Commission processes candidate filings submitted this week.
In analyzing campaign finance data, WBUR defined a maximum-level contribution as at least $2,800, which is the most an individual donor can give to one candidate in a single election. A donor can, however, give as much as $5,600 if the money is divided between a candidate's primary and general election funds.
New max donors are one gauge of a candidate's ability to bring aboard moneyed supporters, many of whom reportedly resisted opening their wallets in the early phase of a crowded Democratic race.
Max donors are traditionally coveted not only for their direct contributions — and, often, the matching gifts of their spouses — but also for their networks. People who can afford to hit donation limits may encourage similarly affluent friends to do the same. They can also give unlimited additional sums to super PACs that back their preferred candidates.
Some 2020 Democratic contenders have focused their efforts on attracting vast quantities of small-dollar donors, instead of soliciting big checks. Sanders proudly claimed throughout his last White House bid that the average donation to his campaign was $27, and he has touted an even lower figure in the current race.
Warren has eschewed fancy fundraisers and recently pledged to reject donations of more than $200 from executives at large technology companies, big banks, private equity firms and hedge funds, expanding a policy that had already applied to executives at major pharmaceutical and fossil fuel businesses.
Biden has pursued a more conventional strategy that involves courting big donors. Prominent local figures who did not give to Biden earlier in the year, but maxed out in the third quarter, include University of Massachusetts President Marty Meehan, Kayak founder Paul English, Suffolk Construction CEO John Fish and Bank of America Vice Chairman Anne Finucane.