Bong Joon Ho's Thriller 'Parasite' Rails Against Systemic Inequality Between Rich And Poor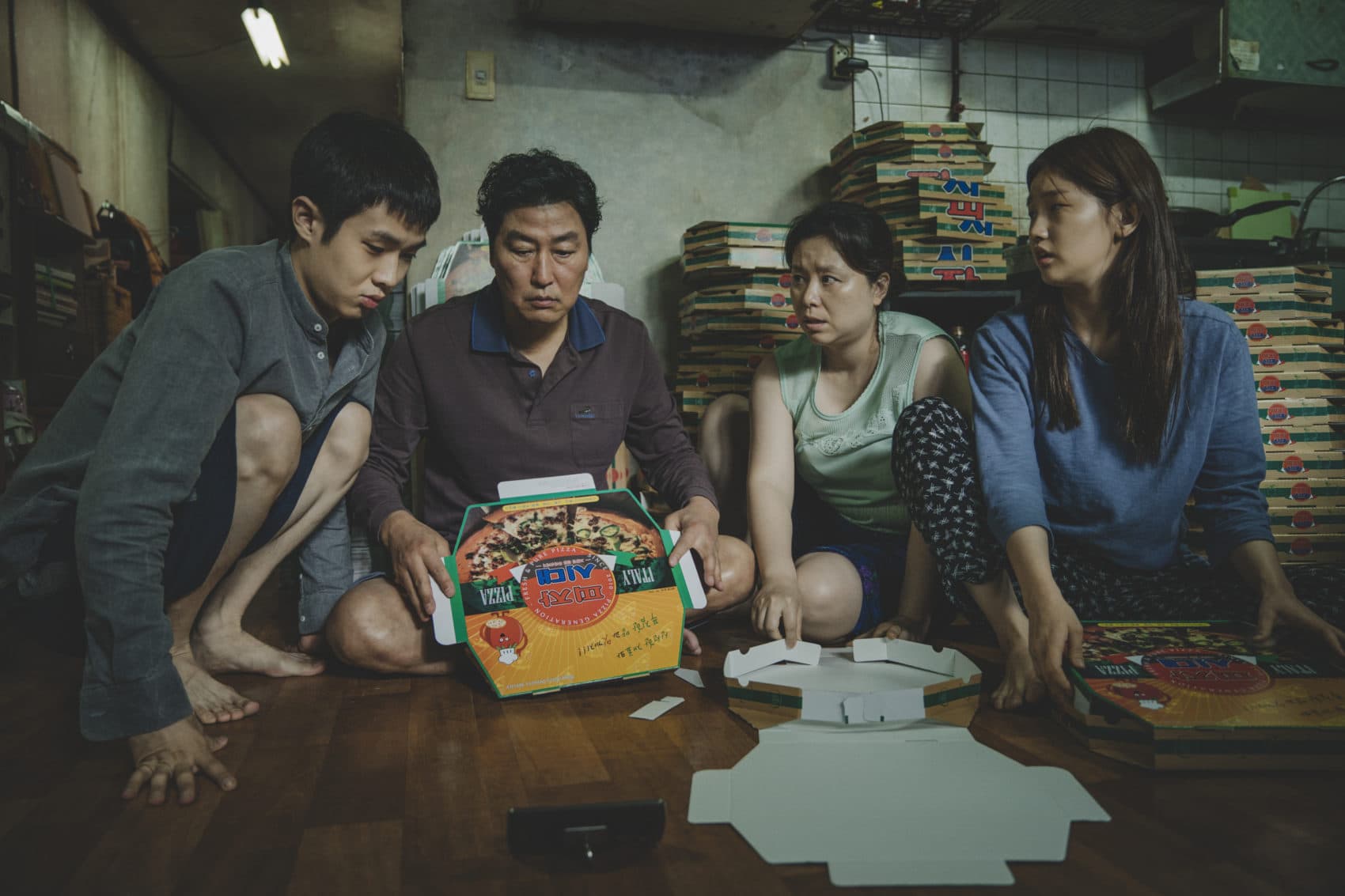 This article is more than 3 years old.
Writer-director Bong Joon Ho makes genre films about ideas. Wild sci-fi parables such as "The Host," "Snowpiercer" and "Okja" are nightmare visions of late capitalism disguised as splashy, crowd-pleasing entertainments. He's often called the South Korean Spielberg but there's a lot of Noam Chomsky in there, too. "Parasite," Bong's return to Seoul after two English language adventures with international casts, is the filmmaker's cleverest, most formally controlled picture yet. It's also one of his angriest. This sly, Hitchcockian thriller seethes at systemic inequality, dazzling the audience with its serio-comic suspense sequences before slipping you the shiv.
The Kim family lives in a basement flat downtown near the bars, where every night the drunks stagger out and piss on their windows. (They've stopped putting up "No Urinating" signs because it only encourages them.) Perpetually unemployed, the Kims squeak by on credit card debt and odd jobs like folding pizza boxes, holding their phones aloft while crouching on top of the toilet to steal the neighbors' Wi-Fi signal. Their son Ki-Woo (Choi Woo Shik) keeps flunking the university entrance exam, but a pal sets him up with a cushy tutoring gig all the same, teaching English to a wealthy family's dim-bulb teenage daughter. Using smooth talk and a phony diploma, Ki-Woo quickly insinuates himself into the Park clan's inner circle, their cushy lifestyle a far cry from his own squalid circumstances.

Before long, he's got his sister Ki-Jung (Park So Dam) a gig over there too, pretending to be an art therapist for the Parks' emotionally troubled young son. She makes sure that the family suddenly needs a new chauffeur, so next thing you know dad Ki-Taek (Bong regular Song Kang Ho) is driving for the Parks. Now if only they could do something about that nosy housekeeper maybe the Kims could get mom in there, too.
The fiendishly entertaining first hour toys with our allegiances, depicting the moneyed Park family as well-meaning enough but oblivious to the world around them. They're awfully easy marks for the Kims, with their street-savvy hustle honed over years of scraping by. For a while, "Parasite" feels like a slightly more sinister version of last year's "Shoplifters," Hirokazu Kore-eda's heartbreaking drama about a family of grifters living on the fringes of contemporary Japan. (Amusingly enough, both movies won the top prize at the Cannes Film Festival and would make one hell of a double feature.)
Bong visualizes the social hierarchy quite literally here, with the haves on top and have-nots down in the basement. But the thing is, there's always someone who's got a little less than you, and then once you've got something, how far will you go to hold onto it? The plot's sinewy twists and turns soon reveal basements beneath the basements, complicating and confounding our relationships with both the Kims and the Parks, all the while railing against a social structure that's rigged to favor the rich and pit the poor against one another, fighting for scraps.

Of course, the great thing about "Parasite" is that nobody ever comes out and says as much. Bong's films turn ideology into action. Think of the class warfare allegory in "Snowpiercer" as the disenfranchised in the back cattle cars fought their way to the front of the train, or the giant reptile monster in "The Host" growing out of a U.S. Army base's reckless pollution. His stories are his political stances, and every shot in "Parasite" is some sort of argument. The clean lines of the Parks' manicured lawn are juxtaposed with the cobwebs of power lines in the Kims' alleyway, and in the movie's most spectacular scene, the sewers flood downtown — a devastating cut between waste going in one toilet and spewing out another serves as the movie's manifesto in miniature.
But I worry that discussing "Parasite" in such an academic manner gives short shrift to how ridiculously fun it is to watch. Wickedly delightful, the movie has more laughs than most comedies and jolts that leave you gasping for breath. It might be the most purely entertaining movie in theaters right now, with the stinging social commentary served up as icing on the cake. If there's any complaint I have it's that the film might be just a little too elegantly worked out for its own good — I sort of missed the bonkers, left-field tonal shifts that are so disruptive in Bong's previous pictures. But I'm not sure it's really fair to criticize a filmmaker for being too in control of his craft. Then again, nothing's fair. Just ask the folks in the basement.