As Green Street Studio Gets Priced Out Of Central Square, City Offers Possible Solution
This article is more than 3 years old.
Dozens of artists and activists donned their ponchos and danced through Cambridge's Central Square on Sunday. They carried flowers and held signs that read things like "#3 wealthiest state, #26 in charitable giving" and "Landlord raises the rent, art and community space closes. Stop me if you've heard this one."
Not the catchiest of slogans but they conveyed the message.
The state-designated Central Square Cultural Arts District lost another creative space to rising rents when Green Street Studios shut its doors over the weekend. The rehearsal and performance space had been open for 28 years, providing an affordable option for hundreds of dancers and artists.
"For a lot of artists, this means a loss of a significant source of community and affordable work space," said Tarikh Campbell, who taught hip-hop and ran his dance company through Green Street Studios. "We're here letting everyone in Central Square know that the arts matter and we need the facilities and infrastructure to keep it going."
Green Street is one of several arts organizations to be priced out of Central Square as the cost of living and workspaces have rapidly risen over the last two decades.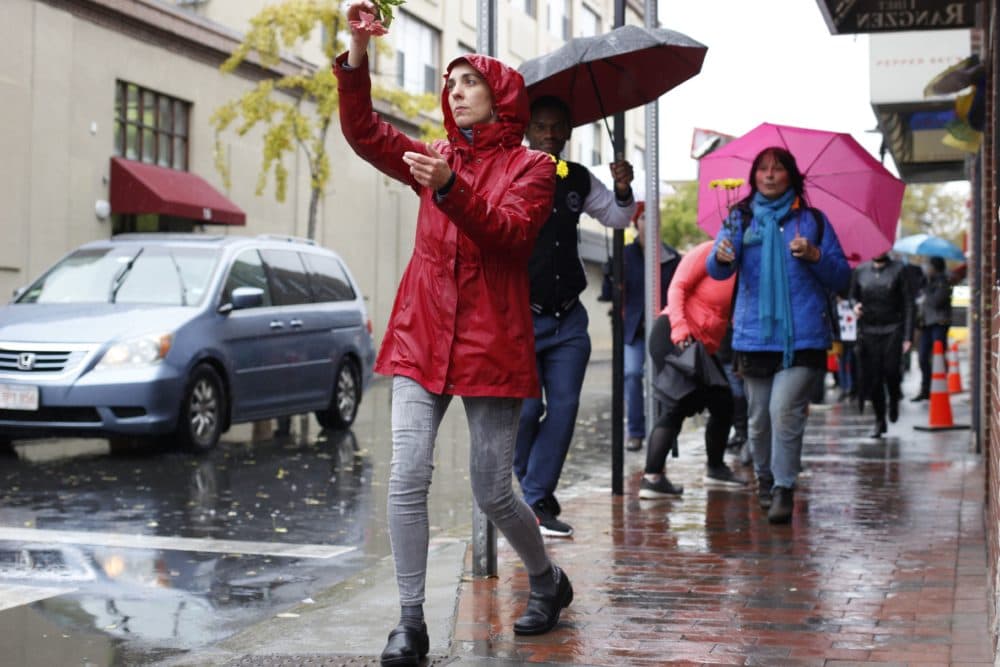 Local e-commerce business owner Peter Givertzman told WBUR that he purchased the building in April as an investment property.
Stephen Ursprung, the acting chair of Green Street Studio's board of directors, said in an email to WBUR that Givertzman told the organization that he was open to negotiation as long as they proposed a new lease at "market rate."
"Our space is now listed for rent at approximately 165% above our previous rate, almost tripling the rent we previously paid," Ursprung told Cambridge Day earlier this month.
"I'm not paying top dollar for the building, I'm paying 20 to 30 percent above top dollar for the building," Givertzman told WBUR. "My goal was not for them to leave but I do need to pay the mortgage."
But on Monday night, the future seemed a little less uncertain for Green Street.
Givertzman told WBUR that he was approached by the City of Cambridge with a possible solution and said he's optimistic that the outcome will be positive for Green Street and the local dance community. While nothing has been finalized Ursprung confirmed in an email to WBUR that "discussions are in progress to find a home for Green Street Studios in the short and long term."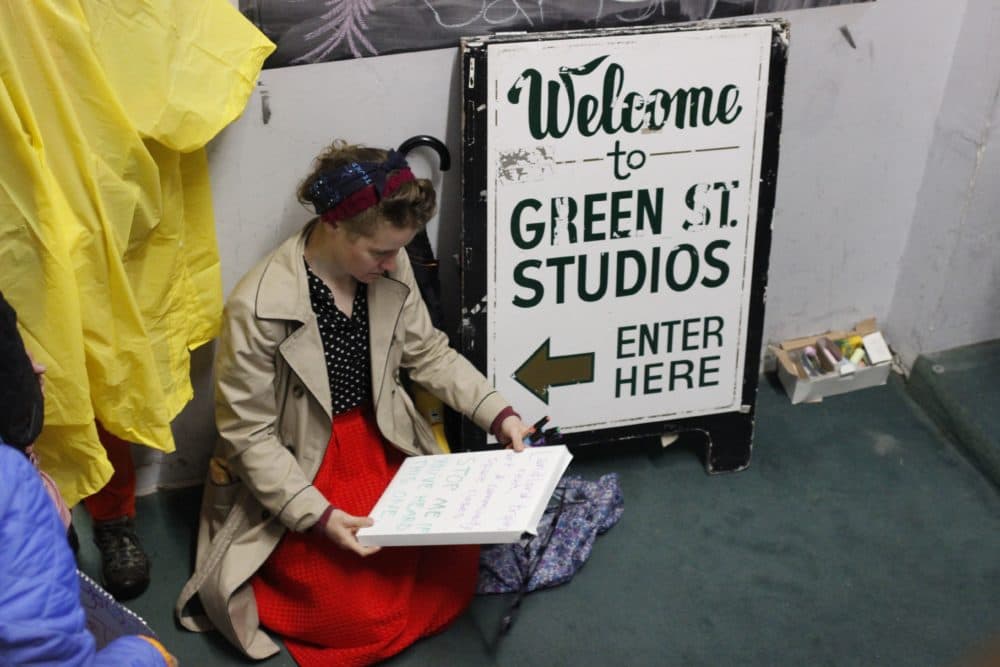 While a solution may be in the works for Green Street, activists say rising rents are part of a systemic housing and space problem throughout the Greater Boston area. Green Street Studios opened in 1991, three years before Massachusetts repealed rent control. Since then, rents in Cambridge have doubled, according to the city's recent Envision report.
While rising rents might be advantageous for some homeowners seeking to raise the value of their homes, renters and local businesses have been feeling the economic pressure to keep up in an increasingly expensive housing market.
Veronica Barron is a performing artist who has lived in Central Square for 12 years at an address she says she could not afford if she wasn't in subsidized housing.
"If we want artists to be able to form professional lives here, we need investment," said Barron. "What are the ways that businesses, government, and communities can work together to make sure that cultural spaces are preserved and our communities are the rich places that we want to live in?"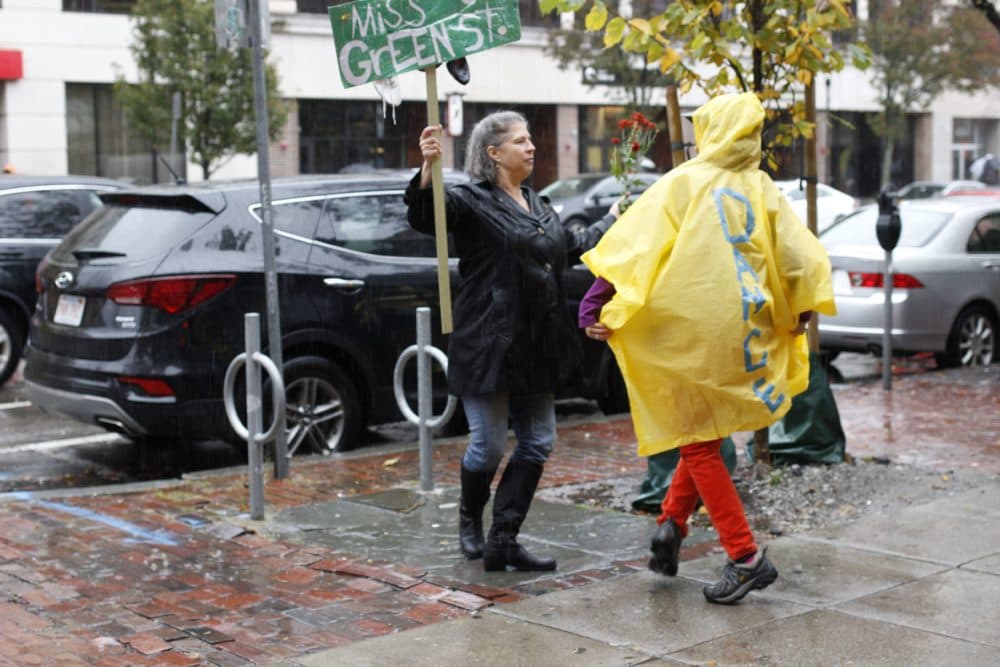 Details of a possible agreement between Green Street, its new landlord and the city of Cambridge have not been released. The studio's closure has served as yet another flashpoint in a narrative of artist displacement in the Boston area that has intensified in the last couple of years in Cambridge with the closure (and subsequent uproar over) of the nearby EMF building and the Out Of The Blue Too Gallery before that. After EMF's closure in April 2018, the city of Cambridge said it would explore how to support cultural spaces, including an arts overlay district.
In nearby Boston, a city report in December 2018 showed a "space misalignment" problem that made available cultural venues too expensive for artists and arts organizations.
Some of the protesters at Sunday's event specifically called out the innovation industry saying they're contributing to the real estate crisis and benefiting from Cambridge's vibrant communities without helping to sustain them.
"We haven't yet been able to communicate why the arts are so important to innovation," said Karen Krolac, the artistic director of the dance organization Monkeyhouse. Krolac has seen multiple artistic homes close in the past few years. "It makes it harder to run an organization because on top of having to be able to find funding for creative projects, we're having to fight for spaces and we're having to find new spaces when we're pushed out of them."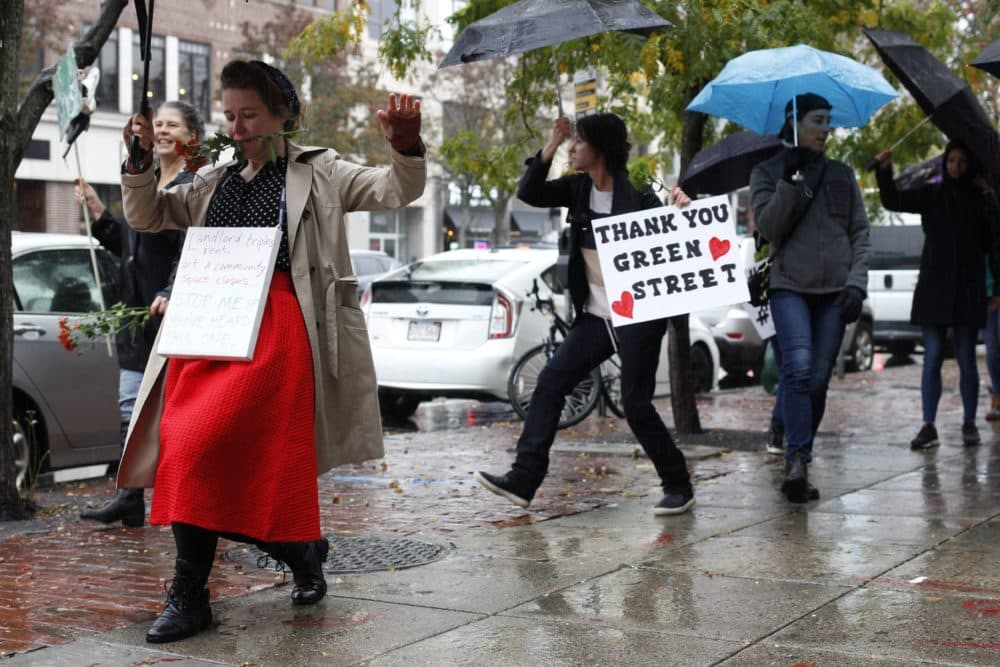 Rents in Cambridge are on average about $500 more a month than in neighboring Somerville and Allston, according to the Envision report.
Despite the rain and the unfortunate circumstances that brought them together, the protesters on Sunday sashayed and twirled down the block back to Green Street Studios for one last plie. They embraced each other and offered warm smiles to passersby, telling anyone who stopped to listen about the loss of community they've felt each time one of Central Square's beloved spaces closes.
"If you dislocate a community from a central place, it stifles the energy needed to make art," said Callie Chapman, the owner of another local studio who organized the event on Sunday to raise awareness for the lack of affordable cultural space. She says as these venues disappear, artists are forced into isolation, and some are unable to make work at all.
"Over the years I've seen an accumulation of spaces closing, and selfishly I don't want to be next, so that's part of it," said Chapman. "But it's not about me, it's about the community."