New Device Could Reduce MRI Scanning Times From An Hour To 5 Minutes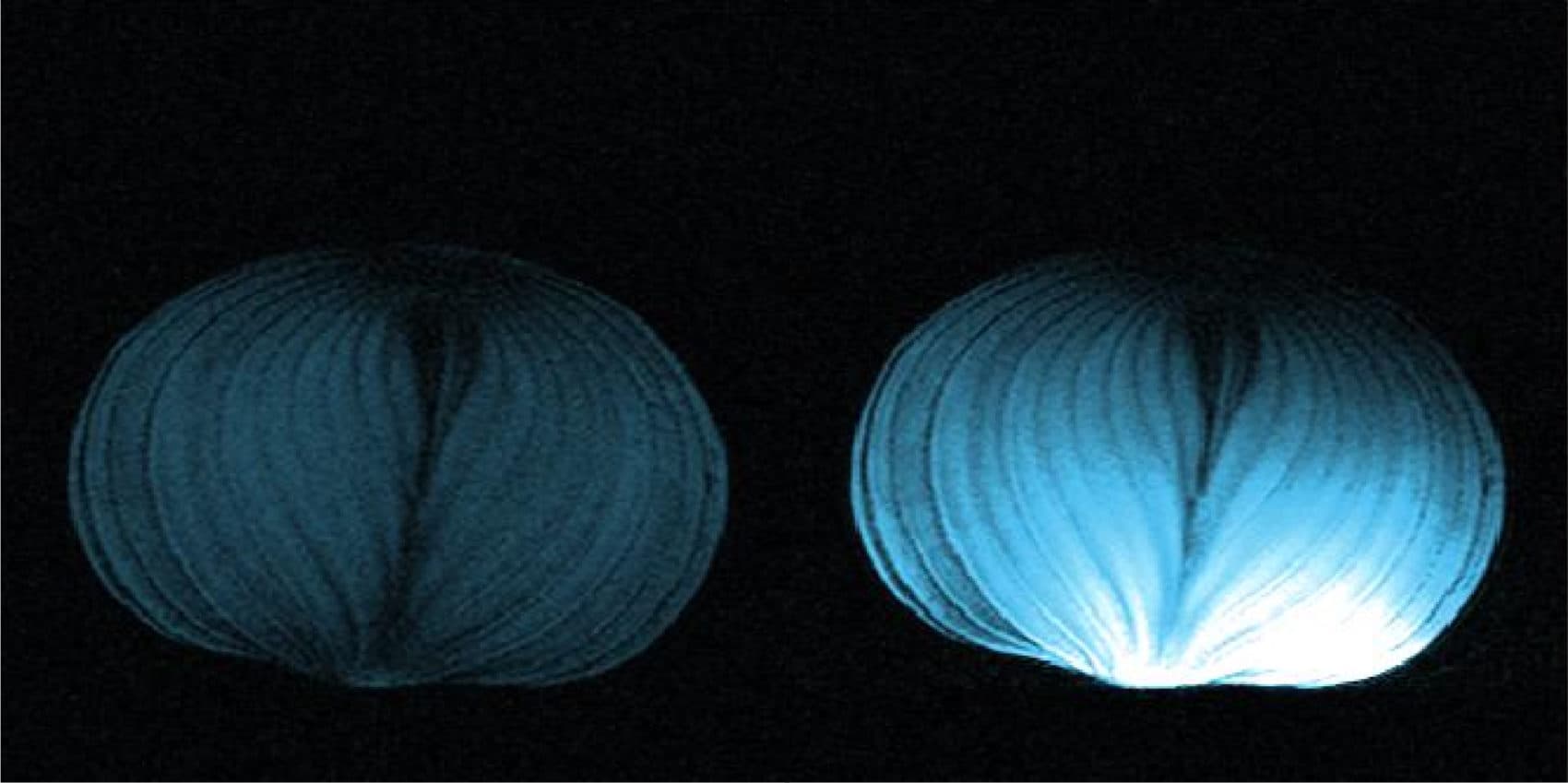 This article is more than 2 years old.
Using magnetic resonance imaging, more commonly known as MRI, to take a full scan of a brain or other organs takes "a long time," says Xiaoguang Zhao, a radiology researcher at Boston University. Patients have to remain as still as possible as the medical scanning instrument clicks around them for as long as an hour.
But he, along with Boston University engineer Xin Zhang and other colleagues, designed a device that can shorten the time it takes to perform an MRI scan and boost the quality of the image.
"We can enhance the [MRI] signal by more than 10 times," Zhao says.
That also means that radiologists don't have to boost the strength of the MRI's magnetic field to get clearer images, which reduces the cost of operating an MRI machine, Zhang says. Their device might also make MRIs safer for certain patients, Zhang adds.
"With too much power in the magnetic field, you literally heat implanted medical devices. Pacemakers in particular are vulnerable to this," she says.
WBUR spoke with Zhang and Zhao about their device, which they call a magnetic "metamaterial." This interview has been edited for length and clarity.
What is the device and what does it look like?
Zhang: It's basically a copper wire wrapped around a plastic scaffold with some integrated diodes. That's the basic structure. Then that's repeated in a tight array. We call it a metamaterial because this structure gives it properties that a copper wire on its own doesn't have. With a copper wire just without any design, you have nothing. But with this structure, it can take on additional properties.
We discovered this type of metamaterial can interact with radio and electromagnetic waves and serves to enhance the magnetic components of magnetic resonance — what MRIs use to image. So the object being scanned goes on top of the metamaterial, and it really helps to obtain images in this diagnostic scan.
How does it work?
Zhao: First we have to understand how an MRI works. MRIs emit a static magnetic field. This aligns protons with that field. Then the MRI machine emits a radio frequency wave that goes through the object or the patient, and that excites protons. When that high powered radio frequency turns off, the protons relax and generate a magnetic field that's detected and read by the MRI machine.
Our metamaterial can enhance that small magnetic field. It amplifies the signal that's picked up by the MRI's detectors, so that's how we improve the signal. But it only amplifies the signal from the human body. That's important. When the MRI emits a radio wave to the human body, if the metamaterial is always on, it will also enhance the power of the MRI's radio wave. Then the power might be too high and potentially cause damage to the human body.
So, a component in the device can sense the power of the energy and turn off when the energy is too high. That makes it "smart." It only turns on when the human body is emitting a signal.
How much better does the imaging signal get when your device is in the MRI with an object or person?
Zhao: We tested this on an onion and a melon in the lab and found that the signal is enhanced by more than 10 times. We worked with a radiologist at Boston Medical Center on the experiment and he was with us when we saw the first images. He was very excited that our metamaterial is working as we designed. It felt like we can, using physics, achieve a function that we wanted to achieve. That was a happy moment for me.
"So if you needed an hour before to image a whole brain, now you just need five minutes."

Xiaoguang Zhao, radiology researcher at Boston University
What are the benefits of this device?
Zhao: Because the metamaterial can boost [the] signal by 10 times, if we want the same quality of image, we can decrease scanning time a lot as well – [it will be] significantly shorter. So if you needed an hour before to image a whole brain, now you may just need five minutes. So doctors can see more patients – and really decrease the costs.
This article was originally published on November 09, 2019.