Lt. Col. Christopher Mason Chosen To Lead State Police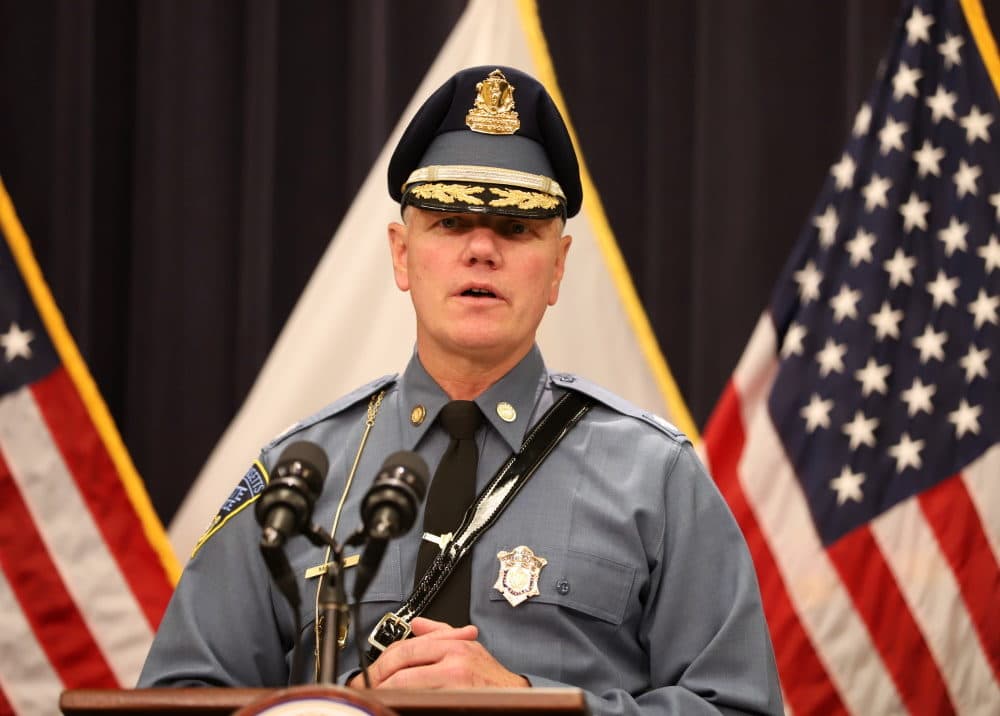 This article is more than 1 year old.
A new head of the Massachusetts State Police has been selected.
Christopher Mason, who has been serving as the agency's second-in-command as lieutenant colonel, was appointed to the top post by Gov. Charlie Baker, the governor announced Wednesday morning.
His predecessor, Col. Kerry Gilpin, announced her retirement last week from the embattled agency following a 25-year career in the department. The 49-year-old will step down Friday, after serving two years at the helm as superintendent.
Mason, a Barnstable native, was named lieutenant colonel in January. Before that, he was the commander of the Division of Investigative Services. In that role, he oversaw all state police detective and forensic units.
From July 2015 to November 2017, Mason was head of the Commonwealth Fusion Center, the state's criminal intelligence center. Prior to that, he worked his way up the ranks from trooper to captain in the Cape and Islands detective unit, commanding it for several years.
He has been a member of the agency for 26 years.
The department has been embroiled in scandals since March 2018, when it was revealed that multiple state police troopers had been paid overtime for hours they did not work. Several troopers have pleaded guilty in the overtime abuse scandal.
Since Gilpin announced her intention to retire, Baker said he has had multiple conversations with Mason about "restoring public trust" in the state police.
The governor said Mason's first order of business will be getting the state police's body camera program "over the finish line," and completing the internal investigation into overtime abuse to ensure that even those those who did not face criminal prosecution are punished.
"As far as I'm concerned, anyone who stole overtime shifts has stolen from the commonwealth," Baker said at a press conference to introduce Mason.
Mason said he will also focus on enhancing diversity, improving accountability and relying more on empathy and de-escalation in policing.
"I am grateful for the remarkable trust that Governor Baker and his administration have placed in me," Mason said. "I promise to earn that trust every day with the men and women of the Massachusetts State Police who reflect our values of honesty, integrity, and service. These values are foremost in my mind as we move the department and our public safety mission forward."
He takes over the post starting Friday.
With reporting from State House News Service's Matt Murphy
This article was originally published on November 13, 2019.