In A Rock 'N' Roll Dream, Roy Orbison And Buddy Holly Take The Stage Again (As Holograms)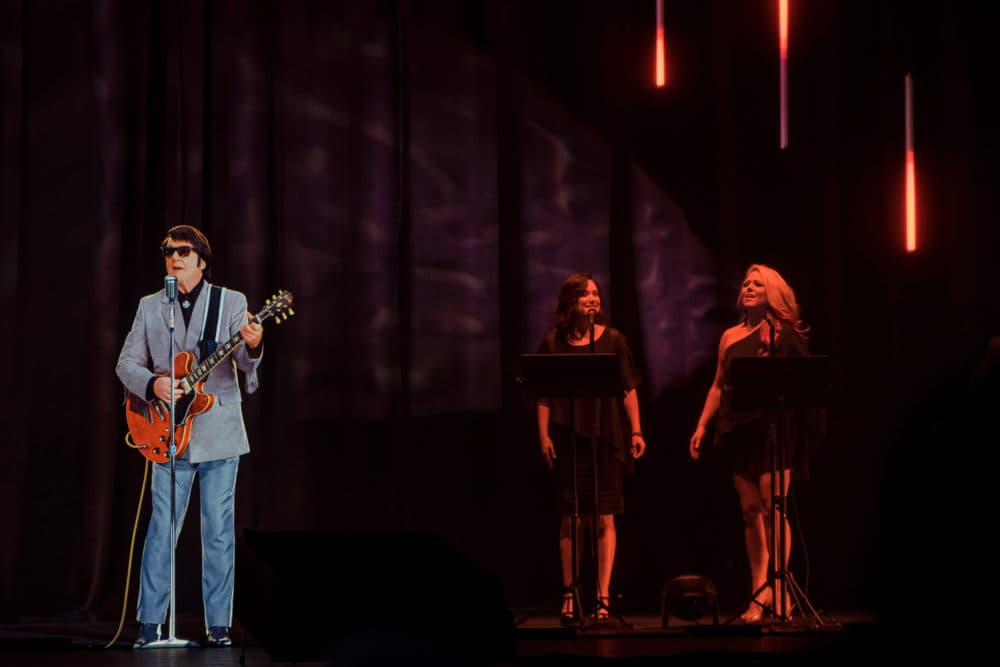 This article is more than 1 year old.
John and Patty Ryburn made the drive from Canton into Boston this past Saturday night. Although Patty knew they were seeing a show that would feature music by Roy Orbison, John, 68, didn't tell his wife, 60, exactly what they were going to witness at the Shubert Theatre.
Orbison died in 1988 at 52, so she assumed they'd be seeing an impersonator. And this is still what she thought after she saw "Orbison" evidently rising from the bowels of the stage, singing "Only the Lonely" as a subtly lit five-piece band and two female singers supported him.
And then it dawned on her: It wasn't an impersonator. It was unmistakably Orbison's voice, as soaring and majestic as always. But the image that the Ryburns and about 1,000 others saw standing at the mic and playing guitar was a hologram. A full-bodied, lifelike hologram which sang five songs and then disappeared in what looked like a puff of smoke.
Then came a brief intro on the video scrim at the rear of the stage and an equally convincing — and more animated — hologram of Buddy Holly, the rock 'n' roll pioneer whose life was cut short at 22 in a 1959 plane crash. The show was divided into halves, but "Orbison" and "Holly" each played portions of both, the band not missing a beat as they effortlessly shifted between the catalogs.
The tour is called "Roy Orbison and Buddy Holly: The Rock 'n' Roll Dream Tour." The two singer-songwriters, both from West Texas, knew each other. Roy's son Alex Orbison told Rolling Stone his father had jammed with Holly in Lubbock, and Holly recorded two Orbison songs on his debut album with the Crickets. But the two never toured together in real life. As such, this tour is aptly titled — it could only happen in dreams or via the magic of many engineers at the Las Vegas BASE Hologram company.
As I approached the Shubert, my main thoughts were: Is this going to be creepy? Would there be something vaguely ghoulish, or even weirdly comic, about this, a 21st-century reanimation of superstars from the 20th? Should one be politely outraged at this appropriation — even given the singers' estates enthusiastic endorsement — at the idea of this as a real-time concert?
Or, could it possibly be cool in a retro-futuristic fashion?
I loved Orbison, the most operatic of pop singers, and had conducted the last print interview of his life for the Boston Globe in November of 1988 and then reviewed his next-to-last concert that December at the long-gone Channel club. He died from a heart attack three days later. I was a fan of Holly's songs but never saw him live, of course. Few did. Our visual memories come via YouTube and black-and-white TV appearances on the likes of "The Ed Sullivan Show." His professional career lasted all of 18 months.
So, how'd it shake down at the Shubert with the holograms?
"Creepy" certainly hovered at the onset, but dissipated and mutated into something else fairly soon. "Cool" is too much of a stretch, but "curiously entertaining" would be close. As the show progressed through its 90 minutes, and as I got used to the lay of the land, with the Holly and Orbison images popping up and then disappearing in a puff of pseudo mist — the music transported me back in time. The Holly image was, of course, about 20 years old. I'm guessing "Orbison" was in his mid-30s to 40.
Still, you can only suspend disbelief so much. It felt semi-live, or live at arm's length. I was never not aware that it's not a hologram, as good as these holograms were. In an interview last week, Marty Tudor, CEO of BASE Hologram Productions, told me this year's "Orbison" was measurably better than last year's.
"The technology has improved," he said, "and we are constantly improving it and upgrading it. It's a very big, complicated process and it takes a good nine months to a year from the moment we say go to when we deliver a show.
"Essentially, what we're doing is using a digital laser projector to project light."
BASE engineers worked with Holly and Orbison videos as reference points, but they created each hologram "from scratch" and a team of engineers put in hundreds of hours. Tudor said each hologram has over 200,000 frames "and each one of those frames has to get touched by hand."
Even when enjoying the music — expertly played by a band of Broadway show veterans — there is a bit of a distance from it. When "Orbison" or "Holly" gestured toward the band or thanked the audience after some applause, I couldn't help but giggle nervously. And, when a song I like ended, I wondered should I applaud a hologram?
Neither Holly nor Orbison were noted for speaking to their audiences, so that rang true. Orbison in real life was a statue on stage, which was pretty much the case for the hologram version as well.
"Holly" moved more — his right leg tapping, his trouser creases rippling, leaving the hologram mic at center stage to venture a few feet to the side. The band and backing singers were bathed in muted light; the singers' images were consistently bright.
I enjoyed "Holly." "Peggy Sue," "Rave On," "Oh, Boy!," "That'll Be the Day" and "Not Fade Away" are part of our classic rock 'n' roll canon. It was a kick to hear these upbeat rockers that celebrated teen life and love in the '50s. But Orbison had the upper hand given the longevity of his career, the complexity of his songs, the emotional depth, including deep dives into sadness and loneliness, and of course that voice — a three-octave range and a mesmerizing falsetto.
When I talked with Orbison all those years ago, he'd been on a roll: He'd been inducted into the Rock & Roll Hall of Fame, he'd released the Traveling Wilburys album (with Bob Dylan, Jeff Lynne, Tom Petty and George Harrison), and a new album, "Mystery Girl," was on the way. He didn't play those new songs at the Channel but was looking forward to the next tour when he would have the opportunity. (At the Shubert, "Orbison" sang "You Got It," "A Love So Beautiful" and a 1992 release, "I Drove All Night," none of which were ever performed in the U.S. in his lifetime.)
He was a very happy, very humble man. In that last interview with me, he said, "My voice is a gift; my talent is a gift; the life process is a gift; the opportunity for the journey is a gift."
About the Channel show, I wrote:
His shy/sincere, emotional investment in "Only the Lonely," "In Dreams," "Crying," "It's Over" and "Running Scared" (among others) remains unquestioned. These heartbreaks — and occasional triumphs — matter still.

And — most prominently — the vocal crescendos are unmatched, especially during the mountain-climbing ballads, situations that induced awestruck smiles amongst the crowd. There is absolutely no way to leave a Roy Orbison show without sporting a wide grin. Whatever pain he's gone through in song is cathartic: The fact that he can still bring that out and bring shivers to the spine is awe-inspiring.
The show at the Shubert was not all that, certainly. It was a replication of that. I mostly enjoyed the reverberations, exiting with a slight smile.
---
Correction: An earlier version of this post indicated that the digital laser projector was situated at the sound board. BASE Hologram representatives told us that was incorrect, but would not divulge where the projector is located during shows.
This article was originally published on November 18, 2019.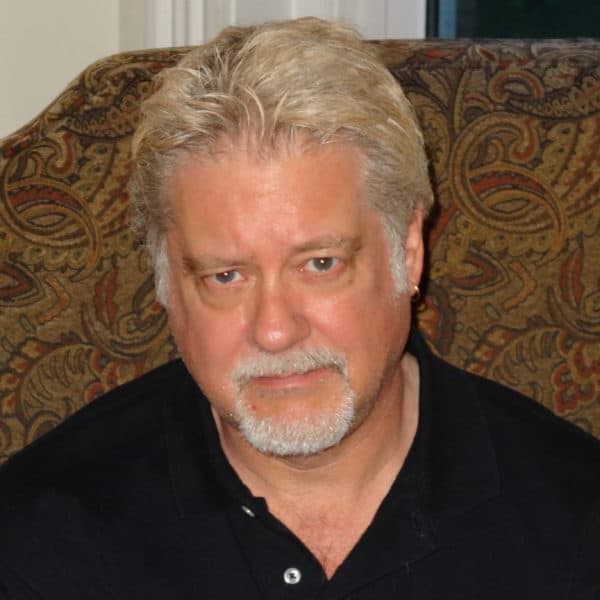 Jim Sullivan Music Writer
Jim Sullivan writes about rock 'n' roll and other music for WBUR.