Visit These 13 Artisan Markets To Find Unique Holiday Gifts
Ah, the holidays. Twinkling lights, the family gathered together, good food and the squeals of children unwrapping gifts ... but of course, first comes the shopping.
Holiday shopping can be a nightmare. But you can ease the stress and guilt a little by ditching the mall and forgoing Black Friday for local markets instead.
Check out one of these artisan markets in Boston and beyond (in order of opening date) for one-of-a-kind presents that will support local business and artisans. You can feel a little better about your consumption, and your friends and family will appreciate the personal touch of a unique find.
Holiday Artists Market at the deCordova | Through Dec. 31 | Lincoln
In the mood for a day trip? Get out of the city for a day and head to the deCordova Sculpture Park and Museum in nearby Lincoln. This artisan market is open daily, excluding Thanksgiving and Christmas Day. Holiday shoppers can buy ceramics, glass, sculptures and more. Plus, you can check out galleries at the museum and the sculpture park before or after you browse for gifts.
West Roxbury Holiday Market | Dec. 6 | West Roxbury
Craft vendors will bring a variety of goods to this market, and most of them are made by women-owned and managed businesses, according to West Roxbury Main Streets. The event is also held in conjunction with the neighborhood tree lighting and the Mayor's Enchanted Trolley Tour.
SoWa Winter Festival | Dec. 6 to 8 | South End
Shop 130 vendors at the holiday rendition of this favorite local market in Boston's South End, in addition to the artist studios and galleries nearby that are open year 'round. Need a break from the shopping? The event also features live ice sculpting, workshops, food trucks and our personal favorite: winter cocktails.
Harvard Square Holiday Fair | Dec. 7 to 8; 13 to 15; 19 to 22 | Cambridge
Running for 34 years, this holiday market features craft vendors from all across New England displaying a range of gifts. Head to Harvard Square to shop for that special something, ranging from from homemade candles to antique books and unique art prints.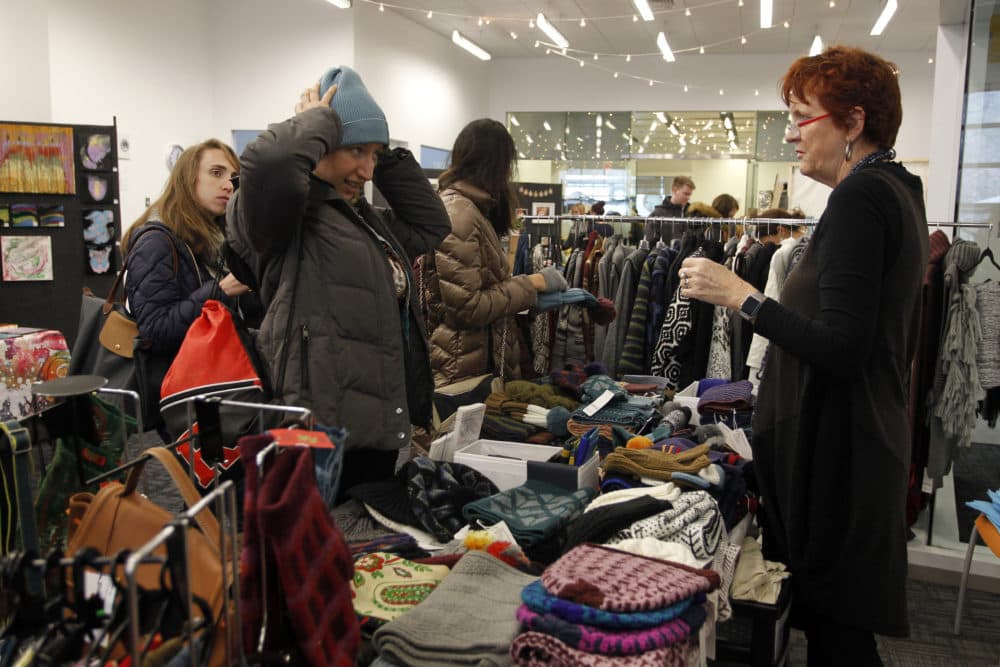 Boston Women's Market | Dec. 8 | Downtown Boston
Give a gift to someone special in your life and support women-owned businesses and makers by shopping this ladies-first market. You can also wrap your gifts there at a special station, learn to make mulled wine and hear a special performance from Wakefield singer-songwriter Natalie Joly.
East Boston Holiday Market | Dec. 8 | East Boston
Head to The Eddy in Eastie, just a few blocks from Maverick Station, for the holiday version of this market, which will feature more than 40 vendors. There will also be food and live music, and though it's indoors, pets are also welcome.
Brain Market Flea | Dec. 8 |Cambridge
Looking for a gift for your punk friend, but have no idea what to buy? Visit this eclectic flea market at the Cambridge Community Center, hosted by an arts nonprofit, where you can find pins, zines and vintage clothing. While you're there, you can also get your hair cut and have your tarot cards read.
Holiday Buzz Market | Dec. 8 and 22 | Somerville 
Visit ONCE Ballroom in Somerville one of two weekends in December for a selection of vintage goods and handmade art. The event also features a boozy taco bar — admittedly an odd choice for a holiday event, but we don't mind.
Allston-Brighton Winter Market | Dec. 12 to 15 | Allston-Brighton 
Stop by the Harvard Ed Portal during this four-day market for vendors ranging from crafts to fine art. The event also features a beer garden, food, live music and interactive art programs.
CraftBoston Holiday Show | Dec. 13 to 15 | Back Bay
More than 100 artists from Boston and across the country fill Hynes Convention Center for a weekend every December at this market hosted by the Society of Arts + Crafts. From fine art to furniture, there's something hand-crafted for everyone on your list. (Tickets are required to attend.)
Boston's Black Owned Business Holiday Market | Dec. 14 | Seaport 
Support local black business owners at this market, hosted by Boston Young Black Professionals. Located in the Seaport District, the market is adjacent to the Gather restaurant, where food and drinks will also be available.
Cambridge Holiday Market | Dec. 14 | Cambridge
For a mixture of 70 local vendors from designer wares to jewelry to specialty food, visit this market just over the river in Cambridge's Central Square. (Tickets are required to attend.)
JP Holiday Flea | Dec. 14 | Jamaica Plain
This quarterly market in JP features a diverse range of gifts for sale. Local vendors include Latin American artisans, zine publishers, antique dealers and nonprofits. You're sure to find something for everyone.