Today's Thanksgiving Weather: Breezy And Chilly, Clearing Skies Tonight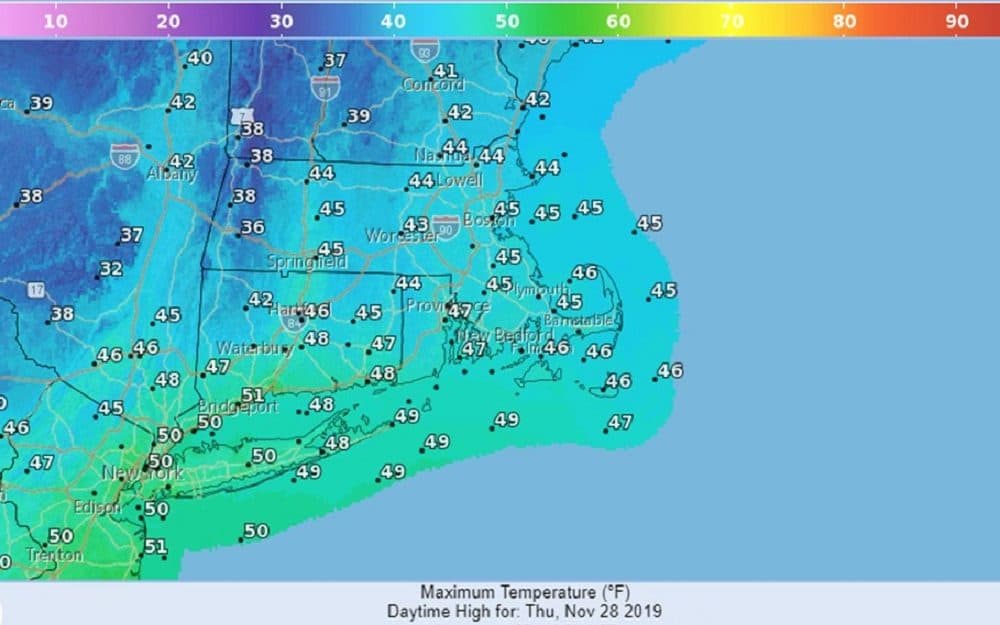 Happy Thanksgiving! A strong storm will move slowly east and out of the picture today.
The effects on the Boston area will be a few lingering showers this morning with mostly cloudy, blustery conditions this afternoon. Temperatures will hover in the 40s but feel a lot colder with the Northerly wind that may gust to 35mph at times.
The breeze will be with us tonight and Friday but with clearing skies. High pressure will build in Friday providing lots of sunshine. For all the Black Friday shoppers, the weather should be very cooperative this year. Tranquil weather conditions will last into early Sunday with winds diminishing.
The next storm will make a bee-line for the Northeast later Sunday and into early next week. Although it's a bit early to determine any accumulations, it does appear that there will be some snow with this next system. The most likely times will be at the very start of the storm later Sunday and then again on the back side Monday night into Tuesday as it tracks just east of Cape Cod.
Today (Thanksgiving): A few leftover AM showers, otherwise Mostly cloudy and
windy. Temperatures staying in the 40s.
Tonight: Clearing skies, breezy. Lows 27-32.
Friday:  Sunny Skies. Breezy and Chilly. Highs around 40.
Saturday: Sunny and cold. Diminishing winds. Highs: upper 30s.
Sunday: Increasing clouds through the day. Light snow possible by evening, changing to rain at night. High 40.
Monday: Rain likely, possibly changing to snow at night. High 43.