Jane Fonda Wants You To Think Of Her As An Activist
It was the second Saturday in November and the telephone rang promptly at 1:50 p.m., as scheduled. Jane Fonda was on the line. I began the interview with a question I'd never asked anyone over the years: Are you calling from jail or are you out on bail?
Fonda laughed slightly. The previous day was the fifth consecutive Fire Drill Friday — a large and vocal protest movement in Washington, D.C. organized by Fonda, advocating immediate action on climate change. The 81-year-old activist-actor had been collared the four previous Fridays, though she only spent one night in jail.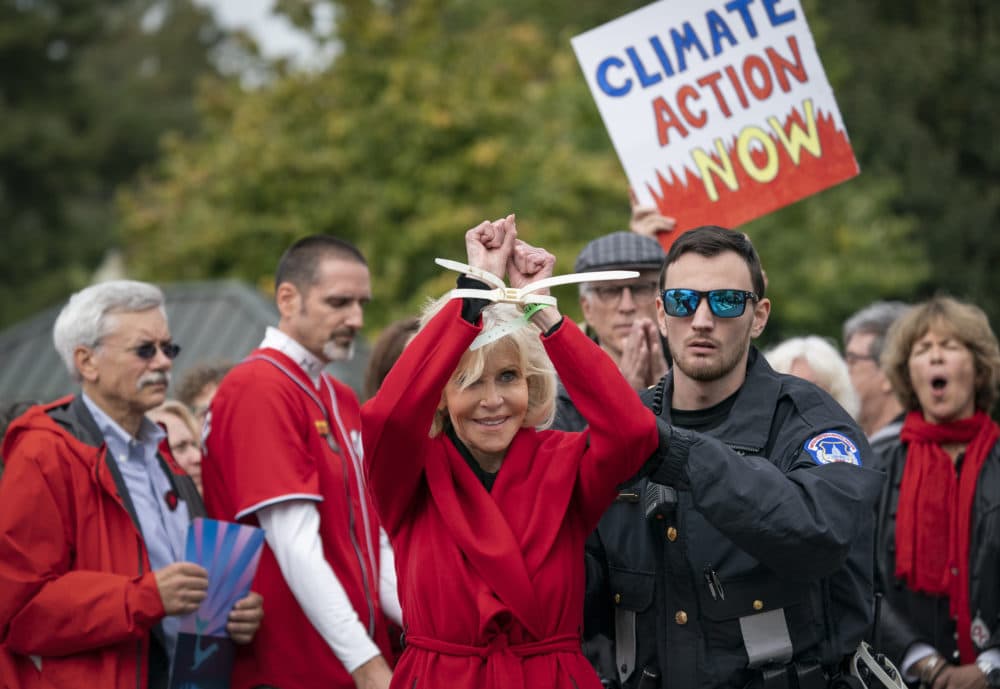 She avoided arrest on the previous day, which is good because she has a court date pending and risks a 90-day sentence.
"I don't want to do that," she says. "You know, the point of all this isn't to get arrested; the point is to call attention to the climate crisis and I can do that without getting arrested."
No amateur when it comes to activism, Fonda's latest passion has been fueled by Greta Thunberg, the 16-year-old Swede who's captured the world's attention with her harsh denunciation of what's being done to the planet.
"You know, the point of all this isn't to get arrested; the point is to call attention to the climate crisis and I can do that without getting arrested."

Jane Fonda
Last year, HBO released Susan Lacy's documentary "Jane Fonda in Five Acts," a revelatory and riveting film. Her life is a seesaw of acting ("Barbarella," "They Shoot Horses, Don't They?" "Klute," "Coming Home" and "9 to 5" among the films) and activism, (most notably her protest against the Vietnam War and that notorious photo of her atop a North Vietnamese anti-aircraft gun).
The first four acts are framed to a large degree by the men — very different men — Fonda was shaped by: Her distant father Henry Fonda, her first husband, French director Roger Vadim (1965-1973), her second, activist Tom Hayden (1973-1990), her third, billionaire/CNN founder Ted Turner (1991-2001). The fifth act is called "Jane."
While it's a sympathetic portrayal, it does not gloss over the rough spots, and in fact, digs pretty deeply into them. Fonda had no trepidation or fear about it. She says she'd written most of what was in the documentary in her best-selling 2005 memoir "My Life So Far."
"I didn't really say anything in the documentary that I hadn't revealed in the book. So, no, for me the documentary was simply placing it together in a visual way on film as opposed to a book."
In it, Lily Tomlin — Fonda's co-star in the Netflix series "Grace and Frankie" — says, "Jane always looks for the most important current issue to deal with."
"I hope it's true," Fonda responds when I bring that up. "Why spend your time on what's not important? There's no question that of all the things that I have ever focused on there's nothing more existential than climate change.
"The Vietnam War and [some of the] other things are local. I mean they represent much bigger societal ills, but the Vietnam War involved the Vietnamese and the American soldiers and secondarily American people. The climate crisis is a global crisis that will affect every single human being and millions of species, so that's what we have to be talking about now. And it's a terrible thing that it's not all anyone talks about now. That's what Greta said — 'How can anybody say anything that doesn't concern this?' "
In the documentary, Fonda's son Troy Garity, says activism "is what kept her demons at bay."
Fonda ponders the statement and replies, "Well, I know that until I decided to move to Washington and engage in these actions, I was getting quite depressed because I knew I wasn't doing anything."
This period is different than the time of division during the Vietnam War, she says.
"Because of 'Grace and Frankie,' I have a lot of good feelings coming toward me," Fonda says. "People love that show and that [love] didn't exist back in the early '70s. Because there was the draft and such immediacy in terms of the meaning of the Vietnam War, people were feeling it much more viscerally. I wish I could say that was the case with climate. So, on one level, in a more profound way now, there's more divisiveness and more danger because [it's about] the survival of our democracy. Our democracy is truly in danger. There was a lot of hatred back then, but it's a more systemic danger [now] and certainly Trump has fanned the flames of divisiveness."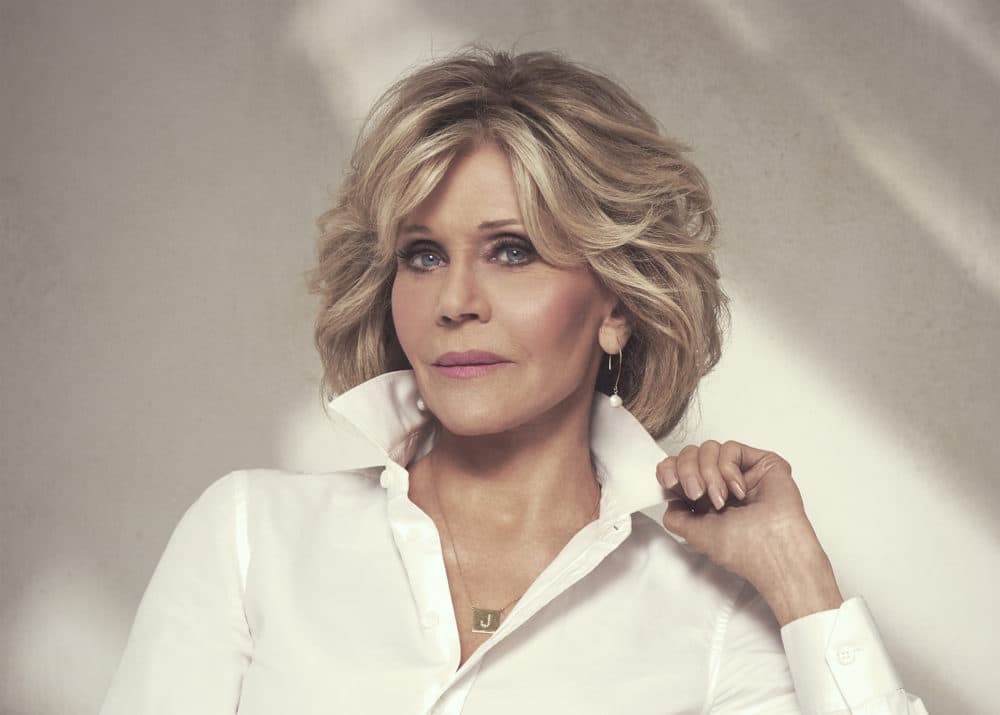 This month, Fonda embarks on a speaking tour that comes to the Chevalier Theatre in Medford on Dec. 11. The moderator will be Gina McCarthy, the former Environmental Protection Agency administrator and current Harvard public health professor.
Fonda has no text, no script, no notes, no set agenda. "And that makes it fun," she says. "It depends on what the moderator asks me and we intersperse it with questions from the audience. I kind of go where the audience is coming from."
Fonda has quit acting at various points in her life, but has scored with the dramedy "Grace and Frankie," happy to be riding the wave of great niche TV programming in the 21st century.
"Netflix is a wonderful new place to be and the fact that television has become so robust and there's so much really good writing on television now," she says. "It's great for older actresses. It's much more friendly to us than the big screen is for obvious reasons ... In your 80s, I can tell you it's pretty neat to have a regular job."
"I love going through those studio gates every day even if it's at four in the morning and having a dressing room that I can hang pictures in and know it's going to be there for a while."
But "Grace and Frankie" does have an end point. The upcoming season, a 16-episode affair that starts filming in January is the show's seventh and final one. When it finishes shooting in July, Fonda says she'll have a decision to make: Will she continue to act?
"I'm weighing that, quite frankly," she says. "I have to think a lot about that."
Fonda pauses. "I certainly don't want to make any movies before the election. After the election, I have to decide whether I want to continue working as an actress or be an activist full-time. I love acting and it gives me a wonderful platform; I just have to weigh it and I don't know the answer."
No matter who is elected, Fonda says there will be work to do to "hold their feet to the fire."
"Deep systemic change on a scale that humankind has never seen before has to be accomplished and it's not like the election is going to end this for us."

Jane Fonda
"Deep systemic change on a scale that humankind has never seen before has to be accomplished and it's not like the election is going to end this for us. I don't know if I can in good conscience not be doing full-time work to make sure that what needs to happen, happens."
Fonda's legacy will inevitably be titled with two key words: actress and activist. Asked which she would prefer come first, Fonda unhesitatingly says "Activist."
But, she adds, "I recognize the acting made the platform for activism. And the fact that I have 'Grace and Frankie' at my back gives me a better platform than I've had before and I'm very grateful."