25 Years Later, 'Leona's Sister Gerri' Reminds Us Of The Complexity Storytelling Brings To The Abortion Debate
This article is more than 1 year old.
At the height of the culture wars, the Village Voice published a 1964 photograph that had become something of a symbol for the American abortion rights movement. In it, an unidentifiable woman is lying naked on the floor next to a bed. She's face down, legs straddled and knees up to her armpits, with blood-soaked rags between her thighs and in her hands. She's dead after being abandoned in a motel room following an illegal abortion when she was six months pregnant.
The picture is horrifying. It had been used anonymously and without the family's permission for years, first on a NARAL flier and then in 1973 in a Ms. magazine article by Roberta Brandes Gratz titled, "Never Again."
"The abortion opponents were just beginning to use the fetus in the bottle images," Gratz says in an interview for a 1994 film about the victim. "It was a very effective photographic campaign and we just didn't know how to balance that campaign with anything. What has always been the answer to aborted fetuses is dead women."
The magazine published the image of the nameless woman in the motel room as a response to the anti-abortion movement rather than an assertion of the humanity of the woman who died. These types of strategies have led to a reactionary and stuck political discourse.
In her 1994 film, "Leona's Sister Gerri," Somerville-based filmmaker Jane Gillooly demonstrates a more nuanced approach as she seeks to restore the victim's dignity by grounding the photograph in reality. It steers clear of politics and generalities, and instead gets as specific as possible, literally unpacking the contents of her purse to uncover the fullness of her life.
Gillooly was in her early 30s when the image resurfaced in the Voice years after it was taken, but it was an abstraction to her — a harbinger of what would happen if Roe v. Wade, the 1973 Supreme Court decision that legalized abortion, were overturned. That changed when her friend, Toni Elka, told her that the woman in that photograph was her aunt, Gerri Santoro.
"I was so shocked that I knew someone who knew who this was," said Gillooly. "My feeling about the picture changed so dramatically."
Gillooly had a lot of questions for her friend, so Elka shared the story of her family's collective trauma. Elka was likely the last person who spoke to Gerri, having answered the phone on the night of her death. Her aunt was crying and asking for Elka's mother, Leona, who was out that night. Elka was only 12 years old. In the film, Leona recalls the next morning being asked to identify her sister's body.
"Gerri didn't die from an illegal abortion, she died from shame," Gillooly remembers Elka telling her at the time. Then without her consent, a photograph of her naked dead body became a symbol of the feminist movement at the time.
In 1992, with the family's permission and participation, Gillooly began work on her first film, "Leona's Sister Gerri." While its production and style are of its time, the message is painfully relevant today.
Twenty five years after the film premiered, The DocYard screened Gillooly's film at the Brattle Theatre in Cambridge this November, in response to the ongoing attacks on abortion rights throughout the country despite the fact that public opinion on abortion hasn't changed much since 1973. It's still split. A majority of Americans believe that abortion should be legal in some but not all cases. Those who believe abortion should be legal in all cases have a slight edge over those who believe abortion should never be legal.
For three years while I was a reporter and producer for an online progressive feminist publication Rewire.News, I crisscrossed the country collecting stories of dozens of people who faced barriers to abortion care, and their experiences were as different as they were. Some were in the early stages of pregnancy when they terminated, some were very far along. I met a few people who regretted their abortions, but an overwhelming majority of people I spoke to did not. Some people expressed that they had changed their opinion about abortion when they or someone they loved needed one. Most of the people I spoke to were surprised by how difficult it was to access abortion care — that was true even in states with progressive reputations, like Massachusetts.
Not all barriers to care are legislative. Anti-abortion activists have brought the battlefield to the sidewalks outside of abortion clinics across the country. Sometimes they weaponize the shame they perpetuate by wearing body cameras to capture the images of the people entering and exiting clinics. On Dec. 30, 1994, Gillooly was at WBUR for an interview about her recently released film when news broke of shootings at two nearby clinics that killed two and injured five more. Clinics have reported a resurgence of anti-abortion threats, violence, and vandalism in recent years. Anti-abortion domestic terrorists have even admitted to being emboldened by the violent, misogynist rhetoric that's reached the highest ranks of the government.
Still, legislative barriers cannot be discounted. In the last decade, some states have all but blocked access for millions in need. In response, many have come forward to publicly share their abortion stories to provide a counternarrative and testify on the importance of legal and accessible abortion before the courts. I interviewed many people who've told their stories in front of state and federal lawmakers. Some have told me they have ambivalent feelings about their storytelling. They don't want to be defined by their abortions, but they also want to do what they can to ensure access for future generations.
Gerri never had the chance to tell her story, so we don't know how she'd feel about playing such an iconic role in the movement. Leona agreed to Gillooly's film because she wanted her sister's death to mean something.
It's been a quarter century since the film came out and its continued relevance was palpable after the recent Brattle screening. During the discussion and Q&A with Gillooly that followed, she acknowledged that it's harder for women in many states to get an abortion now than it was in 1994 when the film came out. That's thanks in large part to the 1992 Supreme Court decision in Planned Parenthood v. Casey which opened the door for states to restrict abortion access so long as it didn't create an "undue burden," a vague term that's been left up to interpretation ever since. One-in-four women in the U.S. will have at least one abortion in her lifetime, according to the Guttmacher Institute. A person in need of an abortion can't always wait for the courts to decide if the burden is undue. Perhaps we could find a unifying message among the majority if we paused the debate and remembered that there are real, unique, complicated people behind every abortion decision. Just like there was a real woman in that photograph.
Gerri left behind two young daughters when she died at age 28. Years later when the girls were teenagers, her sister Leona saw the image in Ms. magazine and showed it to them. It confirmed what they had always suspected — that their mother had not died in a car accident as they had been told.
"How dare they flaunt this," Gerri's youngest daughter Joannie Griffith says in the film. "How dare they take my beautiful mom and put this in front of the public eye. I was pissed."
Joannie and her sister Judy were victims of their father's abuse, as was their mother. At the time of her death, Gerri and her husband were separated. She got pregnant while having an affair. After Gerri got word that her husband would be returning, she had the man she was seeing perform an abortion on her for fear that if her husband found out about the pregnancy, he would kill her.
"Leona's Sister Gerri" isn't trying to spin a politically convenient narrative. It's a complicated personal story filled with mistakes and regrets, but the personal remains political in a country that continues to police the bodies of its citizens.
"There were a lot of bad decisions that were made by many people in this film that came to play and impacted Gerri's death," said Gillooly. "She had no help, and no rights."
Over the years, Joannie and Leona came to see the image as a necessary tool in the fight for equality and bodily autonomy. Gillooly said that every woman involved in the film told her about their own abortion stories. She chose to keep the focus on Gerri with one exception. Gerri's oldest daughter, Judy Blare, who had an abortion as a teenager and now regrets it. In the film she said she says she's a pro-life Christian who doesn't agree with abortion anymore, but that others should still have a choice.
"We have a God given right for lack of anything better to call it, that's why we're given a brain," Blare says in the film. "Certainly I would never want someone to tell me what I could or couldn't do."
At the end of the film, we see Leona out in the streets of New York protesting Planned Parenthood v. Casey, the ruling that made it easier for states to restrict abortion access. She's holding a sign with the photograph blown up to fit the poster with the words: "This is my sister." On the other side of the poster is Gerri's high school portrait: she is a vibrant, beautiful young woman who sees her whole life in front of her. She hadn't yet met the man who would abuse her and her children, instilling in her the fear that resulted in her gruesome death.
With the whole story for context, the photograph on the motel floor is no longer that of a degraded victim. For Gerri, abortion meant freedom. It cost her her life, but fueled a revolution. This is our sister.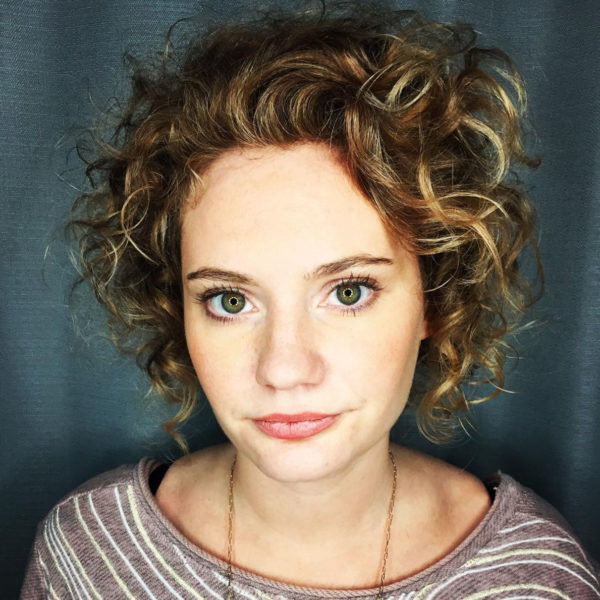 Jenn Stanley Arts Writer
Jenn Stanley is a freelance journalist, writer and audio producer.