Tanám Wants To Tell The Stories Not Being Told — Through Food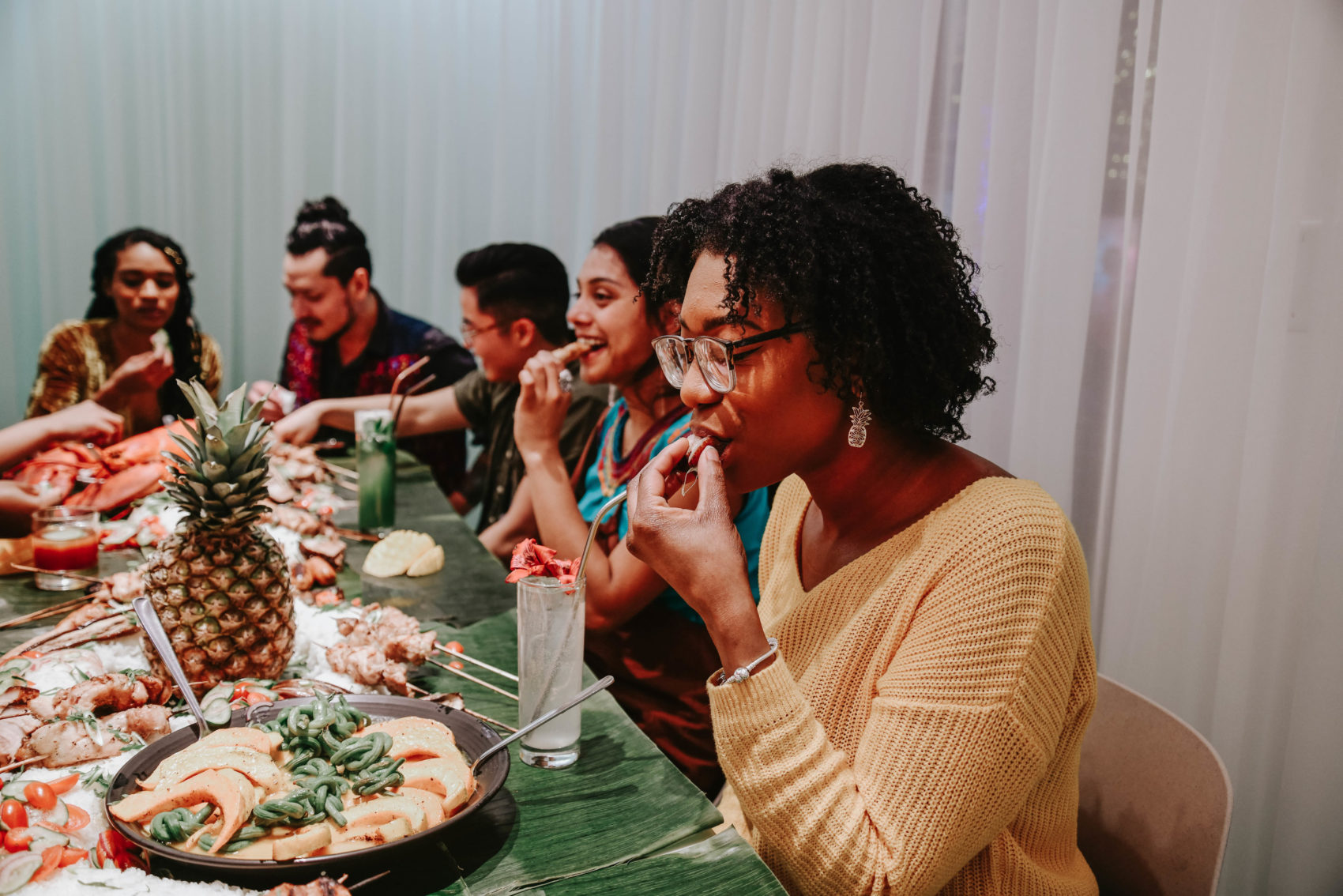 This article is more than 1 year old.
While dining at Tanám, a worker-owned restaurant tucked inside of Bow Market in Somerville, I wasn't sure what to expect. Inside the bright austere space there's a gleaming white table for 10, evoking an exclusive dinner party atmosphere. As we gather around the table, bar director Kyisha Davenport offers us beverages with ingredients like ampalaya (bitter melon) and purple yam, and a yellow booklet, "Island Woman," by visual artist Jeanne F. Jalandoni arrives at each setting.
The booklet highlights some of the food from the "Pulû" menu — which includes savory lobster lumpia (Filipino version of the egg roll), ginger and garlic covered bone marrow and deconstructed ice cream sandwiches — but it also focuses on Jalandoni's childhood memories around Filipino food and cultural identity awareness.
The restaurant is primarily owned and run by three women of color (Davenport is joined by chefs Ellie Tiglao and Sāsha Coleman). It dubs itself "a place for stories that don't often get told, shared by the people who live those stories."
For Davenport that means lifting up her heritage. "There is so much work in hospitality that black bodies have built that has gone unsung," Davenport says. Her beverage creations are representations of the "deep history of craftsmanship, of labor, of not being recognized for that labor, of dying for that labor," she explains. At Tanám, she uses her bar "to be openly creative and expressive in ways that black people or black women … are often denied," she says.
During their coursed-narrative dining on weekends, the women share diverse stories of food, memory and identity, while creating space for diners to engage through conversation, a five-course meal and carefully-crafted mocktails and cocktails.
The team collaborates to develop food and beverage menus informed by partner stories as well as their own. For instance, Coleman's "Browngirl (Kayumanggi)" menu with pancit crudo, fried stuffed crab, and sorbet brings together Ethiopian, Filipino and Southern influences in a braised pork belly dish.
The current menu, "A Taste of Women in Film," explores women of color in movies through food, music and visuals. Team member's film picks play in the background.
Intersections like this — the intimate meshing of food, art and cultivating community — are of great interest to Tiglao. "I think the most important work is happening there," she says.
This form of narrative cuisine is natural for Tiglao, whose father was a chef. Cooking is her best form of communication, she says. So when she talks about the work they're doing at Tanám, "it feels like breathing."
And the approach works. Currently, Tanám is a finalist for the 2019 Eater Award for Boston's Best Restaurant of the Year. Tiglao — who initially moved from California to Boston to pursue neuroscience — is Boston Magazine's 2019 Best Up-and-Coming Chef, and Davenport's a 2019 inductee in the United States Bartender's Guild and Bluecoat's Sons & Daughters of Independence Leadership Program. Additionally, both Tiglao and Davenport are featured in "How to Smash Garlic and the Patriarchy," a book celebrating women in the local food and beverage scene.
The team continuously pushes to diversify the hospitality industry. Tiglao, 34, is a co-founder of the Olio Culinary Collective (Tanám is the collective's first restaurant), a cooperative "dedicated to sustainable sourcing, workplace fairness and the celebration of food as culture." Hailing from Brooklyn, Davenport, 28, runs BarNoirBoston, an emerging network of black hospitality professionals, and Boston native Coleman, 30, teaches cooking classes at the nonprofit Haley House.
Tanám's team members are part of a vibrant group of creatives shifting how we think about dining. In Detroit, Cornetta Lane's "Dinner for 30," a live storytelling and cooking event, aspires to bridge cultural gaps. Closer to home, Adobo Fish Sauce duo Anthony Febo and Ricky Orng host live events that use "food as a means and a metaphor to get people together and tell stories," Orng says.
Tanám and Adobo Fish Sauce plan to join forces — details still to come. Orng and Febo won't be present, but the "challenge and the goal," Davenport says, "is to bring the intimacy of [Adobo Fish Sauce's] poetry and storytelling into our space in such a way that guests will still feel and create connections." For now, the Adobo Fish Sauce duo is developing writings to accompany courses at Tanám and may create dishware or pottery, Orng says.
Coleman and Davenport are also creating an aromatic-driven menu, focused on the African-American Diaspora. The two snagged perfumist, Jamila Bradley, founder of B. Vulgaris to partner with.
But even with big plans of partnerships, Coleman wants to ensure the team is "really mapping out our narrative and … staying true to what we are doing and trying to get everybody's stories across."
The stories the meals tell leave a lasting impression. Not to mention, the food is delicious and Davenport's Espera cocktail packs a nice bite. But Tanám's found "a great way connect people and build intimacy really quickly," says Sheena Collier who attended the launch event for "A Taste of Women in Film."
That's the idea Tiglao explains, "to get people out of the well-worn way … of engaging with each other and with staff and with their food and drink in restaurants."
Tiglao wants us to do a double take.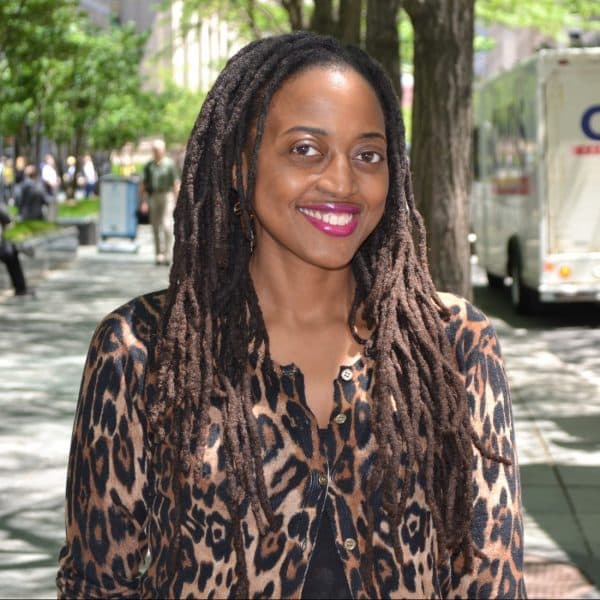 Jacquinn Sinclair Performing Arts Writer
Jacquinn Sinclair is a freelance arts and entertainment writer whose work has appeared in Performer Magazine, The Philadelphia Tribune and Exhale Magazine.