Mass. Agencies Reach Agreement On Data, But Questions Remain Over Latest Vaping Cases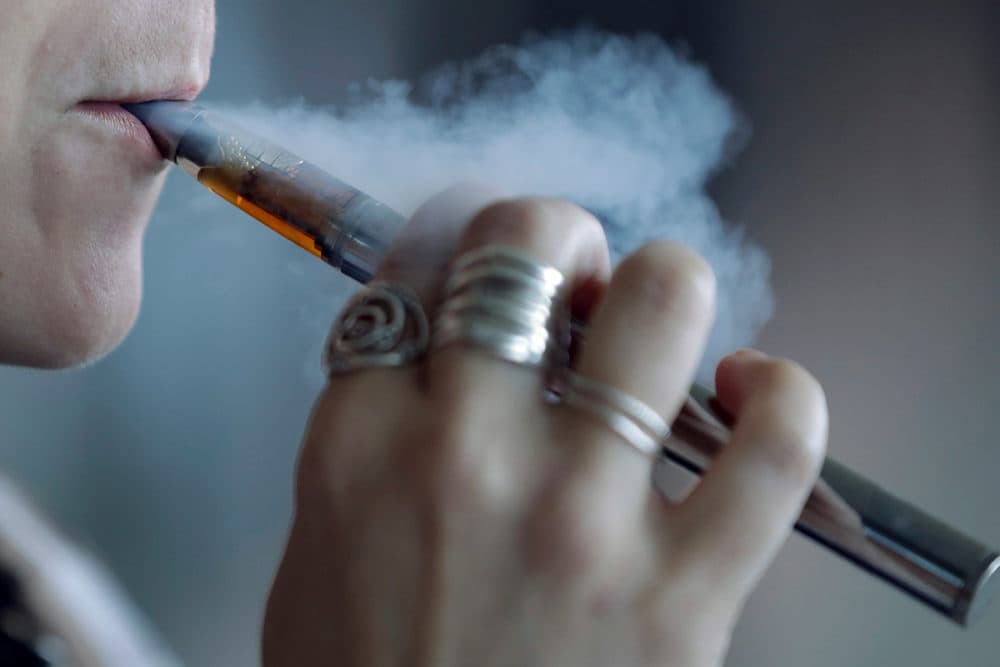 This article is more than 1 year old.
As state health officials and cannabis regulators appeared to reach a breakthrough over information sharing amid a nationwide outbreak of vaping-related illnesses, questions about a half-dozen new cases remain.
Just days after state officials released data linking six probable vaping cases to state-licensed marijuana dispensaries, a state health department spokesperson confirmed Saturday that at least one of the sick patients said they had purchased vape products from another source as well.
One member of the Cannabis Control Commission (CCC), the state group that regulates the legal marijuana industry, expressed concern over a lack of additional information about the new cases.
" 'At least one' of the six cases who reported using regulated marijuana vape products also reported using illicit marijuana vape products. They may all have," tweeted Cannabis Control Commissioner Shaleen Title on Saturday morning, citing the state Department of Public Health (DPH).
On Friday night, the state's health department and the CCC reached an agreement to end a long-simmering standoff over the sharing of data related to the vaping outbreak. But the agreement, obtained by WBUR, sets strict requirements on the release of information, stating "[a]ccess to the data covered by this Agreement shall be limited to only the minimum number of individuals necessary to achieve the Purposes stated in this Agreement."
On Twitter, Title called the document "bizarre."
In a statement, a CCC spokesperson said on Friday that "[a]lthough the terms do not allow for the disclosure of details pertaining to an ongoing investigation at this time, the agreement will further the Commission's examination of products that may contain vitamin E acetate or other contaminants of concern and help determine whether any items sold by Massachusetts licensees may be implicated."
The latest cases represent a small fraction of the 90 probable and confirmed cases of vaping-related lung illnesses in the state. Three of those people have died. Forty-nine people have been interviewed by state officials.
State health officials have not said what products were linked to the six new cases, or where they were purchased, but it did recommend avoiding the use of all vaping products until more is known about the cause or causes of the disease.
The CCC has imposed a separate moratorium on marijuana vape sales. Title said at a DPH public hearing two weeks ago that the agency needed information on where vape products were purchased.
On Friday, Gov. Charlie Baker said the information bottleneck had been due to patient confidentiality issues.
This article was originally published on December 07, 2019.