Moonbox Productions Marches Out An Impressive, Impassioned 'Parade'
This article is more than 3 years old.
If you are expecting a thing with Easter bonnets, "Parade" will surprise you — not only is it the wrong holiday but this 1998 musical is a vaudeville about a lynching. Take that, amoebically multiplying productions of "A Christmas Carol"!
"Parade," which is being powerfully revived by Moonbox Productions (at the Calderwood Pavilion through Dec. 28), has an odd history. Co-conceived and directed by the illustrious Harold Prince, it was a Broadway flop that nonetheless won Tony Awards for Jason Robert Brown's stirring score and Alfred Uhry's book. (The show also picked up nine 1999 Drama Desk Awards.) It is seen here in a haunting if relentless staging by Jason Modica, who first directed the piece 10 years ago when he was a senior at the Boston Conservatory (now the Boston Conservatory at Berklee).
The musical, mostly set in 1913-14, recounts the true story of the railroading and unauthorized execution of Northern Jewish factory overseer Leo Frank, who was convicted of raping and killing 13-year-old factory worker Mary Phagan, whose body was found in the basement of their Georgia workplace. In the musical, the prejudice that triggers the travesty stretches at least back to the Civil War — the opening number features a young Confederate soldier reluctantly leaving "The Old Red Hills" of Georgia to fight the Yankees "for a way of life that's pure." The Führer could not have sung it better.

But here the war is not the only thing that haunts the proceedings. In the manner of Alice Sebold's novel "The Lovely Bones," the troubled ghost of Mary Phagan flits in and out, never far from the hate-driven fulminations that her killing inspires. Nor does Leo Frank often leave the stage. Even in scenes in which the character does not appear, his crouched, nervous figure intrudes on the vengeful swirl.
Uhry, best known for "Driving Miss Daisy," is himself a Jewish Georgian, albeit cut less from the outsider cloth of Leo Frank than from that of Frank's affluent, assimilated Southern wife, Lucille. Whereas the musical's first act dwells on the blatant prosecutorial and journalistic flame fanning that led to Frank's conviction and subsequent martyrdom, the second centers on the burgeoning love story of Leo and Lucille, whose chilly homefront relationship thaws and then sparks in its unlikely jailhouse setting, as the two fight to secure an appeal. Lucille, channeling her ferocity rather than her unhappiness, comes to better appreciate her repressed husband's decency as he overcomes the arrogance and inhibition that have kept her at bay.
About the musical's oddly festive title: "Parade" begins and ends on Confederate Memorial Day (a holiday Leo dismisses as "asinine"), when those hanging on to some nostalgia for a lost white way of life, or at least respect for the soldiers who fought for it, strut their stuff. And sure enough, the show starts with the rat-a-tat drumming associated with marching bands — here sharing a musical palette with a clash of melody and dissonance reminiscent of Brown influence Stephen Sondheim and the jazzy, syncopated ragtime rhythms of the period. Also canoodling through the affecting score are the shadows of hymns and the clanging of knells. (For the record, Brown is also the composer of "Songs for a New World" and "The Last Five Years" as well as a Tony winner for "The Bridges of Madison County,")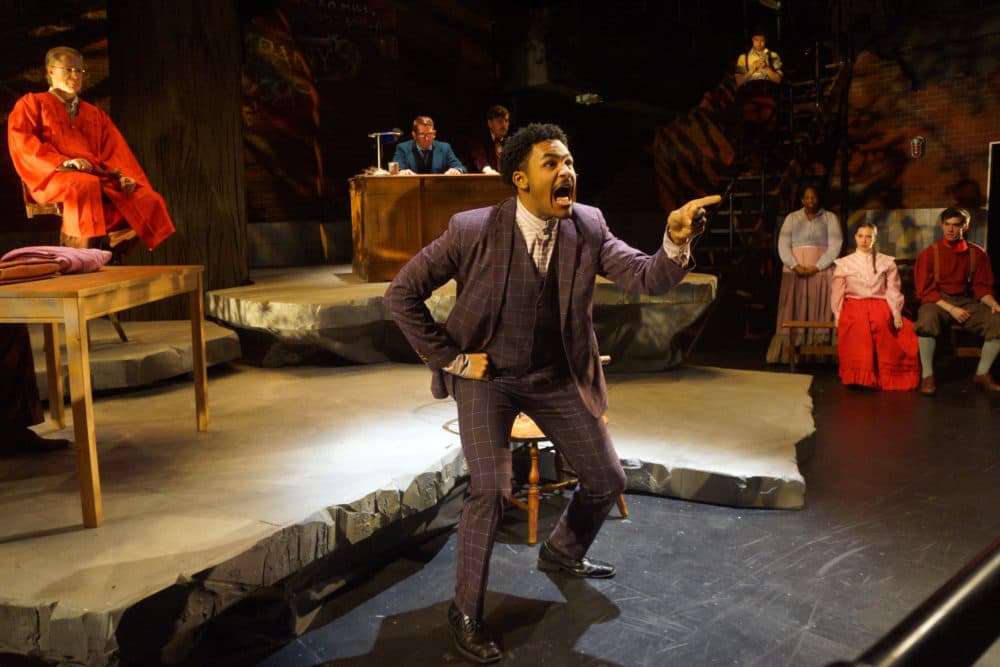 For Moonbox, Lindsay Genevieve Fuori has designed an elaborate jumble of a scenic design in which the brick wall of the pencil factory is set atop slabs of rock with two sets of stairs leading to the infamous basement. There is also an imposing tree, like a gallows in waiting, from which hangs an old fashioned swing. And Catherine Stornetta (of "Forbidden Broadway" fame) helms a nine-piece orchestra with excellent if hardly subtle command of the music.
But then, "Parade," with its blameless if stuffy protagonist, its corrupt prosecutors, its hate-mongering yellow journalists and its seething town folk, is not a show abounding in nuance. Moreover, the mostly young ensemble has been directed to play into the showboating anger with all its worth. Given the intimate surrounds of the Roberts Studio Theatre, putting on some brakes, rather than trying to maintain a two-and-a-half-hour frenzy ameliorated only by the tenderness of the Franks, might have made the production more chilling.
That said, the staging is as chock with talent as it is with commitment. Phil Tayler (who was also the Leo Frank of Modica's Boston Conservatory staging) sings nicely but isn't given a very complex character to work with. Leo is mostly a timid, bewildered martyr — though the song in which he and Lucille bemoan "All the Wasted Time" of their marriage is certainly poignant. The actor gets his best opportunity to shine in a lurid, red-lit vaudeville fantasy in which Frank lives up to what's being said about him, and he pulls it off with rough panache. As Lucille, Hayley K. Clay (an MFA candidate in Musical Theater at the Boston Conservatory) is both graceful and fiery, with excellent control of the difficult music.

The entire, mostly young cast does a rousing job of singing, acting and dancing its way from the initial confederate parade to the outraged funeral to the rigged trial and beyond. As the ghostly, no longer flirty Mary, Anna Bortnick delicately conveys her character's heartbreak. Angela Syrett is compelling as a factory girl turned almost demonic by her coached, false testimony. Yewande Odetoyinbo and Elbert Joseph prove memorable in somewhat underwritten African-American roles. And Boston stage vet Jerry Bisantz brings bullying chops to the role of grandstanding prosecutor Hugh Dorsey (who later became governor of Georgia).
But the biggest treat is Boston Conservatory junior Aaron Patterson, who makes a jazzily preening, cakewalking holiday of the part of Jim Conley, a sly, unflappable ex-con blackmailed by Dorsey into fabricating a sensational tale about how Frank killed Mary, then employed him as an accessory. I don't know whether Jim Conley actually killed Mary Phagan, but Patterson is absolutely killing his role.
---
Moonbox Productions' "Parade" runs through Dec. 28 at the Calderwood Pavilion.