Today's Weather: Rain, Sleet And Freezing Rain Falls. It's Too Warm For Snow
This article is more than 3 years old.
A complex storm continues to bring a mixed bag of weather into early Tuesday.
It's been too warm for much more than cold rain to fall, so far. But somewhat colder air means freezing rain is likely in the higher elevations of Worcester County today.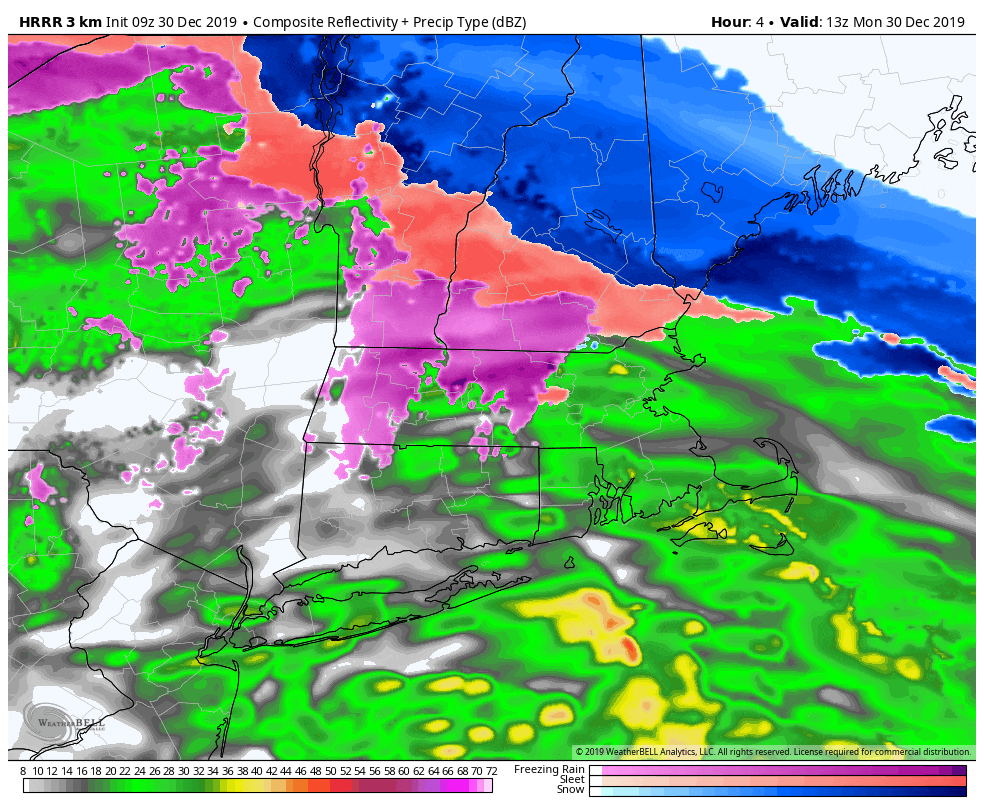 Rain and sleet will be the main precipitation types for most of us. Rain could cause some street flooding at times. It will be breezy over Cape Cod and the Islands, but again, it's a rainstorm. It won't be raining all the time, but when the rain is heavy, sleet will mix in.
Far to the north and inland it will be mostly sleet and freezing rain that falls into Monday afternoon before a change to rain Monday night into early Tuesday. The greatest amounts of ice will accumulate over the western part of the state into Worcester County.
There is an ice storm warning where ice is expected to be most severe — again, this affects places with higher elevations, mostly west of Route 495 in northern Worcester County. There could be scattered power outages and tree damage as the day wears on depending on how much ice forms there.
Everything comes to an end as rain Tuesday morning with clearing Tuesday night.
Temperatures remain mild for early January the rest of the week, and we may near 55 degrees on Saturday.
You can follow my updates here and on Twitter @growingwisdom.
---
Monday: Mixed precipitation. Rain with some sleet mixed in and freezing rain well north and west. Snow in northern New England.
Monday Night:  Rain, but periods of rain or freezing rain well inland. Some sleet. Lows in the 30s.
Tuesday (New Year's Eve): Morning precipitation ending. Highs 38-43.
New Year's Eve Night: Clear and chilly. Temperatures in the 30s most of the evening.
Wednesday (New Year's Day): Cool with sunshine and dry weather.  Highs around 41
Thursday: Partial sunshine and seasonably mild. 40-45.