How A Climate Change Nonprofit Got Eversource Thinking About A Geothermal Future
Play
This article is more than 3 years old.
Natural gas utilities in Massachusetts are facing an existential crisis: they could be out of business by mid-century. That's because the state's 2008 Global Warming Solutions Act requires emissions from burning fossil fuels — like natural gas — be cut by 80% economy-wide by 2050.
But now a solution that could help save the companies — and the climate — is at hand. Or, more accurately, underfoot. It's geothermal energy, which takes advantage of the biggest energy storage system on earth: the earth itself.
Our planet absorbs the sun's solar energy and stores it underground as thermal energy that can be used to heat and cool homes and businesses. Just a few yards down, the earth's temperature is a constant 50 to 60 degrees; warmer than the air above during winter, cooler in the summer. You can take advantage of the temperature difference using what is called a geothermal or ground source heat pump: plastic pipes filled with water and antifreeze pick up the heat from the ground, and the pump circulates it through a building.
The technology, developed in the late 1940s, does away with furnaces, air conditioners and hot water heaters, and is the most efficient way to heat and cool a building. While it's widespread in some countries, like Sweden, it's been slow to catch on here.
"The site has to be appropriate," said architect Lisa Cunningham, who recently designed a gut renovation of a private Brookline home using geothermal energy. The best sites for geothermal systems have lots of space to install horizontal pipes in relatively shallow ground. But because the Brookline lot is so small, workers had to drill two holes 500 feet deep.
"One thing that's so great about having a project like this right in the heart of a very dense town, we're showing people it can be very cost-effective," Cunningham said, adding that the cost for installing the system in the Brookline home "came in less than a comparable gas system."
But that includes thousands of dollars in state rebates and federal tax incentives that are expiring. Cost is still a big hurdle, said Zeyneb Magavi, co-executive director of Home Energy Efficiency Team (HEET), a Cambridge-based environmental nonprofit.
"Geothermal ground source heating has been around a long time, and it has usually been installed one house by one house individually," she said. "It works. However, it is a fairly high up-front cost, and you have to have the means and motivation to be able to do it."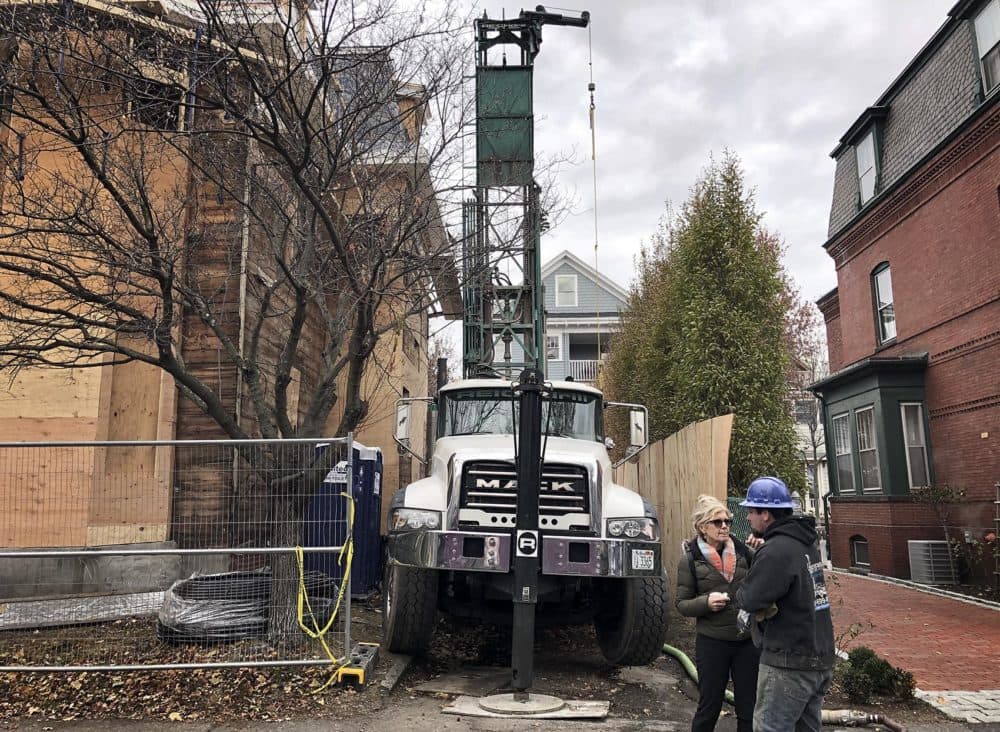 Magavi, a clean energy advocate, said she asked herself: Who already digs holes and puts pipes in the ground, has big money and is motivated to find a new business model? Her answer: natural gas distribution companies.
Magavi was familiar with the gas utilities through her work — along with HEET co-executive director Audrey Schulman and the Gas Leaks Allies — helping gas companies identify leaky pipes most in need of repair.
Together, they found it would cost $9 billion over 20 years to fix the aging infrastructure. Magavi suggested they use for money to transform the industry instead.
"The idea is that a gas utility takes out its leaky gas pipe and, instead of putting in new gas pipe, we put in a hot water loop," Magavi said. "If we're going to invest in infrastructure, let's invest in infrastructure for the next century. Let's not invest in infrastructure that was hot in 1850."
HEET commissioned a study to investigate if there were a way to make geothermal energy appealing to both utilities and environmentalists.
"We wanted something that was renewable, resilient, reliable, kept gas workers in jobs, [was] equal or lower cost than gas, and safe and doable," Magavi said. She found that "networking" — connecting geothermal systems to many homes and businesses — ticked all of the boxes.
"The beautiful thing is that when you interconnect them, the more customers you put on the system, the more efficient it gets," Magavi said.
Magavi showed the results to senior officials with Eversource, the largest energy delivery company in New England.
It was an unusual pitch, but she felt that "they also understood that we were approaching this always from a data- and fact-based conversation, and they took us very seriously," Magavi said.
Eversource Senior Vice President and Chief Customer Officer Penni Conner said the company likes the idea.
"This looks a lot like the gas business that we're in except it's totally clean," Conner said. "Eversource can bring the capital and the expertise to this. We know how to build infrastructure."
Eversource conducted its own study of networked geothermal heat pump systems, leading it to propose three different pilot projects to Massachusetts regulators in order to prove that the networked systems are feasible.
Under a networked system, homes and businesses would own the geothermal heat pumps, while Eversource would own and manage the system of pipes, sensors and pressure regulators, Conner said. That would convert the gas utility into a networked, thermal management company.
"Maybe I have a laundromat that has a lot of heat load, maybe it's working a lot in the evening," Conner said. "So they are leveraging putting heat back into the system potentially in the evening when others need it for cooling. So you get that benefit."
State regulators are now reviewing Eversources's proposals for networked pilot projects, and could give the go-ahead within a year.
"I think we can move fast," Magavi said. "My vision of the future is that we have wires delivering us renewable energy competing with pipes delivering us renewable energy. So thermal power and electric power grids, and the two benefit each other."
Geothermal energy heating our homes, with pumps powered by solar- and wind-generated electricity. If this unusual collaboration between a natural gas utility and an environmental organization pays off, a clean energy future could be right under our feet.
This segment aired on January 13, 2020.