In 'We All Fall Down,' A Secular Jewish Family Wings A Satisfying Seder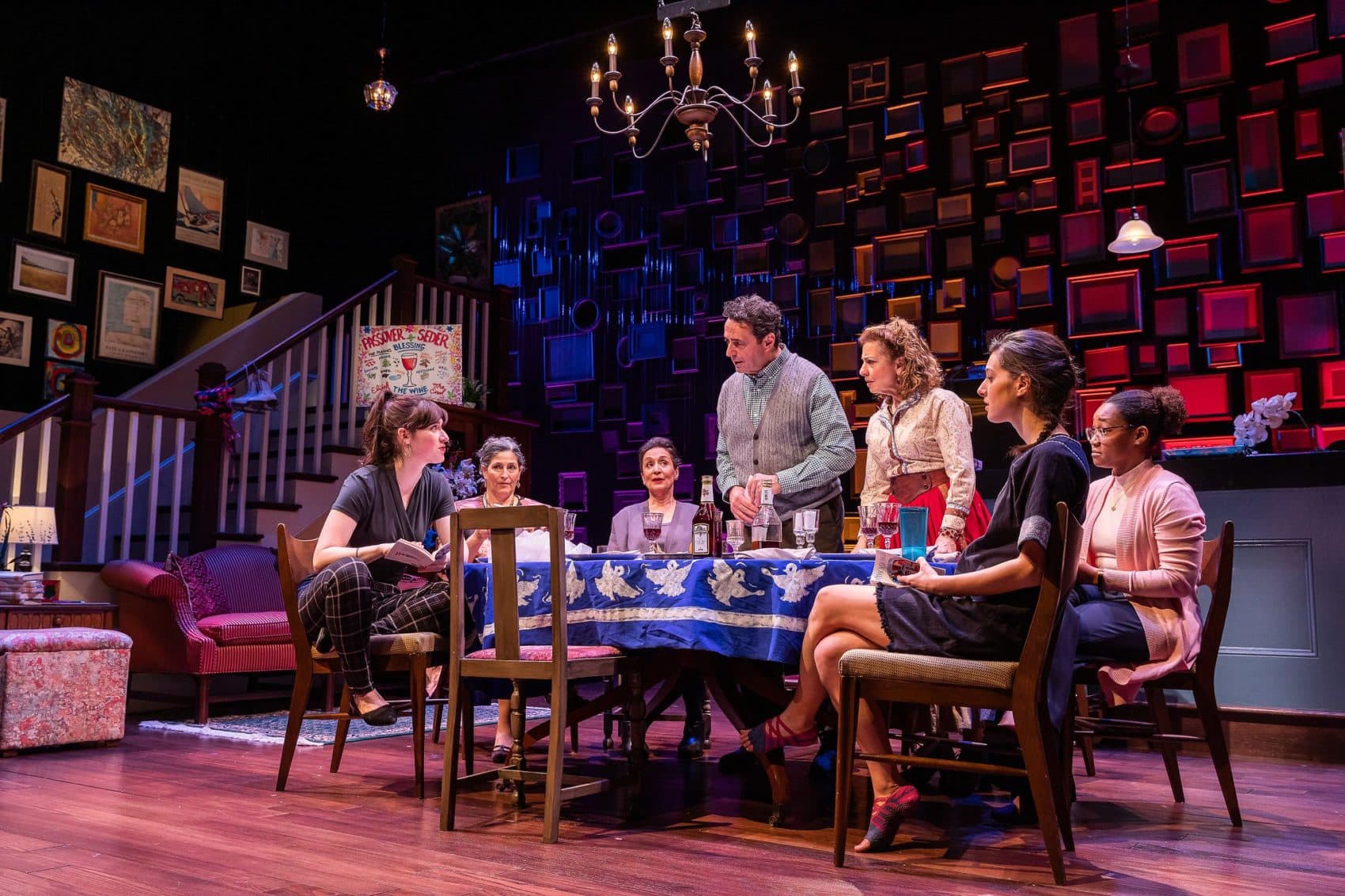 This article is more than 2 years old.
"We All Fall Down" revolves around a Seder — but if the bread is without leavening, not so the play. Lila Rose Kaplan's dramedy, which is in its world premiere by the Huntington Theatre Company (at the Calderwood Pavilion through Feb. 16), is a piquant, frequently hilarious reminder of the ways in which cultural history and personal identity are entangled. In this case, the long-buried roots being tugged at are Jewish — as the matriarch of a heretofore secular Westchester clan sets about throwing her very first family celebration of Passover, albeit with more of an eye toward Tevye than Torah.
As it happens, the sudden embrace of religion by the 60-something maternal head of the Stein clan has less to do with faith than with family. A brilliant if controlling psychologist with more flair than tact, she feels her loved ones slipping away in ways that only gradually reveal the underwater bits of their icebergs. Still, the orchestrator of this first-time Seder is clearly more attracted to the theatrical elements of Passover than to its commemoration of the Jews' exodus from slavery in Egypt.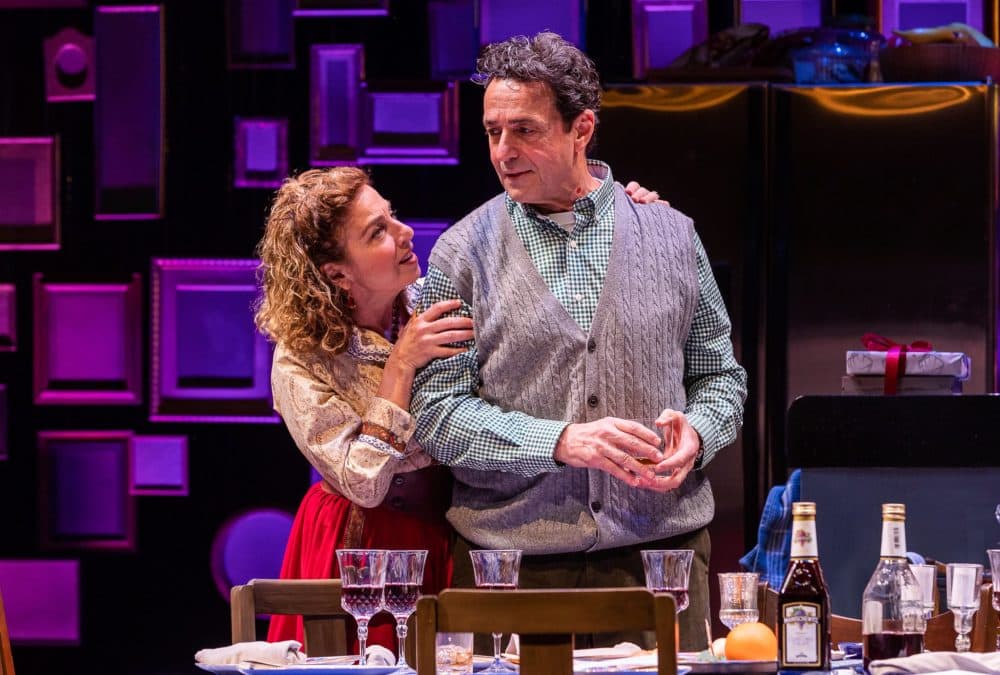 But like so many assimilated Jews, not to mention other ethnicities of this post-melting-pot century, Linda yearns for that ephemeral something to hold on to that will help her hold on to her unraveling clan. Not that the high-powered psychologist thinks of it in exactly that way. Her plan for the holiday involves not just such staples as matzo balls and the reading of the Haggadah but also a recycled "Fiddler on the Roof" costume and finger puppets representing the ten plagues by which God muscled Egypt to let his people go.
Among those struck incredulous by Linda's sudden interest in the family's Jewish roots are husband Saul, who has abruptly left his job as a college history professor, and grown daughters Sammi and Ariel — presumably the subjects of mom's hot-off-the-presses tome, "Mothering Difficult Children." Sammi, briefly home for the holiday, is a teacher at a feminist charter school in California that her father insists on calling a "commune." The younger Ariel is an ostentatiously supple devotee of yoga dutifully living at home but nurturing plans to downward-dog her way to the other side of the world. Also on hand for the holiday meal are Linda's admiring African American grad-student assistant, Ester; Saul's firmly atheist sister and Linda's friend since their Marxist salad days, Nan; and former neighbor Beverly, who has apparently been invited to add a soupçon of Christian blunder to what she insists on calling "Jewish Easter."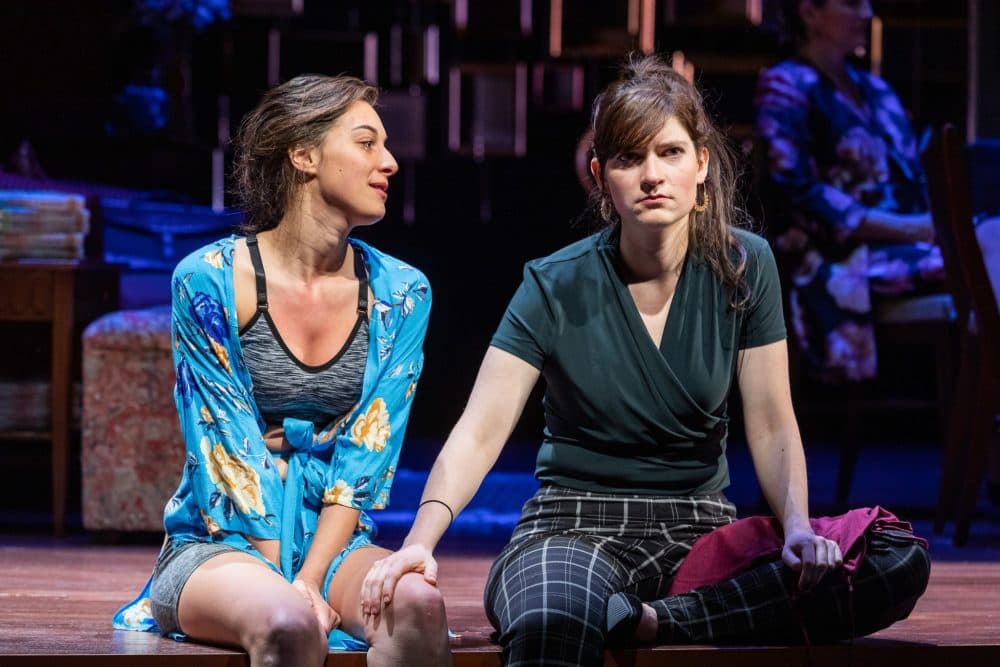 The Huntington has offered strong stagings in the past of ethnocentric family dramas from Clifford Odets' "Awake and Sing" to Lydia Diamond's "Stick Fly." Here Melia Bensussen, who also directed "Awake and Sing," helms a warmhearted, seemingly lived-in production of Kaplan's new play, which is less fiery than Odets' but lots more fun, its characters credible in both their clashes and their deep connections, their foibles and their forgiving. Even the play's reliance on clichés, particularly of the Jewish-mother ilk, seems affectionate rather than mean-spirited. The Steins are a smart, likable if eccentric clan. (At times the play gives off whiffs of Odets crossed with "You Can't Take It With You.") And our journey toward learning what has made them so unmoored is both laugh-out-loud funny and increasingly affecting.
Kaplan, born in New York, raised in Mamaroneck, and now settled in Somerville via Brown University and University of California San Diego, is the author of a handful of plays including the political farce "Home of the Brave," which premiered at Merrimack Repertory Theatre in 2016. Becoming local seems to have been good karma. In this Huntington production of her latest, the appealing play (which was developed as part of the company's 2018 Breaking Ground Festival) exudes a cozy if frantic and ever-darkening glow.
Judy Gailen's scenic design places the busy, messy Stein home, where not even the bathroom is private, against a striking back wall of empty frames — as if to emphasize the lack of traditions. David Remedios' sound design bursts with klezmer and other Jewish music, some serving as ironic commentary, some as emotional bolster. And Bensussen's staging brims with both a raucous physicality and ominous outbursts that lead us on our path to learning how memory can both comfort and be cut short.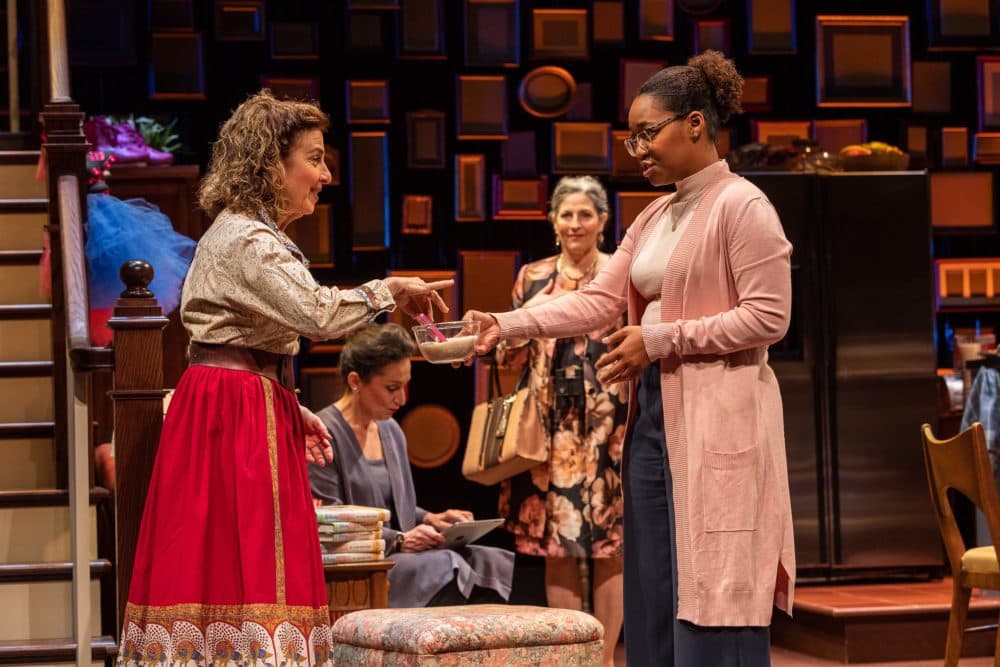 Moreover, the performances are both delightfully comic and palpably human. As the controlling Linda, Eleanor Reissa creates a woman who, whether traveling avenues of legitimate insight or dark alleys of compulsive nagging, can literally not stop herself. And as the oft-eruptive Saul, Stephen Schnetzer is a sort of tempest in a whiskey glass, poignantly unsure of just where his inner storm is taking him. Liba Vaynberg makes of Sammi a strong but sensitive woman, too long buffeted by — but hardly immune to — the family drama. Dana Stern, her character trying to introduce stretching into the Passover rituals, is a more vulnerable if equally valiant Ariel, who has fought battles harder than yoga.
Longtime Trinity Repertory Company veteran Phyllis Kay finds the soft spot in tough, unflappable New Yorker and civil rights attorney Nan, who thinks her longtime friend and sister-in-law's soft spot is in the area of her brain where the Seder hatched. As former neighbor Bev, whose happy memories include care of the Stein girls while their mother "worked and worked and never came home," Sarah Newhouse is all ditzy Christian obtuseness, but the actress makes her a bit sad and also a bit brave. Similarly, Elle Borders brings quiet heft to the at-first-effusive Ester, Linda's assistant, balancing heroine worship with her own agenda and emotional needs. She is our outsiders' ticket to this particular Seder table: we may not know matzo but we all remember mama.
---
The Huntington Theatre Company's production of "We All Fall Down" continues at the Calderwood Pavillion through Feb. 16.