This Year's Oscar-Nominated Shorts Are A Spectacularly Depressing Bunch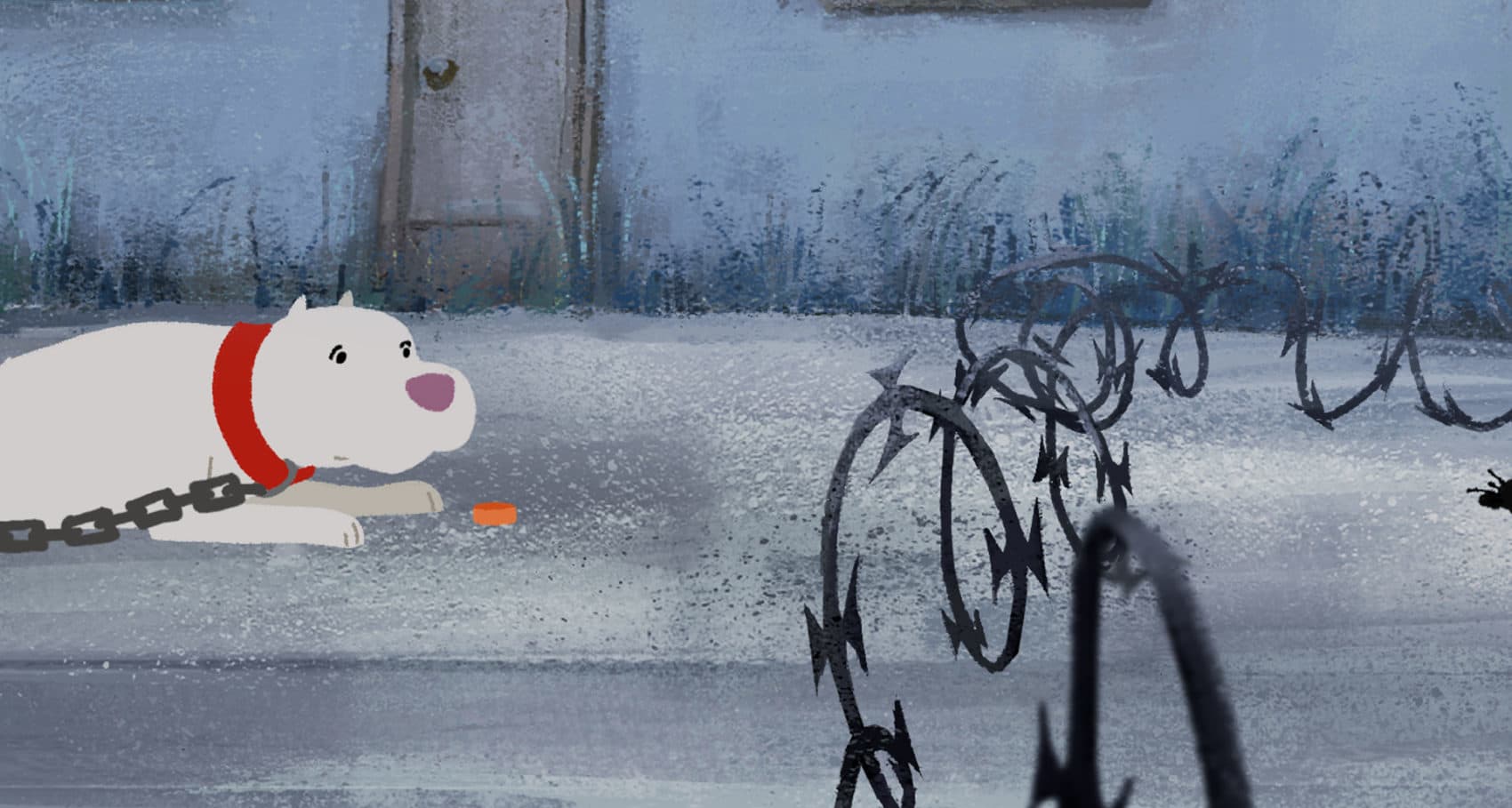 This article is more than 1 year old.
It's difficult to imagine a lineup of films more spectacularly depressing than the 2020 Oscar-nominated live action and animated shorts. Apparently anxiety and suffering stretch the whole world round, as this year's crop spans the globe from Brooklyn to Belgium, passing through Tunisia, China, the Czech Republic and several stops along the way. The nominees, which are of substantially higher quality (if not higher spirits) than in recent years, begin screening at the Kendall Square Cinema this Friday and cover such crowd-pleasing topics as cancer, kidnapping, child rape, abortion, Alzheimer's and animal abuse. The theatrical presentation is split into separate programs of live action and animated offerings (the latter filled out to feature-length with three additional non-nominated shorts). I watched them all in a row and needed to go lie down for a little while afterward.
The odds-on favorite to win the live action category is "Saria," writer-director Bryan Buckley's brutal account of a 2017 fire that killed 41 young female orphans at the Virgen de La Asuncion Safe Home in Guatemala. It's the most technically accomplished and least dramatically effective of the bunch, chronicling the day-to-day abuses and violations of these girls in a clipped fashion that shortchanges characterization in favor of sensational shocks. Packing too many people and incidents into its 22 minutes, this is the kind of short that feels more like a trailer for a full-length feature.
Slimmer, yet far more satisfying is "The Neighbors' Window." The only English-language film in the category stars Maria Dizzia ("Orange Is the New Black") and Greg Keller as a harried 30-something couple juggling careers and three small children. They're jolted by the arrival of new young neighbors who like to get it on with the drapes open. This pre-midlife crisis "Rear Window" finds the characters confronting the compromises of adulthood while a vision of the lives they've left behind drinks, dances and screws in full view across the way. Writer-director Marshall Curry's grass-is-always-greener ending probably could have been handled with a little more finesse, but it hits home all the same.
My favorite of the films turns out to be the most lighthearted, despite showcasing children in dangerous situations. (It's just that kind of year.) "Nefta Football Club" finds two Tunisian pre-teens goofing around in the desert when they discover a drug mule — not Clint Eastwood, but an actual animal — wandering across the Algerian border wearing headphones and saddlebags full of blow. The older boy convinces his little brother that the cocaine is laundry detergent, but his bid to be a schoolyard Scarface is undone with a sight gag that gave this viewer a much-needed laugh out loud.
From Brussels comes "A Sister," the tough, grimly suspenseful story of a sexual assault victim's surreptitious 911 call while stuck in a speeding car with her attacker. Playing out primarily upon the face of our emergency services dispatcher (an excellent Veerle Baetens), this slick exercise is a fine calling card for writer-director Delphine Girard, even if it feels sometimes like a self-contained set-piece snipped from a longer movie.
Larger ambitions are also apparent in "Brotherhood," which I'm told is already being extended into a feature by filmmaker Meryam Joobeur. It tells the tale of a prodigal son who returns home to his family in Tunisia after running off for an ill-advised stint fighting with ISIS in Syria. He's brought back with him a burqa-clad, pregnant bride, and although the fractured family dynamics are quite artfully rendered in short form, this story screams out for more screen time.
Briefer, though no less bleak, are the animated offerings. It's a category usually dominated by whichever short Disney puts out in front of its latest blockbuster, but since "Frozen II" and "Toy Story 4" entered theaters unaccompanied, this year's race is refreshingly wide open. There are a lot of fathers, daughters, sisters and loss, with the one exception being "Kitbull" — a disarming Pixar offering about an alley cat's unlikely friendship with a scarred-up, mangy mutt, and their attempt to escape from a dogfighting dungeon. (Yes, the most upbeat of these nominees is about animal abuse. Again, it's just that kind of year.)
"Memorable" is French director Bruno Collet's devastating exploration of Alzheimer's using stop-motion animation techniques to mimic the disintegration of its protagonist's memories. The film looks like it's falling apart as you watch it, an eerie analogue for the ravages of this disease. It's got an impact similar to that of the Czech entry "Daughter," a stop-motion deathbed reverie in which filmmaker Daria Kashcheeva chronicles a strained reconciliation with her father.
The goofy, surreal "Sister" starts out as director Siqi Song's memories of an annoying kid sibling, rendered in puffy, expressionistically unsophisticated black-and-white visuals. But the movie's got a bit more on its mind than you might at first perceive, sucker-punching the audience with this collection's cruelest twist. (And that's saying something.)
There's a similar, though less devastating surprise at the end of "Hair Love," Matthew A. Cherry's heartfelt look at an African American dad trying to help his young daughter handle her unruly 'do. This 7-minute Sony project screened last summer before "The Angry Birds Movie 2" undoubtedly causing what I imagine must have been a fair amount of emotional whiplash for the audience. It's an altogether lovely piece of work, and one of this year's few nominated shorts that knows how to move a viewer without leaving you feeling like you've been kicked in the stomach.
---
The 2020 Live Action and Animated Oscar Shorts begin screening Friday, Jan. 31 at Kendall Square Cinema.