A Gothic Twist In A Tale of Transcendentalists
A century and a half after the publication of Louisa May Alcott's "Little Women," a new book by Clare Beams echoes a familiar tale of a reformer and his well-educated daughter.
Samuel Hood and Caroline Hood (inspired by Amos Bronson Alcott and Louisa May Alcott) create a school to educate girls. Once classes are underway, a mysterious hysteria sweeps over their students, and the "cure" is more sinister than their symptoms. "The Illness Lesson" evokes the atmosphere of a dark fairy tale with transcendentalist values.
Samuel is an essayist who is trying to revive his reputation after his Birch Hill farm commune failed. The school he opens, Trilling Heart School, will provide young women the same education Caroline received as a child, which Samuel says, "will be a pursuit of the divine in the human. We'll teach thinking, not sewing or physical graces, not shallow parlor-trick erudition." Caroline is excited to teach alongside her father. As an unmarried woman in her mid-20s, she has no other paths for her life to take.
Beams' prose really sings as it sets the scene of idyllic Concord stand-in, Ashwell, Massachusetts. Her depiction of Birch Hill mirrors Bronson Alcott's Fruitlands, a short-lived agricultural community in central Massachusetts where residents adopted a vegan diet and performed labor without farm animals. Alcott's Temple School, though not an all-girls school like Trilling Heart, was similarly founded with an emphasis on students speaking freely, but was ultimately disbanded due to controversy over the radical content of its teachings.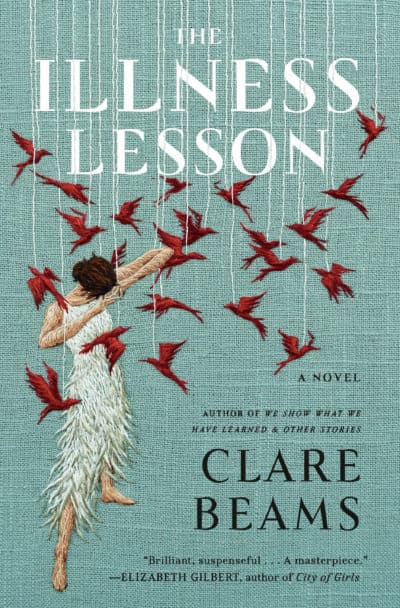 The equal partnership Caroline envisions between herself and her father never comes to pass. Beams writes, "Though Caroline was meant to be a walking embodiment of the school's aims, that didn't mean her feminine fingers belonged in its meatier pies." Caroline is limited to teaching literature while Samuel and one of his few remaining acolytes teach history, math, classical languages, and moral philosophy. Samuel's dismissal of Caroline's mastery of these subjects is one of many actions that contradict his alleged feminist principles. Caroline's confidence in her father erodes until his ultimate betrayal at the climax of the novel.
Caroline isn't the only female character living in her father's shadow. Trilling Heart pupil Eliza is the daughter of one of the Birch Hill men, Miles Pearson, who villainized Samuel in a fictionalized account of Birch Hill's failures. The students start trusting in Pearson's deceptive depiction of Samuel rather than the teacher himself.
Beams' book shifts from historic fiction to gothic horror using the imagery of the bright red trilling heart birds. Every appearance of the birds inspires physical dread within Caroline for reasons she can't explain. And with the escalation of Eliza's charm over the other girls, the birds are found plucking and hoarding the girls' possessions. After Eliza leads the girls into the woods and encourages them to self-harm, (which Caroline prevents by spooking them from afar), it's not long before the titular illness claims its first victim—Eliza.
The symptoms of this illness range from physical to mental. Eliza has a bright red spot in her eye, but her fainting spells are most concerning. The other students are quick to feel faint as well. Some have rashes, other have mysterious bruises. They're all disoriented. All three teachers can't help but wonder, is this a psychosomatic illness spread due to Eliza's charisma? Samuel is afraid to send them home to receive medical care in fear of the public blaming their schooling on their poor constitutions.
While the cause of the illness is a compelling mystery, the primary theme of "The Illness Lesson" is the limitations of 19th century feminism. Education that allows girls to learn the same subjects as boys would merely serve as a tool to humor future husbands. (Or so Samuel and his fellow Birch Hill men point out.) Even Caroline imagines the women on her father's commune were merely wives of men who ascribed to the beliefs in Samuel's essays, rather than transcendentalists themselves. For all Samuel claims to want the world to realize "the soul does not have a gender," he undermines Caroline every time she tries to assert herself. Beams evokes the loneliness of an independent woman who grew up alongside some of society's great thinkers, yet is never encouraged to be a great thinker herself.