Massachusetts Suffragette And Birth Control Trailblazer Gets Her Due In A New Documentary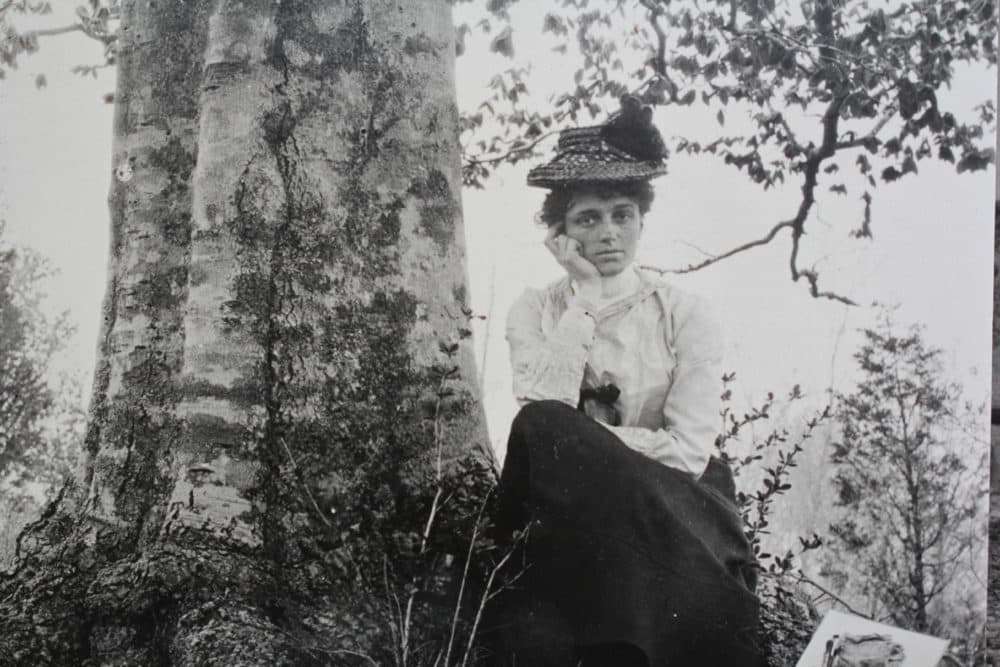 This article is more than 2 years old.
An afternoon in North Easton's Borderland State Park might include a woodsy hike, a paddle on one of six ponds, or a tour of the mansion that served as the centerpiece for 2019's hit murder mystery, "Knives Out."
Yet until recently, many of the astonishing accomplishments of the estate's architect and former matriarch, Blanche Ames Ames, were left to the archives.
It turns out Ames was a pivotal strategist for women's suffrage, an effective political cartoonist, a foremother of the women's reproductive rights movement, an inventor, gifted painter and illustrator, and so much more.
In a new documentary set to premiere at Stonehill College on Saturday, one of her granddaughters remarks that Ames conveyed mastery and authority in everything she undertook. Yet her 1969 New York Times obituary headline obscures her prominence, reading "Mrs. Oakes Ames Botanist's Widow" with the subhead, "Illustrator of Her Husband's Works on Orchids Dies."
Two years ago one of Ames' relatives approached documentary filmmaker Kevin Friend to consider making a film about Borderland. Friend grew up in Sharon and lives in Easton. He'd been aware of the park his whole life, however, he says, "What I was not aware of was Blanche." Friend says at first he envisioned a story in equal measure about Ames and her husband, the famed Harvard orchid expert (also an Ames but no relation). Then after a little research, he says, "I was immediately fascinated by this woman."
In one of her most audacious moves, Ames, who was born in 1878, carved a wooden penis, then trotted it out on Commonwealth Avenue to demonstrate proper condom use. Authorities arrested her only to discover she was the daughter of a governor. This anecdote and others relayed in the first five minutes of "Borderland: The Life & Times of Blanche Ames Ames" sets a swoon-worthy tone for audiences hungry for dynamic women role models. For the remaining 45 or so minutes Blanche Ames Ames never disappoints.
Told with an abundance of archival family photographs as well as through documents held at Smith College (where Ames served as president of her 1899 senior class), "Borderland" sketches out her distinguished family lineage. War generals come from both sides. She had a Shakespearean actress grandmother. Her father Adelbert Ames served as a Reconstructionist Mississippi senator, then governor, before the family moved to Lowell. Her mother Blanche Butler Ames wrote extensively, a lifetime of letters published into a book.
Many film narratives would've shifted gears directly from college to Ames' marriage into a family with similar or more influence.  Her husband, Oakes Ames, was the son of a Massachusetts governor and inheritor of railroad money. But "Borderland" sensibly pauses on the couple's rocky early years when they lived with her husband's mother; the independent-minded Ames and her Victorian mother-in-law clashed. Ames also found the inequities of child rearing highly problematic. She criticized her husband's inaction and wrote to her mother that "marriage has added to my burdens."

"Borderland's" writer and narrator Kate Klise surmises that building and moving into Borderland "saved their marriage." Acknowledging this likelihood allows for a rarely seen story about a couple that prospers while also advocating for women's rights. Oakes publicly champions women's suffrage alongside his wife and she illustrates his books on orchids. "He definitely stood by Blanche," says Friend.
All of this makes Ames' struggles more relatable to Klise. "She feels so contemporary, everything she was fighting for, it's where we are today still," she says. The author of more than 30 children's books, Klise fell for Ames while researching her life during writer-in-residence terms at Queset house, part of the Ames Free Library. Friend says that's why he approached her to help with production and draft the film's script.
While mobilizing on behalf of women's suffrage, to the point where she helped un-seat U.S. Senator John Weeks in 1919, Ames also started voicing support for access to birth control (something that would not become legally available in Massachusetts until 1966). She devised a form of a diaphragm, among other inventions, and served 19 years as Birth Control League of Massachusetts' president. The film categorizes her as more progressive than Margaret Sanger.
Klise points out that when people think of birth control they probably think of Sanger. And only Sanger. When they think of suffrage it's Elizabeth Cady Stanton. "People can recall many sports names, or all the characters on 'Friends,' but we can't name six women suffragists? We have to do better," she implores. This frustrates her because then people may "feel like [all we need is] one hero to come along and lead the way."
The Stonehill College premiere kicks off a string of screenings Friend's company BCN Productions intends to plan throughout the region. Friend especially wants upper high school and college students to see the film, which they can request for free. A teacher's guide and scholar-led discussions are also underway.
Friend says that Ames' pragmatic New England approach to getting things done has stuck with him. "What I learned through Blanche is don't get emotional about it, just find a way to win," or in other words, "Don't get mad. Get even.'"
---
"Borderland: The Life & Times of Blanche Ames Ames" will premiere at McCarthy Auditorium, Stonehill College on Saturday, Feb. 22, 7 p.m.