Ice Dancers Flock To New England With 'In Flight: Live'
A duo glides smoothly, swooping and turning in each other's arms, elegant and harmonious. But this pair is not on stage. They're on ice, which accounts for their seamless movements and the in-sync precision of their footwork. They're the ballroom dancers of the ice rink. And they're coming to New England. Ice Dance International's "In Flight: Live" tours through March.
Ice dancing: You may have seen it at the Winter Olympic Games, where it became a medal sport in 1976. It has evolved from 19th-century sport to art, most recently with the help of major choreographers. Twyla Tharp has created works for ice dancers, as has the longtime principal dancer with New York City Ballet, Edward Villella; also Laura Dean, Elisa Monte, Lar Lubovitch and David Parsons, to name a few.
But wait — what about figure skating? Well, it's not the same thing. Unlike figure skating, which allows both pairs and soloists in competition, ice dancing is for couples only. And while figure skaters focus on death spirals, dramatic spinning and jumping, ice dancers' music-driven routines cannot involve jumps or throws.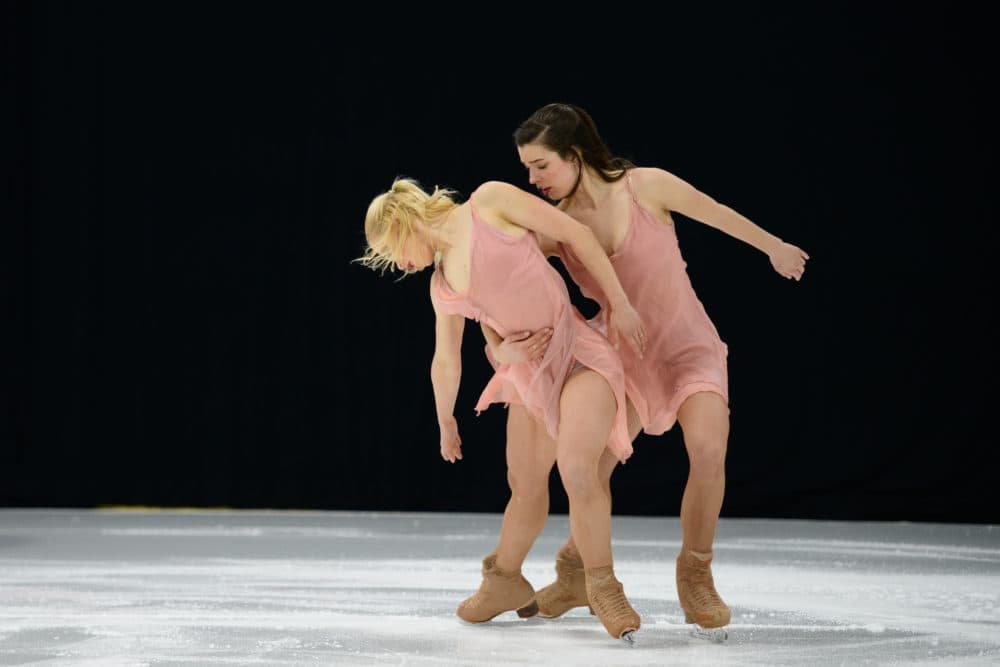 The "In Flight: Live" program is performed by the 10 skaters of Ice Dance International, a Kittery, Maine-based troupe founded in 2014. "The title means the sense of flight and flow," the company's artistic director Douglas Webster said in a recent phone interview. "To me, the art of skating resides in that sense of flight. As skaters, we can transport people into this other world. It's in the flow, the glide, and in the verb of skating itself. That sense of 'ing' of moving into space."
The skaters often move in formation, in ensemble groups. Ice dancers refer to the synchronized skating as "flocking" because it resembles the movements of birds flying through the air.
The touring show includes ice dances by Webster and Villella, as well as choreographers Trey McIntyre, Benoît Richaud, Cindy Stuart and figure skater Rohene Ward. Their works are set to classical music and to contemporary pieces by Max Richter, Ben Kweller and Thom Yorke.
Even though the ice dances are created by established choreographers, "We're not trying to recreate ourselves to be ballet or modern dance," Webster said. "We're soaring across the ice, not stuck to the floor. We have a release of friction. We have a sense of an expansive space that we're using in a rink. So 'In Flight' indicates all of that in its title — the sense of sailing through space."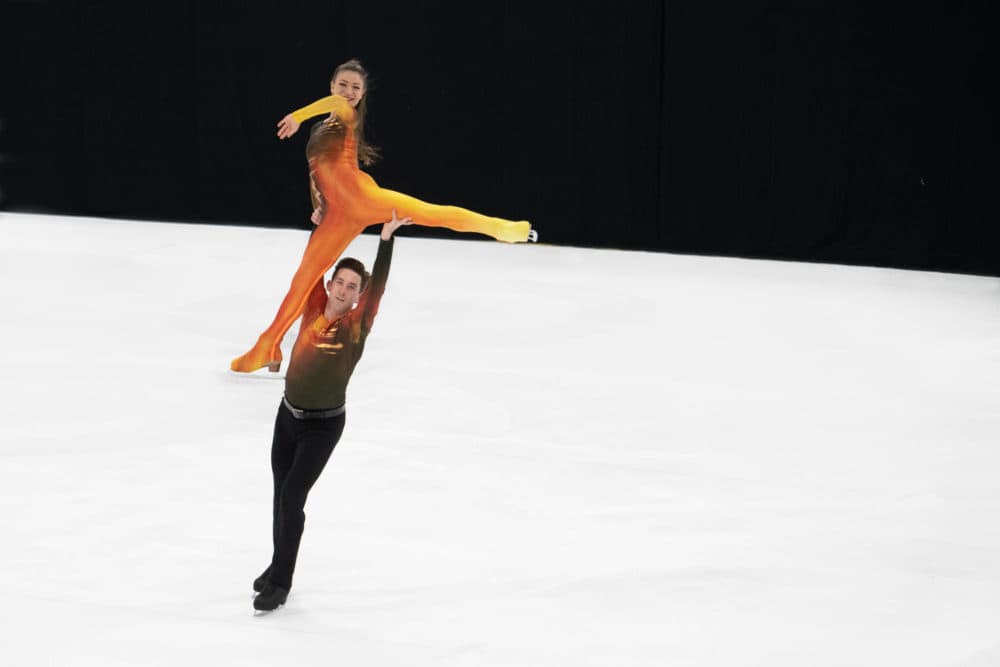 Webster began his career on the ice the way many skaters do: as a youngster having fun. "In North Conway, New Hampshire, they had an outdoor skating rink in front of the train station, and I instantly took to skating, at 8 or so. By the time I was 11 or 12, my family were driving me to Augusta, Maine, and to Yarmouth, where there were rinks. I had a lesson every two weeks in Boston. It changed my life. It was around the time of the 1980 Olympics and I was smitten."
As a student at the College of William and Mary in Virginia, Webster kept bouncing away to work on ice shows and films. He produced, directed and choreographed the TV specials you see on PBS during fundraising weeks, as well as last summer's program at Jacob's Pillow. He was creative director for three years of the ABC TV series "Shall We Dance on Ice." So creating a touring program for live audiences is a natural extension of Webster's work as a producer. And a well-known quote of figure skater Jojo Starbuck — "There are no judges, there are no rules," — is an attractive element of a show geared to enjoyment, not medals.
What's known today as ice dancing started in the 1800s and early 1900s, with free skating and the invention of figures to perform on the ice. Skaters perfected the turns, edges and carving, which came to be called "fancy figures." By the 1930s, there were competitions of the prescribed movements, including figure eights and meticulous circles on the ice.
Until the 1990s, figures were a major part of the score of competitive skating for singles skaters. But ice dancing is, of course, something else entirely: an art form related to ballet and modern dance traditions, requiring all the strength and athleticism of any dancer.
"How did the sport get to be an art?" Webster said. "It came from ballroom dancing. Ice dancing became qualified by the ballroom styles — the waltz, quickstep, tango, foxtrot, these things. It originated in the 1950s and 1960s. It became indicative of a British style that was rigid, very straight-backed, and hips under."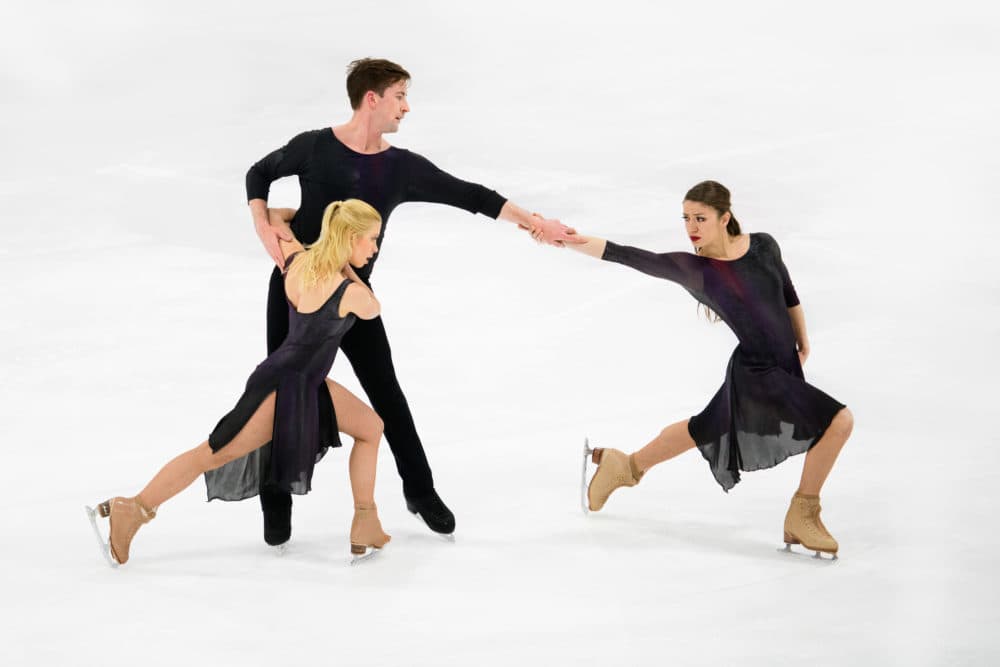 That regimented style transformed over time, claiming worldwide attention with ice dancers Jayne Torvill and Christopher Dean in 1984 when they won the Olympics with their sensual "Bolero" program. "And with the current world champions — Guillaume Cizeron and Gabriella Papadakis — you see exquisite movers," Webster said. "Their whole body moves, shaping space, carving space. Ice dancing has moved away from the somewhat artistically-limited ballroom movements to movement not limited to any particular style."
Performers in the show include Alissa Czisny, a Grand Prix Final Champion, two-time Skate Canada Champion and two-time U.S. National Champion; five-time U.S. National competitor and ISU Junior Grand Prix competitor Kseniya Ponomaryova; Collin Brubaker, a U.S. Figure Skating Championships silver medalist, Junior World Competitor and former Team USA Ice Dancer; and the 2016 U.S. Open Grand Champion ice skater and award-winning choreographer Rohene Ward.
Celebrating the freedom to fly and glide freely has been Webster's driving theme for ice shows and television specials, and for "In Flight: Live" as well.
"Skating and ice dancing are similar to ballet in their romantic qualities of storytelling," Webster said. "We create a relationship and dynamic between people in a physical language."
---
The "In Flight: Live" tour is in Plymouth, New Hampshire on Feb. 23; Boston, Feb. 29; West Orange, New Jersey, March 1; Dover, New Hampshire, March 6; and Stowe, Vermont, March 14.