Jamaica Plain's Woman-Owned Bookstore Papercuts Moves And Gets Bigger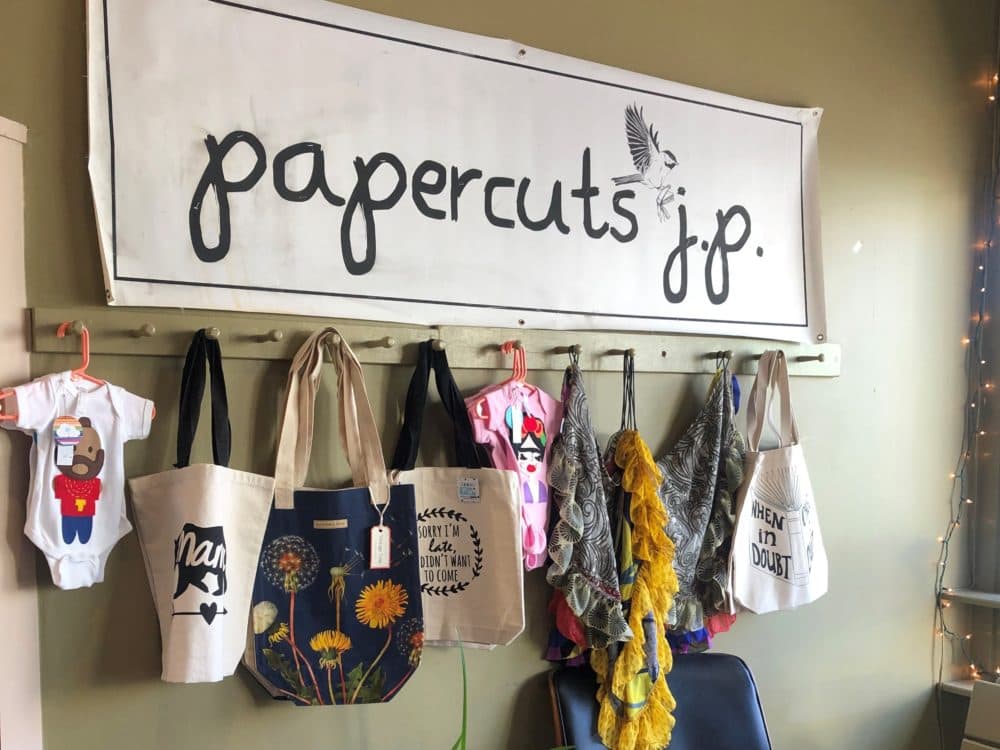 This article is more than 1 year old.
Kate Layte wants her bookstore Papercuts to serve as a third place for Jamaica Plain.
By this, she means the place you spend time when you're not home or at work; a place essential for community, social connection and democracy, as described by urban sociologist Ray Oldenburg.
Layte, Papercuts' owner and manager, recently reopened her store in a new, larger location. She founded the bookstore in 2014. Back then, it was a quaint 400-square-foot space on Green Street, without an office or work area.
On an unseasonably warm and sunny Monday earlier this month, Papercuts' front window brought warmth and sun into the new shop while Father John Misty's "Real Love Baby" played softly over the store.
"There's a world inside me," the singer croons over the speaker system of the space. The lyrics almost feel serendipitous standing in a bookstore, which Layte has curated into an inviting, light-filled room. The window faces South Street, and spans the front of the store.
In the new space, Layte plans on creating a book club, launching a drag queen story hour and hosting events with local organizations.
"I want to do all sorts of fun things to engage the community and to really make this a space where we can discover books, read them, share ideas and all that good stuff that bookstores can bring," she said. "This is a community that loves to read and loves books."
After years of looking for a new space, Layte found the current location at 60 South St., which was previously occupied by a hair salon. She has left some of the head mannequins on shelves as decor to remember the former tenants, as well as two salon chairs in the children's section.
Layte said the first two weeks the store was open, Papercuts was already doing better than it had a year ago in the previous digs.
That could be due to the fact that Papercuts houses not only some great reads but small gifts, cards, posters, literary t-shirts and more. And the curation feels intentionally fresh, which patrons see as they move throughout the store. It's hard walking out of this store without something.
Layte stocks works by female authors and writers of color. She has also hosted writers like Lindy West, Eve Ewing and Morgan Parker at Papercuts.
For the past five years, Layte has attended the American Bookseller Association's Winter Institute conference and has noticed a gradual demographic change over the years. She said there are more and more women, people of color and younger indie bookstore owners.
"People understand if they want their communities to be reflected in their economies, bookstores are the way that culture can get into people's hands, and the people that know their community know that the best," she said.
"It's not easy being a young, female business owner trying to figure out how to represent so much that's been underrepresented for years," she added.
Like Papercuts, the Brookline Booksmith is also expanding. The bookstore has acquired a space a few doors down, which will transform into a cafe and additional retail space, said co-owner Lisa Gozashti.
With indie bookstores making a comeback in a big way, it's no wonder these stores are increasing their footprint. People are dropping that one, big website that we won't name here (you know the one). Check out Papercuts' new space, grab a book, sit on the bench by the large window and experience the real love of literary genius coming from the pages.
---
Papercuts is located at 60 South St, Jamaica Plain, MA 02130.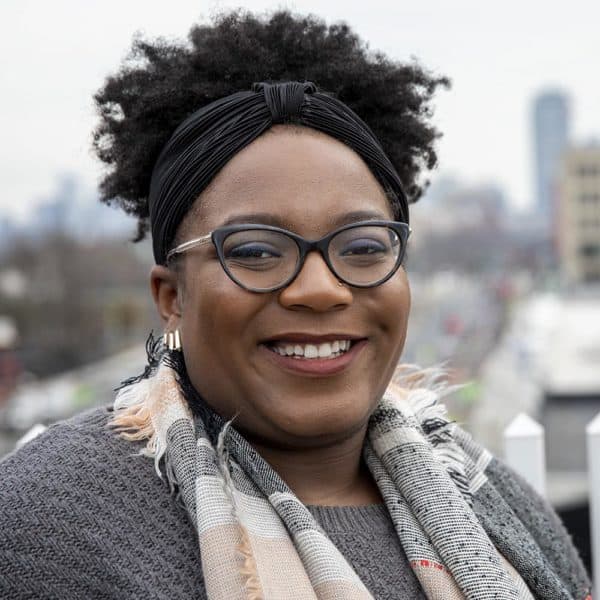 Christian Burno Arts Fellow
Christian Burno is the arts reporting fellow for The ARTery, WBUR's arts and culture team.