North Atlantic Right Whale Sighted In Poor Condition Off Nantucket Coast
Researchers spotted a female North Atlantic right whale with a buoy caught in her mouth on Monday. The whale's poor condition and potential death represent a significant loss for the species, which numbers about 350 individuals.
Researchers from the Northeast Science Fisheries Center of the National Oceanic and Atmospheric Administration (NOAA) first sighted the whale, named Dragon, in an aerial survey of Nantucket's southern coast. They reported that Dragon appeared thin and unhealthy. The buoy is blocking the whale's mouth, preventing it from closing and causing her condition to deteriorate rapidly.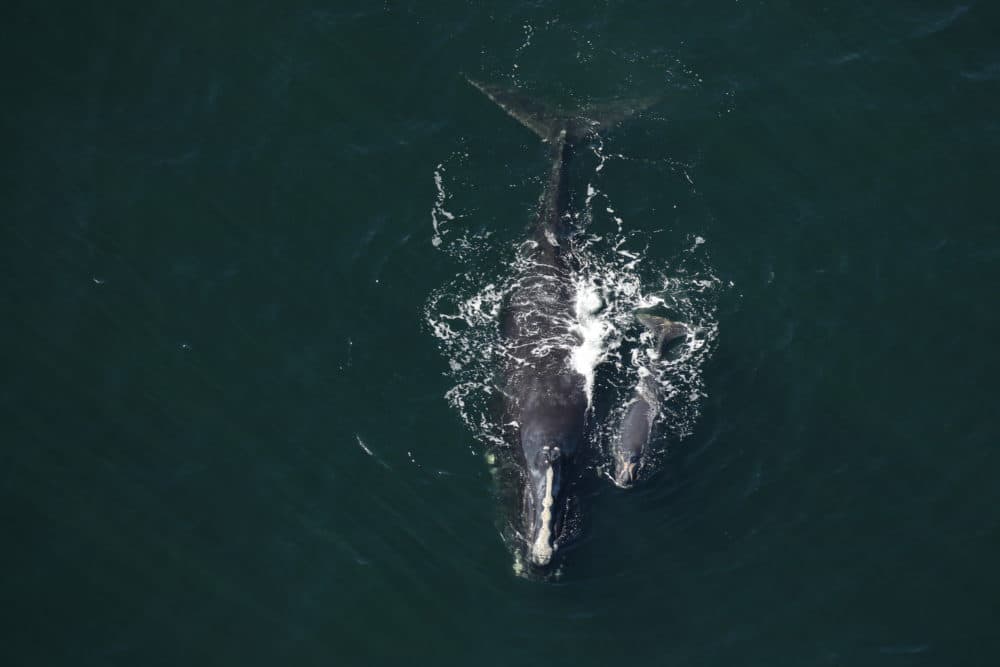 Dragon is a 19-year-old reproductive female who has already given birth three times. Her first calf died for unknown reasons the same week it was first spotted by the New England Aquarium's right whale team. A female calf of the whale seems to be doing well and could soon reproduce. Another calf, born in 2016, has not been seen.
Before Monday, Dragon was last spotted in Cape Cod Bay in April 2019.
"She is extremely emaciated and gray, suggesting she may have been entangled and unable to close her mouth for months," Amy Knowlton, a scientist who has worked since 1983 on the New England Aquarium's Kraus Marine Mammal Conservation Program, said in a New England Aquarium press release sent out Friday.
Aquarium researcher Philip Hamilton, who manages the aquarium's North Atlantic right whale photo catalog, said this news does not bode well for the species.
"It is ... discouraging to see Dragon, a whale we have followed from her birth through to maturity, entangled and in such poor health," he said in the press release. "The hope for this species rides on the broad backs of these calving females. I fear we will lose this whale just as she enters what should be the prime of her reproductive life."
According to Knowlton, the orange patches visible around the whale's head in aerial photos indicate that orange cyamids, lice that prey on injured parts of a whale's body, are infesting her skin.
This marks another instance among more than 1,500 entanglements the aquarium has documented in the past four decades. Similar injuries and resulting deaths have increased since 1980. The aquarium reported that 86.1% of right whales have suffered an entanglement — and more than half have been entangled twice or more.
Knowlton also said that scientists at the New England Aquarium's Anderson Cabot Center for Ocean Life are working with fishermen to improve sustainability practices, ensuring they use ropeless lobster traps and weaker ropes to decrease entanglements.